Real Madrid's 141 derby victories to Atlético's 68
The indominable Mister Chip has been pouring over the stats books ahead of tonight's Madrid derby - this time, Atleti go into the duel top of the table.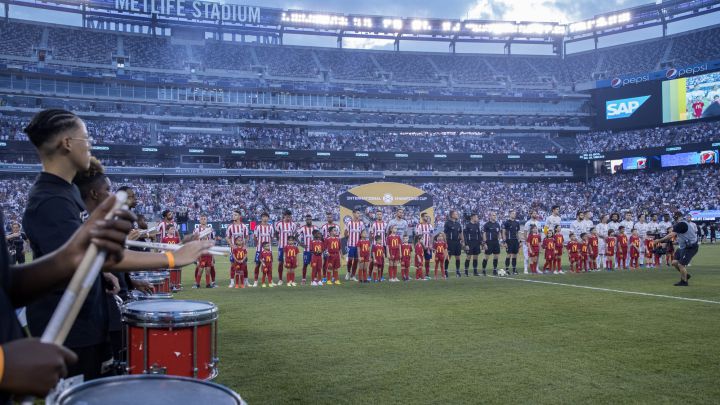 Real Madrid and Atlético Madrid have met in 276 official games with an overall balance of 141 victories for Real Madrid, 68 wins for Atleti and 67 draws. In total, this fixture has produced 822 goals - 474 of them scored by Los Blancos and 348 by the Rojiblancos.
Follow Real Madrid vs Atlético Madrid live
Valdebebas
The Alfredo Di Stéfano stadium will be the sixth venue where Madrid have played host to Atlético - following their previous homes: O'Donnell (10 matches), the old Velódromo in Ciudad Lineal (one game), Chamartín (28 games), Estadio Metropolitano (one game) and the Santiago Bernabéu (98 games). Madrid were unable to beat Atlético in their first derby to be played at home in Chamartín (1-1), or the first derby to be played at the Bernabéu (1-1), or the only derby to be played at the old Metropolitano stadium (1-2).
Similar circumstances
Atlético have played this fixture as league leaders on eight occasions, winning two of those games (1-4 in 1940 and 1-2 in 1946), drawing two and losing the other four. The most recent derby with Atleti top of the table was on 18 November 1995 (Madrid won 1-0, Raúl, the scorer). Madrid have lost three of their last four home meetings against the team at the top of the standings - all of them against Barcelona (0-4 in 2015, 0-3 in 2017 and 0-1 in 2019).
Home team
Madrid have played host to Atlético on four occasions when they have been six points or more behind the rojiblancos in the league table. Out of those encounters, there were two victories for the home team (1-0 in 1995, when Madrid trailed by 12 points, and 2-0 in 2012, when Atleti's lead was eight points); the other two ended in draws (1-1 in 1948, with 10 points difference and 1-1 in 1977 when the difference was 12 points.
Points
If Atlético win tonight's game, they will open up a nine-point lead over Madrid - and have a game in hand - Madrid have never managed to reduce such a big distance between them and the league leaders in the history of LaLiga (their most epic comeback to clinch the title was reducing an eight-point lead held by Real Sociedad during the 2002-03 season). The biggest comeback in Spanish league history was during the 1998-99 campaign when Barcelona were crowed champions despite trailing Mallorca by nine points in Week 14.
Atleti's run
Atlético have not lost a league game since 1 February (they were beaten 1-0 at the Bernabéu). Their current streak of 26 consecutive game without losing is the best run in the club's history and the ninth best of all-time in LaLiga (they are another 18 games off equalling the record set by Ernesto Valverde's Barcelona between April 2017 and May 2018). No other club in the top flight has gone nine straight games without defeat this season.
Solid at the back
Atlético have conceded just two goals in their first 10 games of the league season, equalling the record set by Deportivo (with Paco Liaño in goal) in 1993-94. Since the goalless draws against Villarreal and Huesca, they have won seven games on the trot, and are now just three victories away from equalling the club's best winning run in 1983. With 26 (or more) points from the first 10 matches, Atleti have always gone on to win the title (1995-96 and 2013-14).
Karim
Benzema will edge past the 527 official games which Roberto Carlos played for Madrid to become the foreign player to have made the most appearances for Real Madrid in history (359 in LaLiga, 43 in the Copa del Rey, eight in the Spanish Super Cup, 106 in the Champions League, four in the European Super Cup and eight in the Club World Cup). Benzema made his debut on 29 August 2009 (a 3-2 win against Deportivo) and is the club's fifth top goal scorer of all-time with 257 goals), behind Cristiano (450), Raúl (323), Di Stéfano (308) and Santillana (290).
Atleti record
Koke could become the player to have won the most official matches in history with Atlético if Simeone's side prevail this evening. As things stand, the midfielder (473 appearances) is level with Adelardo on 279 wins (in 550 games). They are followed by Tomás (240 victories in 483 games), Gabi (239 from 417), Collar (235 from 468) and Godín (228 wins in 389 appearances).
Presidents
Tonight's derby will be the 979th game which Florentino Pérez as watched as club president and the 930th game for Enrique Cerezo as Atlético president. Both still have a way to go to get near the figure which Santiago Bernabéu reached (1,407 official games as Real Madrid president), but Cerezo is close to the 966 games Vicente Calderón reached as Atleti president, and could even pull level if the team goes far in the Copa del Rey and Champions League.