How to hang Christmas lights at home
Whether you're making a Christmas light display indoors or outdoors, we've got all the pro tips you need to wow the family in person or over zoom this year.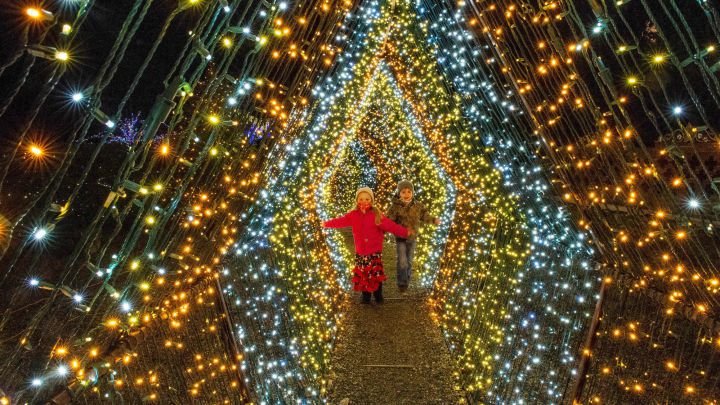 Spending so much time at home this year is making us feel all cosy and excited to decorate the house to high-heaven this year. For both indoors and outdoor lights, LED lights will save you money on energy costs and you don't have to worry about them overheating.
Hanging Christmas lights outside the house
Lowes have put together a comprehensive guide for hanging lights outdoors. Starting with the design aspect, it's handy to pick a focal point. For instance if there's a feature of the garden or doorway that you can hone in on, the light display will have a sense of order and design. Without one your house could look like someone blasted lights out of a cannon all over your lawn.
First up, here's some inspiration for where you can start hanging lights outdoors include:
Along your rooflines or eaves
On top of bushes, hedges and trees
Around pillars, posts or deck railings
Around windows, door frames and other architectural features
Near driveways and pathways
Inside window boxes and planters
Pro tips on how to start hanging lights outdoors:
Measure - Measure any straight line you want to adorn with lights. Also, measure the distance to your power source.
How many lights? Ultimately this is up to you. A good rule of thumb is 100 lights for every 1-1/2-ft of tree or shrub you want to cover. So a 6-ft evergreen needs at least 400 lights for a basic level of lighting.
Test your lights before hanging them in place.
To attach lights to shutters or shingles use an all-purpose light clip.
If you're hanging lights in a tree, try using a light-hanging pole. Hanging poles are also great if you can't get up a ladder.
Set a timer - the kindest thing you can do for the planet is plug them into an outdoor timer, and it saves you going out last thing before bed to switch them off! Some timers even have light sensors that automatically turn on at dusk.
Icicle lights look great on the eaves of your roof — just make sure to cluster them together. If stretched too far apart, the look is completely lost.
For your bushes, try net lights, which are like a blanket of lights.
How to hang Christmas lights indoors
Now for some pro tips on how to make the most of your indoor festive light display. Indoor Christmas lights look magical strung along doorways, windows or mantels, wrapped around banisters and ceiling beams, and, of course, illuminating a Christmas tree.
As with outdoor lights, before you go to the trouble of hanging the lights around a room, be sure to test the lights work – even if they're new.
Securing lights around a room where there aren't points to hang them off is tricky, try using tape to secure the wire between lights or alternatively cup hooks, adhesive hooks are a great way to temporarily secure lights to walls without making holes in the wall or damaging the paint.
Try putting a strand of battery operated LED fairy lights into glass mason jars, they look super festive as a table top decoration.
If you have more lights than you need, try tying them together neatly at the end with a twist tie or rubber band.