Real Madrid player ratings vs Athletic as Kroos and Benzema star
Zinedine Zidane watched as his side went level on points with the LaLiga leaders, but it wasn't all plain sailing for his players, despite having a man advantage.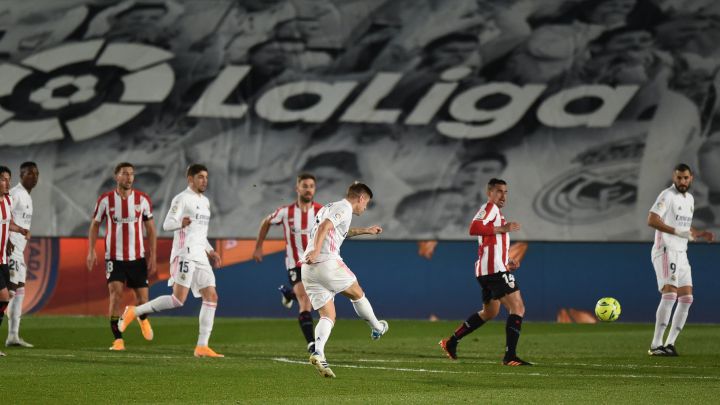 Real Madrid found a way to three valuable points on a cold and drizzly night in Valdebebas, calling on the invaluable help of some carelessness from Raúl García that gave them a man advantage from the 13th minute.
Here's a look across Zinedine Zidane's players as they triumphed 3-1 over Athletic Club…
COURTOIS
He was there to deny Yeray from point-blank but could do nothing with the second effort by Capa that drew Athletic level (despite blocking the initial effort well). And other than some solid interventions that you'd expect the Belgian to deal with, he wasn't really tested again until the 92nd minute when Vesga was clean through. That quick and strong hand could well have been the difference between the win and a draw
CARVAJAL
He was always unlikely to perform to the levels he reached against another team in red and white on Saturday but his energy levels were good. He was a little less intense and but offered some precise deliveries into the danger area when in advanced positions. He may have given away a penalty early on, and all in all a reminder, though, that he's only recently returned from injury.
VARANE
His intervention in the 85th minute to get a block in was potentially a crucial one for the win. Alongside Ramos they bossed much of the game, but arguably less than they should have given the man advantage. Both he and his captain were slow to recover in the situation that led to Copa's goal.
RAMOS
The captain had an intense duel with Raúl García from the start, one that could've put a very different collection on things had the Navarrese forward not got himself sent off. Arguably his best act of the game was when he dragged three defenders away for Benzema to have more space to score the second.
MENDY
He linked up with Vinicius in the final third on a few occasions and more could, or should, have come from that. His marking of De Marcos when he drifted into that area was solid enough, but he was at times left rather isolated by the young Brazilian.
MODRIC
With Isco struggling to refind his form, and Odegaard injured, the little Croatian genius is proving to be a vital cog in much of what is good about this Madrid side moving forwards or controlling possession. Again in this game he showed a youthful exuberance to the game, at least for some of it, and alternated midfield tasks with Kroos
KROOS
Much like Modric, the German still has what it takes to deliver critical performances, and will be important if Zidane is going to taste more success this season. He 'provoked' the second yellow card for García, by moving the ball out of reach smartly, and was also responsible for a great block when a goal looked more likely. Then, of course, came that strike seconds before the half-time whistle.
VALVERDE
Due to Casemiro's suspension El Pajarito (little bird) was handed the opportunity to show some of the form that led to the immense praise of last season. He didn't fully take it but this was possibly more to do with the way Zidane set him up, with less freedom to spread his wings.
LUCAS VÁZQUEZ
Playing ahead of Carvajal, just as he did in the 2-0 win over Atleti, Lucas has clearly impressed the boss with his contribution. Against Los Leanes, however, his early yellow card, coming from his first foul, potentially hindered him having as much of an influence. That said, he showed glimpses as he switched wide play to come inside at times.
VINICIUS
Handed another start, Vinicius appears too keen to make amends for his poor showings. He needs a good performance soon. His dribbling is not delivering enough and his shooting is somewhat erratic. He did show a couple of times the engine that lies within and maybe Zidane can tweak tactics to suit his talents, moving the pieces around the field to free up more space to run into. He can, at least, claim the assist for Kroos' rocket.
BENZEMA
Another two goals make the headlines but the Frenchman needed them to put his mark on the game. There were a number of examples of his exquisite skill - one in particular where he bamboozled three Athletic defenders - but it's the goals that matter. Benzema is the real threat in this side. Without him Madrid look toothless, but he needs the right attacking players around him to bring the best out of him.