Busquets: "I'm proud to overtake 'Puyi', it makes me very happy"
The Barcelona midfielder played his 594th game for the club agaist Real Sociedad, taking him past club legend, and former team mate Carles Puyol.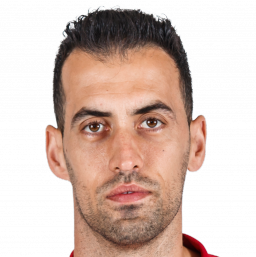 Barcelona midfielder Sergio Busquets made his 594th appearance for the first team in Wednesday's 2-1 win against Real Sociedad at Camp Nou, which makes him the fourth players to have made the most appearances in official competition in club history.
"I feel very proud to have reached that figure, it's a lot of games. If I am not mistaken, it's 13 years playing a lot of games and winning a lot of trophies, at a very high level," Busquets said.
Busquets, who came through the youth system in La Masía, has overtaken another youth team product - former centre-back, now retired Carles Puyol, who played in 593 official games for Barça. "I've very proud to have overtaken Puyi and be alongside players like Andrés, Leo and Xavi as well as many others," the Spain international added. "All of them were important in history for what they have done and the  legacy they have left. That my name is up there with them, and will be forever makes me very happy".
Busi joins Barcelona legendary trio
Sergio has just three Barcelona players ahead of him in the ranking: Andrés Iniesta (674 games), Leo Messi (747)  - the only of the three who is still active with Barça, and Xavi Hernández (767). He has another milestone coming up, he is now just six games off reaching 600 games.