Florentino Pérez makes appeal for new Euro Super League
"A reform in football can wait no longer and we need to address it, it's our responsibility" stated the Real Madrid president at the AGM on Sunday.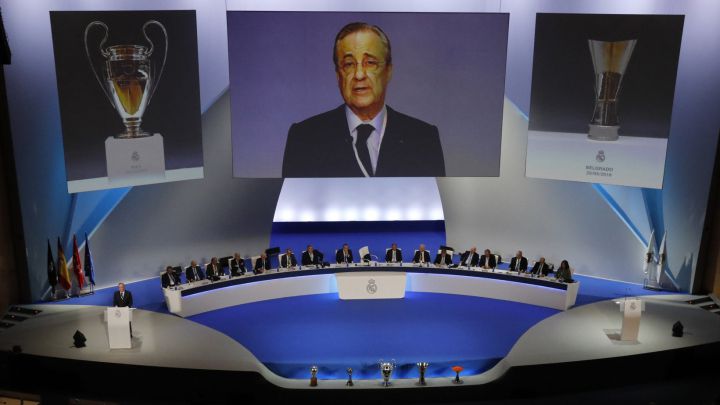 In the closing stages of his speech at Sunday's annual general assembly meeting, club president Florentino Pérez expressed strong defence for the proposed European Super League. "Things will, never be the same again stated Pérez, " the [coronavirus] pandemic has changed everything. It has made us all more vulnerable and that includes the football world. Football needs formulas to make it more competitive and exciting".
See also:
"This club has been a part of every innovation and has protected these innovations in our sport. It was the only club to be a founding member of FIFA in 1904, together with seven national federations. In 1955, L'Équipe and Real Madrid were the driving forces behind the creation of the European Cup - a revolutionary moment that changed the history of the game."
"Without all these changes, football wouldn't have become what it is today - and we need a new change. Football has to face up to this new period […]. Reform of the game cannot wait; we have to tackle it. We have the responsibility to fight for this change."
🤝 Florentino Pérez: "Despite the pandemic, the club has managed to close out the 2019/20 financial year with a positive financial result of 313,000 euros"#RealMadrid

— Real Madrid C.F. 🇬🇧🇺🇸 (@realmadriden) December 20, 2020
The Super League proposal
The new European Super League, which is being mooted under the working title of the "European Premier League," is intended to be an independent NBA-esque 18-team style competition with final play-offs in one venue and backed by JP Morgan bank, who have offered to stump up a €5 billion credit line to the organizers of the proposed league.
According to various media outlets including Sky Sports and Sports Illustrated, Real Madrid and Atlético have been actively pursuing such a scenario along with FC Barcelona. The owners of Liverpool and Manchester United, the Fenway Sports Group and the Glazer family respectively, are said to be the main players in seeking financing from Wall Street for the venture.
UEFA previously responded to what amounts to a hostile takeover of the Champions League by saying it goes against the values of football: In quotes provided to AFP, UEFA said that the European governing body's president Aleksander Ceferin "has clearly indicated on several occasions UEFA is strongly opposed to a Super League".