Atlético: Trippier slapped with 10-week ban by English FA
A statement issued by the English FA read, "The suspension, which includes all football and football-related activity, is effective worldwide from today".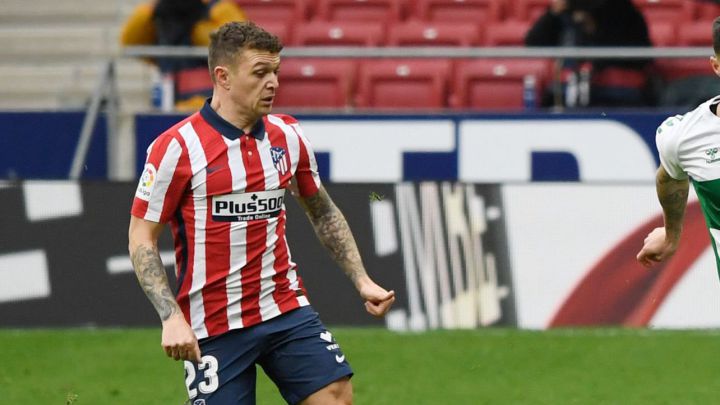 The English FA has handed Kieran Trippier a 10-week ban during which time he will not be able to take part in any football-related activity. The Atlético Madrid right-back was accused of violating the Football Association's betting rules in the summer of 2019, when he completed his move from Tottenham to the Spanish capital.
While the 30-year-old England international has maintained his innocence, the FA have punished him with a 10-week ban plus a fine of 70,000 pounds (over 77,000 euros). The ban will also affect Atlético: "The suspension, which includes all football and football-related activity, is effective worldwide from today (Wednesday 23 December 2020) following an application to FIFA".
Trippier, first-choice, key player for El Cholo
Trippier is a key player for Simeone. He is one of the few members of the squad who has played practically every minute of the campaign (1,710) - missing only the recent Copa del Rey tie against Cardassar. The 10-week ban means he will miss the Champions League Last 16 first leg against Chelsea on 23 February plus 10 league games. He should be able to return for the derby against Real Madrid on 7 March. For the league leaders, it will be a huge blow to be without their first choice right-back.
In the new team formation, with Trippier deployed as a wing-back, Simeone has been getting the very best out of a player who has contributed four assists in LaLiga and who is the most-used outfield player at Atleti this season. Vrsaljko is available again and against Cardassar was given his first minutes since March. Atlético also have B team player Ricard, who took part in the Copa tie. Also, the transfer window is due to open in little over a week's time and if the ban is confirmed, the club could look for a substitute from 1 January.
The FA's rules o betting are strict. Rule E8(1)(a) states: "A participant shall not bet, either directly or indirectly, or instruct, permit, cause or enable any person to bet on – (i) the result, progress, conduct or any other aspect of, or occurrence in or in connection with, a football match or competition; or (ii) any other matter concerning or related to football anywhere in the world, including, for example and without limitation, the transfer of players, employment of managers, team selection or disciplinary matters."
In May, when the investigation began, Trippier's close circle stated that the player "hadn't done anything wrong. He believes it is ridiculous that someone could link him with something like this. He is willing to collaborate in every way he can to clear the matter up as soon as possible. He is sure that the matter will be cleared up in good time". However, after several months of investigating, the FA have decided to serve the defender a lengthy ban which will affect his participation with his club as well as the national team, where he is also a first choice at right-back.