2020 AFC Champions League: top numbers and stats
The AFC has shed light on the impressive numbers achieved in the tournament by players who dominated the stats.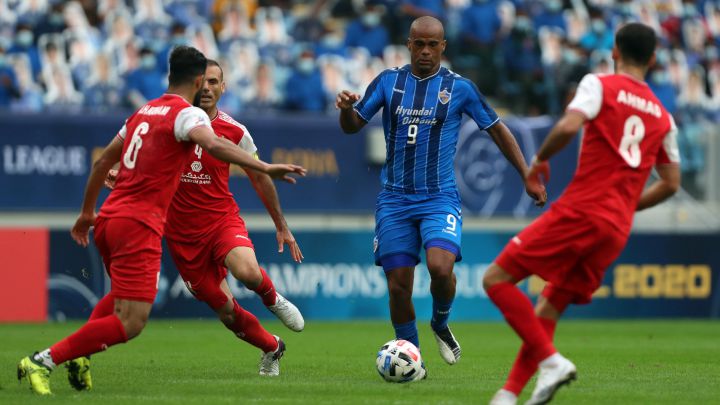 The curtain was brought down on the AFC Champions League competition on Saturday, with Ulsan Hyundai of South Korea crowned as the Asian champions of this year with their 2-1 victory over Persepolis of Iran. AFC's official website highlighted the top stats and numbers of players who took part in the competition.
Both Al-Nassr's Abdulrazzak Hamdullah and Ulsan Hyundai's Junior Negrao finished the campaign with seven goals, but the highest-goalscorer award went to Hamdullah as he played fewer games.
The list of the five top scorers is as follows:
1. Abderrazak Hamdallah, Al Nassr – 7
1. Junior Negrao, Ulsan Hyundai – 7
3. Trent Buhagiar, Sydney FC – 5
3. Bjorn Johnsen, Ulsan Hyundai – 5
5. Alan, Isa Alkasir, Baghdad Bounejdah, Ado Onaiwu and Yoon Bit-Garam – 4
Most chances created:
Ulsan Hyundai's midfielder Yoon Bit-Garam was a key reason why his team won the title as he not only scored four goals but also was able to create the most chances for his teammates throughout the tournament, topping the list that is as follows:
1. Yoon Bit-Garam, Ulsan Hyundai – 22
2. Jonathan Viera, Beijing FC – 21
3. Kim In-sung, Ulsan Hyundai – 19
4. Han Seung-gyu, FC Seoul – 17
5. Leandro, FC Tokyo – 16
Most clearances and
passing accuracy

:

On the defensive level, Al-Nassr's Maicon achieved the highest number of clearances during the competition although his team went out in the semi-final game having been eliminated by Persepolis. The list of top clearances achieved is as follows:

1. Maicon, Al Nassr – 34
2. Alex Wilkinson, Sydney FC – 33
3. Shojae Khalilzadeh, Persepolis – 32
5. Boualem Khouki, Al Sadd – 30
5. Tsukasa Shiotani, Al Ain – 30

Meanwhile, the highest passing accuracy rate was accomplished by Persepolis's pass master Kamal Kamyabinia, who achieved a passing accuracy rate of 91.6%.

1. Kamal Kamyabinia, Persepolis – 91.6%
2. Takuaya Kida, Yokohama F. Marinos – 89%
3. Koh Myoung-jin, Ulsan Hyundai – 88.7%
4. Thiago Martins, Yokohama F. Marinos – 88.2%
5. Ehsan Pahlevan, Persepolis – 88.1%.
Most saves made by goalkeepers:
As for goalkeepers, Ulsan Hyundai's shot-stopper Jo Su-huk made the most saves during the tournament, significantly helping his team lift the trophy by the end of the campaign and beating Al-Nassr's Brad Jones to the top by one save.
1. Jo Su-huk, Ulsan Hyundai– 26
2. Brad Jones, Al Nassr – 25
3. Li Shuai, Shanghai Shenhua – 22
4. Cassio, Al Taawoun – 21
4. Apirak Worawong, Chiangrai United – 21