Pogba, Mata, Rapinoe, Mou...star in UEFA anti-discrimination documentary
Players from both the men's and women's game give their views on racism, sexism and homophobia in a new UEFA.tv documentary that tackles the issue of discrimination in football.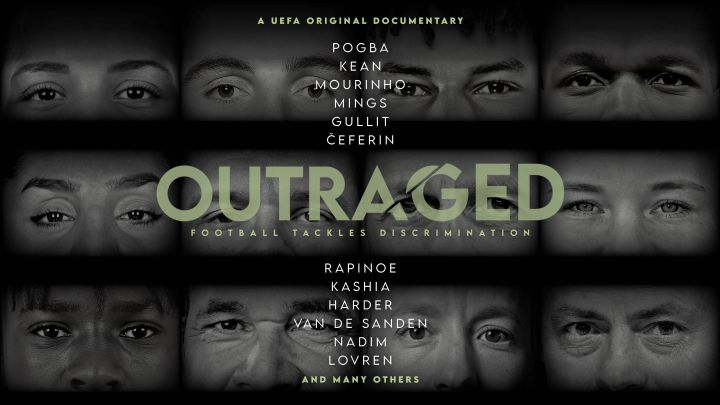 Some of the biggest names in football, past and present, talk about their own personal experiences of the racism and discrimination that continues to blight the world's most popular sport in 'Outraged', a UEFA–produced documentary.
Current players Paul Pogba, Nadia Nadim, Megan Rapinoe, Moise Kean, Dejan Lovren, Olivier Giroud, Shanice van de Sanden, Tyrone Mings, Juan Mata, Guram Kashia and Kalidou Koulibaly all share their stories of exclusion and discrimination in football, as well as giving their own thoughts on the best way to help eradicate these issues from the sport.
Pernille Harder and Lucy Bronze, and Rapinoe, together with trailblazing referee Stéphanie Frappart, each explain how they have fought, and are still fighting sexism and discrimination to reach the pinnacle of women's football.
🎬 OUTRAGED: Football Tackles Discrimination – OUT NOW!
Racism, homophobia and sexism in football are on the rise in Europe.
Some of the biggest #UWCL stars share their experiences and views on how to tackle the problem in @UEFA's latest documentary. #EqualGame

— UEFA Women's Champions League (@UWCL) December 23, 2020
Tottenham coach José Mourinho and Dutch legend Ruud Gullit also feature in a film, which takes viewers on a journey across Europe and North America, exploring the complexities of discrimination in the global game, whether based on ethnicity, gender, religion, sexual orientation or refugee backgrounds.
Outraged can be viewed for free via UEFA.tv.