REGUILÓN AS EXCLUSIVE INTERVIEW
Reguilón: "I wasn't surprised that Zidane didn't say anything to me"
The Tottenham full-back chatted to AS from London. "I look at Mourinho and know that we are going to win something this season," he said.
Sergio Reguilón is now a key member of Jose Mourinho's Tottenham side. Real Madrid sold the defender to Spurs for 30 million euros last summer (with the option to buy him back at a later date for 40 million). The full-back is emulating the kind of form he showed at Sevilla in the Premier League and has consolidated his place in the Spain side under Luis Enrique. Reguilón chatted to AS over the phone from London this week.
How have your first few months at Tottenham been? Did you expect to adapt so quickly?
It's been difficult for the Covid pandemic, for not being close to my family and so I have missed that. I'm adapting little by little - especially to the food here, which is a little bit different…
Why? Is English food not very nice?
I haven't managed to acquire the taste for English food. I always have Spanish ham and other food I like sent over, the other day, my family sent me a box of fabada (bean stew) so that's how it is…
How are you getting along with the language? Do any of your team mates speak Spanish?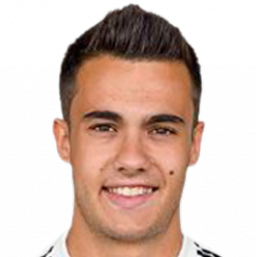 Yes, but I try to talk to everyone. I am taking English classes and I enjoy trying out my English. I am sure I have a strong accent, but I am trying, I know that they understand me and that's the first step.
What kinds of things to you talk to Mourinho about?
When I talk to him individually, we speak in Spanish but when he is talking about football-related matters with the squad, in English.
Last summer you had several offers from clubs who were playing in the Champions League, unlike Tottenham this season. What made you choose Spurs?
A lot of different reasons. I couldn't single out one because it was a lot of circumstances together. The idea of playing regularly was very important for me, because with my age, I need to develop and to do that, you need to be playing. I've always said that one day I would like to play in the Premier League and I've always said that I would like to be coached by Mourinho during my career. A lot of factors came together to make it possible.
How did Mourinho convince you? Did he call you personally?
He called me several times before I made my decision. That he insisted was also a big factor, because he wanted me to sign so much, it must be for something.
Is he as special as people say?
(Laughs). All I can say is that you really need to get to know him yourself to find out what he is like. I have thousands of great anecdotes…
Tell us one…
For example, on Christmas Day, he knew I would be spending the day on my own. On the 25th, we were due to start training at 3 o'clock and when I arrived, there was a box by my place in the dressing room. I opened it and it was a [pre-cooked] roast suckling pig. He said, "I know that you are on your own at Christmas so now at least you don't have to cook your Christmas dinner and you'll eat well". He can be very thoughtful in the way he does everyday things that most people don't know about; for the players, he is concerned about how you are off the field and away from football and that is very important.
So his reputation for being strict with his players is a bit unfair?
Well… When he needs to be strict, he is like anyone else. But he is a person who thinks a lot about everyone's welfare.
Your current coaches are Mourinho and Luis Enrique. Have you noticed any similarities between the two, are they different in any way?
For me, both Mourinho and Luis Enrique are top coaches. They have their own working methods. Luis Enrique likes the team to have control of the ball, in the Spanish philosophy of playing the ball about well. Mourinho wants us to be physically strong, and that we have control of the ball too - but they have different ways of coaching - both of them are top coaches in their own way.
At club level, you have had three different coaches in three years - Zidane, Lopetegui and Mourinho. Are they as different as they seem from the outside?
They are similar in what they manage to get across. All three are brilliant coaches, who each have their own way of working.
Do you think having played under three very different coaches has helped you?
You have to adapt to each coach, to what they ask of you. You can always take something positive from every coach. This is my third year as a professional and I don't know how many coaches I've had. All of them bring something positive.
Let's get back to Tottenham. You are one of the teams in the Premier League title race - with Mourinho, who has won everything, give the team confidence during the decisive moments?
I read somewhere that Mourinho had won at least one trophy at every club he has coached. For me personally, I see that sense of security that he has in himself and it just makes me think, "We're definitely going to win something". You achieve things with that mentality.
What is Mourinho like in terms of his methods? Blackboard or motivation?
A bit of everything, a mix.
Tell us a little about another familiar face for Madrid fans How do you get on with Gareth Bale?
I speak a lot with him - as I did when we were at Real Madrid. He's sat right next to me as we speak. We speak about everything. He helped me a lot when I first arrived to give me advice on the best areas to live, restaurants, people to ask for help…
Do you speak in Spanish?
In Spanish and English. He speaks good Spanish, with an accent, but I can understand him.
Are you surprised he is not a regular starter?
He's had a few twinges and little by little he is getting used to the rhythm of the Premier League again. He's had a difficult year, but we all know the quality he has - he's going to be a massively important player for us.
Do you think you might return to Real Madrid at some point in the future?
I don't know. Whenever I am asked about Real Madrid I say that it's a club which gave me everything, it's always been my home. Returning one day? That doesn't depend on me… I'm focused on the present, but it would be nice to go back in the future.
Did you speak to Zidane before leaving to join Tottenham?
No, nothing.
Were you surprised or hurt that he didn't say anything?
No, I wasn't surprised, not at all.
During recent years, quite a few Madrid youth team players have left - Achraf, Óscar, Mayoral… Why is it so hard for youth players to make it into the first team?
Madrid is a very difficult team to get into and when you get a place, it's difficult to stay there. For players coming through the youth teams, to make the next step you need to do a series of things and it's very difficult for a youth player to maintain their place. You need to fight for a place and also have a little bit of luck. But you can see the great job they are doing in Madrid's academy because they are producing a lot of top level players who have joined big clubs. That says a lot about the good work they do there.
Are you surprised that Sergio Ramos hasn't renewed his contract with Madrid?
I think it will all be resolved in the end - both for Madrid and Sergio. From the outside, I cannot envisage Madrid without Ramos.
Would you like to send Ramos a message to convince him to join Tottenham?
(Laughs). I don't think he'd take much notice!
Are you still in contact with your old Madrid team mates?
Yes, I'm in touch with quite a few of them.
And Sevilla? Do you follow them?
Yes, a lot. I've got great friends there. We usually chat once a week…
And lastly… what are your hopes for 2021?
Above all else good health, because its been a very tough time. As for everything else, whatever happens will happen, but I wish everybody good health.