What is Trump doing during his last days in office?
President Donald Trump cut short his Christmas retreat to Mar-a-Lago to return to the White House early. He has plenty to keep him occupied over the next fortnight.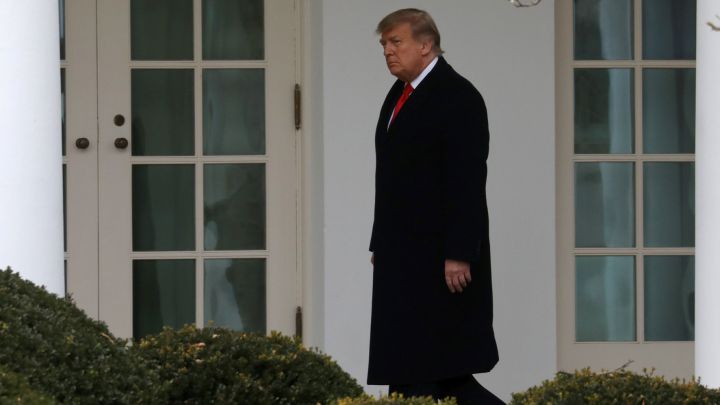 President Donald Trump is back at the White House. He decided to cut short his stay at Mar-a-Lago, where he spent Christmas and had been expected to see in the New Year to return to Washington, even though he has no public engagements in his schedule. Back at his private Florida resort, guests including Eric and Lara Trump, Kimberly Guilfoyle, Rudy Giuliani, Matt Gaetz and around 500 other revellers saw out 2020, ushered in 2021 and partied without the host.
One of the first things Trump did on his return was to record a rousing, end-of-year video which was posted on his Twitter account as the US . Trump waxed lyrical about a "medical miracle" in a speech that lasted close to five minutes: "Years from now they'll be talking about this great, great thing that we did with the vaccines - a truly unprecedented, amazing, medical miracle".
Why haven't they done signature verification in Fulton County, Georgia. Why haven't they deducted all of the dead people who "voted", illegals who voted, non Georgia residents who voted, and tens of thousands of others who voted illegally, from the final vote tally?

— Donald J. Trump (@realDonaldTrump) January 2, 2021
Preparing to leave the White House
Trump and First Lady Melania must pack up and leave the Oval office before Inauguration Day on 20 January. It looks like he will continue to contest the results of the November elections, and while reported threats of him refusing to leave the White House in little over a fortnight's time may come to nothing, it's clear Trump won't be going without a fight.
During the first two days of 2021, he has posted a series of messages and videos, with more moans about election rigging and fraud. "Before even discussing the massive corruption which took place in the 2020 Election, which gives us far more votes than is necessary to win all of the Swing States (only need three), it must be noted that the State Legislatures were not in any way responsible for the massive changes made to the voting process, rules and regulations, many made hastily before the election, and therefore the whole State Election is not legal or Constitutional. Additionally, the Georgia Consent Decree is Unconstitutional & the State 2020 Presidential Election is therefore both illegal and invalid, and that would include the two current Senatorial Elections. In Wisconsin, Voters not asking for applications invalidates the Election. All of this without even discussing the millions of fraudulent votes that were cast or altered!"
Such tweets will probably continue up to Wednesday 6 January when Congress is due to meet to formally count the votes cast by the Electoral College (306 for Biden, 232 for Trump). It takes 270 to win the White House, then there will be a vote to accept the result.
New intelligence from Iraq indicate that Israeli agent-provocateurs are plotting attacks against Americans—putting an outgoing Trump in a bind with a fake casus belli.

Be careful of a trap, @realDonaldTrump. Any fireworks will backfire badly, particularly against your same BFFs.

— Javad Zarif (@JZarif) January 2, 2021
Tension on the rise in Iran
If that wasn't enough, Trump also has other things on his mind. Tensions have been escalating between the US and Iran over the past few weeks and there is concern both in Washington and Tehran that the situation could come to a head if there is retaliation on the first anniversary of the assassination of top Iranian military general Qassem Soleimani, who was killed by a US drone strike in Iraq on 3 January last year.
On Saturday, Iranian Foreign Minister Mohammad Javad Zarif tweeted, "New intelligence from Iraq indicates that Israeli agent-provocateurs are plotting attacks against Americans – putting an outgoing Trump in a bind with a fake casus belli." While it is unlikely that the situation will deteriorate that far, it's obviously a concern. "Some friendly health advice to Iran: If one American is killed, I will hold Iran responsible. Think it over," he tweeted on 23 December. With all that to keep him busy, Trump will have little time to plot how he will spend his free time post-presidency…