Real Madrid: Sergio Ramos' contract renewal still up in the air
Real Madrid are constrained by the pandemic and the need to reduce the wages bill so they cannot enter into a bidding war with other clubs.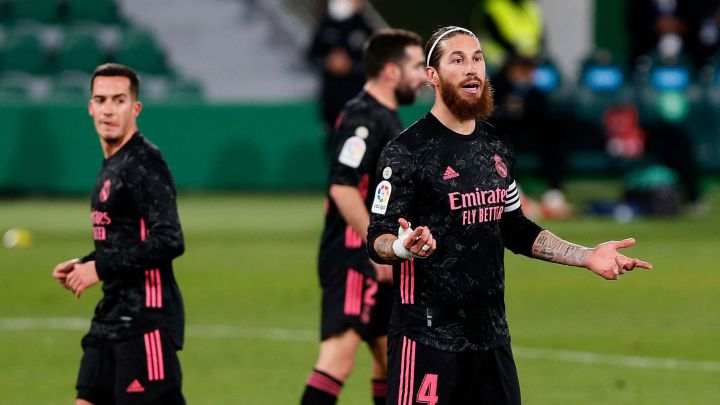 Sergio Ramos' contract renewal is taking longer than expected because Real Madrid are planning another reduction to the squad's wage bill to offset losses accrued due to the pandemic so that they can stay within their budget. The club has estimated that their will be a 300 million euro shortfall this year and that will affect all of the new contracts. So it wouldn't seem right to ask the squad to make compromises then make an exception for an individual player. The club hopes that the players, and especially their captain will understand and set an example, with the assurance that they will be more generous once the economic struggles caused by the pandemic have passed.
4


On the other side of the equation is Sergio Ramos' desire to gain the best possible deal in what will likely be the last major contract of his playing career. Sergio understands that it is difficult for the club to alter their stance, and it will be left to him to make a decision. Something similar happened with Cristiano Ronaldo who, after paying the Spanish tax authorities 23 million euros which he owed, presented Florentino Pérez with an offer from Juventus which would see him earn 50% more than what he was earning at the time with Madrid. It ended with Cristiano accepting Juves offer and Madrid receiving 100 million euros from the operation.
Ramos is now free to negotiate with other clubs, while Madrid can begin the search for a replacement - although that is not what either have in mind. Sergio wants to continue at Real Madrid and the club is happy for that to happen - but within Madrid's policy of renewing the contracts of players who are over the age of 30 (Sergio Ramos will turn 35 in March and was already past the age limit the last time he renewed). Then there is the question of his salary, which currently stands at 13 million euros. At the moment, they are yet to reach a consensus but closer than they were before Christmas. It's still very much up in the air.
If Ramos ends up leaving, there are two other centre-backs who will be out of contract in June: David Alaba and Èric García; the latter has been linked to Barcelona but there is no concrete agreement in place with any of the presidential candidates. Madrid could start negotiating with both defenders now or open talks with Villarreal for another central defender who has caught their eye, Pau Torres. If they haven't done so already it is because they are waiting for Ramos to put forward his offer. The player meanwhile, could be considering whether there is anything in PSG's proposed offer - which is starting to look difficult, or if ay other offers come in from clubs who regularly play in the Champions League. If not, he could look into seeing out his playing days in the Middle East or China...