Coutinho out for three months
The Brazilian did not require having his damaged meniscus stitched, which reduces his recovery time by one month.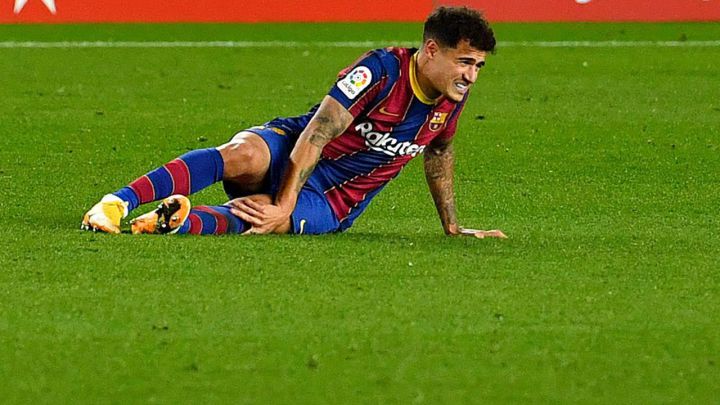 Philippe Coutinho will be out of action for the next three months, Barcelona announced in a medical report today. The player, who was operated on by surgeon Joan Carles Monllau, underwent arthroscopy to repair the external meniscus in his left knee. It turned out that the meniscus was not completely torn and therefore there was no need to stitch torn tissue back together - positive news as it effectively reduces the amount of time which the midfielder will be sidelined. Had the meniscus needed to be fully stitched, Coutinho would have faced a minimum of four months out but seeing as it the end part of the original meniscus could be saved, the recovery period has been cut by a month.
Coutinho could return for Week 31 visit from Getafe
Coutinho won't be able to return to first team action until the start of April at the earliest, which means he will miss a large chunk of both LaLiga and the Copa del Rey, as well as both legs of the Champions League Last 16 tie against PSG. Even if he is back to full training, it is unlikely that he will be rushed back for El Clásico, set for the second weekend in April.
The Brazilian joins a list of players who are recovering from long-term injuries - Ansu Fati, who is out for four months with a similar meniscus injury, Gerard Piqué, who is out for an unspecified length of time while he recovers from a knee injury and Sergi Roberto, who could possibly return at the end of this month after being sidelined with a hamstring problem.
It's not the first time that Coutinho has been laid low this season - he suffered a tear to his left hamstring which kept him out for almost a month. This latest setback has stopped him from completing 100 appearances for Barcelona, a figure which surely will be on the minds of those who work in the club's accounting department - if he doesn't reach three figures, it will affect the 20 million euro bonus that the Catalans will be obliged to pay Liverpool under the terms of Coutinho's contract. At the moment, he has played 90 games for Barça and could finish the season without triggering that clause.