1
Huesca 0-1 Barcelona: result, summary and goals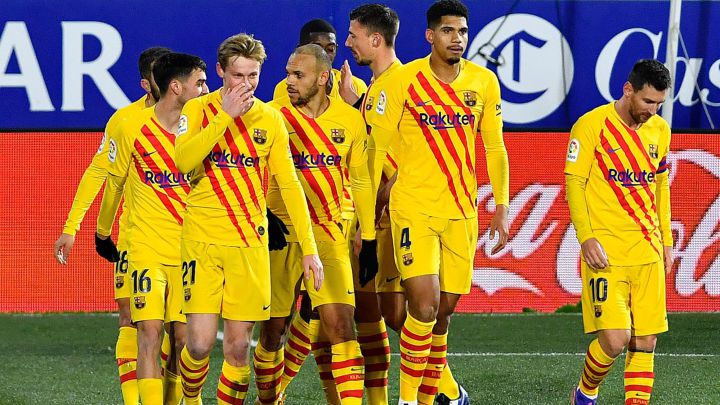 Huesca 0-1 Barcelona: LaLiga as it happened
AS journalist Javier Miguel's Barcelona player ratings: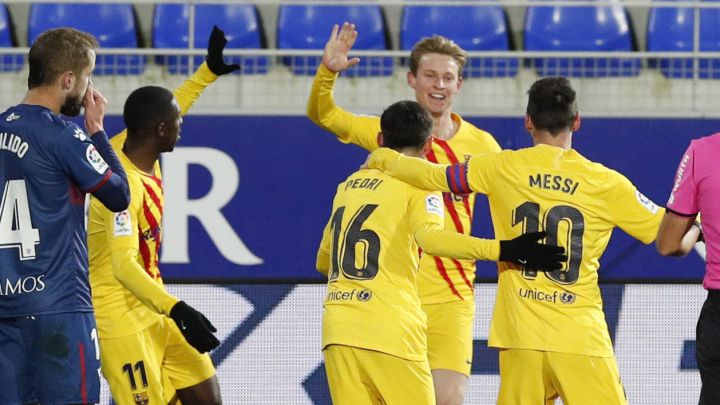 Peep peep peeeeep! 1-0 it ends.
Barcelona played really rather well in the first half and probably should have been out of sight by the break. They couldn't take their chances, however, and albeit they continued to dominate, they were not quite so impressive in the second 45, as ever so slowly Huesca started to believe that maybe, just maybe, they could snatch an unlikely point.
In the end, though, Frenkie de Jong's neat close-range finish was enough to get Barça back to winning ways in LaLiga and lift Ronald Koeman's men into fifth. They remain 10 points behind leaders Atlético Madrid, however - having played a game more than Los Rojiblancos.
That's all from me - thanks for reading!
Two minutes of time added on.
Having enjoyed such a dominant night, suddenly Barça are rather hoping the ref will blow for full time.
Huesca boss Míchel is booked for some sort of backchat to the ref. He's not the first man to get a yellow card tonight, by the way: Ontiveros was cautioned for pulling back Messi a few minutes ago.
They can't, at least not with this chance - but they do manage to work Ter Stegen. The delivery into the box is cleared by Araújo only as far as Ferreiro, who fires the bouncing ball at goal, but doesn't get enough on it to test the Barça keeper.
This is as much as Huesca have seen the ball all night. Ontiveros tries to slip it into the run of Juan Carlos, but Araújo is there to clear.
Moments later, Ferreiro is felled by Pedri 35 yards out from goal, and the hosts have a set-piece chance to swing it into the box.
Can they snatch an unlikely point?
Huesca have probably their longest spell of possession, working it neatly out to Juan Carlos to cross from the left... but when the substitute looks to deliver his ball into the box, it crashes off the back of Galán, who is standing 10 yards or so in front of him and can't get out of the way in time.
Barcelona bring off Braithwaite for Griezmann, who'll slot into the Dane's position at the tip of the attack.
Pedri twists and turns on the edge of the box, before laying it off for Pjanic, who blasts his shot well over.
The young Spaniard then feeds Dembélé in plenty of space on the left-hand side of the box, but the winger gets his first touch all wrong and Fernández is out to smother the ball.
Dembélé is understandably ticked off with himself; if he'd got his control right, it would have been a clear shooting chance.
Barcelona make their first substitutions of the night, Mingueza and Pjanic coming on for Dest and Busquets.
That's bright play from Ontiveros, who scurries towards the Barcelona box before trying to curl a shot into Ter Stegen's left-hand top corner, but directs his strike too close to the German.
Huesca look like they're going to go for it in these final 20 minutes or so, at least in comparison with their just-let-Barça-have-the-ball tactics so far.
Huesca boss Míchel now makes triple substitution: Seoane, Gómez, Pulido make way for Okazaki, Ferreiro and Juan Carlos.
There's a chance for Messi to double Barcelona's lead... but Fernández produces a fine stop! Messi exchanges passes with Pedri before driving into the box and thumping a shot towards the near post, where the Huesca keeper beats it out. Lovely combination play between Messi and Pedri.
Huesca make their first change, replacing Mikel Rico with Idrissa Doumbia.
Rafa Mir wins a corner off Araújo... from which Huesca aren't far away from grabbing an equaliser! It's by a distance the closest they have come to scoring.
The corner is delivered low to the near post, where it evades a crowd of legs before reaching Mir, whose backheeled effort from close range is well saved by Ter Stegen!
A Huesca leveller certainly wouldn't have reflected the run of play so far at El Alcoraz, but that chance is a warning to Barça that, for all their dominance, they still only have a narrow advantage.
Messi gets it out of his feet and thrashes a shot towards Fernández's top corner from the edge of the box, but his strike flies off target.
Moments later, Barça get Dembélé sprinting onto a ball clipped over the Huesca defence, but when the Frenchman tries to lift a finish past Fernández and into the net, Siovas is there to block.
De Jong then chips a pass into the area for Messi, who can't quite get on the end of it.
But hold on, here's a dangerous break for the hosts. A Barça attack is cleared, and suddenly Ontiveros is running at a backpedalling visiting defence. He has Gómez haring clear in space to his right, but instead opts to play it to Mir on his left, and the striker is run out of it.
Wrong option from Ontiveros. Had he played it through to Gómez and got his pass right, he would have got him in on Ter Stegen.
Rico leads a Huesca break and feeds Pulido, who in turn plays it wide to Gómez on the right. He lifts in an inswinging ball towards the back post, but it's an easy take for Ter Stegen. It's been so, so comfortable for the Barça defence tonight.
Busquets lays the ball across the top of the box for Messi to shoot, but the Argentine absolutely skies his effort. As it was before the break, it is all Barça ball.
Pedri feeds the ball out to the left wing Dembélé, who can burst past Pulido into the box if he gets his first touch right... but he doesn't.
Messi then looks to lift a diagonal ball into Dest's run into the area from the right, but he just overhits his pass.
Peeeeep! We're back up and running at El Alcoraz.
No half-time changes for either side.
Messi adds another landmark to his milestone night
According to Spanish football stats guru Mister Chip, Lionel Messi's cross to set up Frenkie de Jong's opener was his 300th assist in the professional game.
Referee Guillermo Cuadra Fernández calls time on a first half that has witnessed total and utter Barcelona domination. Ronald Koeman's men lead 1-0, but it really should be more.
Galán whips in a decent-looking cross from the left, but Barcelona clear... and that will be that for the first half! Araújo is currently in some, er, discomfort, by the way, having taken a speeding ball to an area where it jolly well hurts.
Close from Messi! Barcelona win a free-kick in appetising shooting territory for the Argentine, just to the left - and his curling effort is only prevented from finding the top corner by an excellent save by Fernández.
Moments later, Barça earn themselves a free-kick on the other side, but Messi sends this one comfortably over.
Sergio Gómez gets to the byline and cuts the ball back into the Barça area, but it's deflected behind. From the corner, Jordi Alba looks ready to clear the ball at the back of the box but, as he prepares to do so, he finds the referee in his way. Pedri then does manage to get it away.
Dembélé looks very confident. He floats across the Huesca defence and fizzes a low pass to Dest out on the right, but on this occasion just puts a little too much on the ball, and it squirms away from the American and out for a goal-kick.
They do now, Ontiveros receiving on the turn and looking to plop a ball over the top of the Barça defence to meet Rico's run into the box... but it's overhit and Ter Stegen claims.
Messi drifts into shooting space just left of centre, but curls a yard or so wide. I'm genuinely struggling to remember when Huesca last got out of their half.
Dest scurries into the Huesca box and touches the ball across goal to Braithwaite, who tries to spin his man and shoot with his left, but sees his effort blocked. It is all Barça, to an overwhelming degree.
"If Míchel could call a time-out, I'm sure he would," says former Real Madrid player Álvaro Benito on Spanish television.
They've made their dominance count now! De Jong volleys home from close range!
Again the danger is created down the left, Messi dropping deep to collect and flight a lovely, lovey cross to De Jong at the far post, where the Dutchman touches into the corner past Fernández!
That goal has been coming for about the last 27 minutes.
Pedri twice tries to cross from the left byline, and when his attempts are both blocked, the ball runs loose to Jordi Alba, who pings a shot at the near post, but sends his strike just wide and into the side-netting.
Barça are causing Huesca quite a few problems down that left flank, but are yet to make their dominance count.
Ooh that's another good chance for Pedri. He should do better. Dembélé curls a cross right onto the teenager's head, six yards out - but he seems to time his jump wrong and succeeds only in nodding a harmless effort well over the bar.
This time Barça do create an opening, though. Dembélé puts on the after-burners and charges towards the Huesca box before feeding Braithwaite, who plays it on to Pedri in space on the right-hand side of the box.
Pedri seems to have the chance to shoot, but instead lays it back to Dembélé, whose powerful shot looks to be heading goalwards, but absolutely smacks off Pulido's head and away.
81% possession for Barcelona so far. The visitors pop it about in front of the Huesca box for a good couple of minutes, Dembélé and Messi exchanging passes a couple of times, but on this occasion it's possession that leads to nought.
Dembélé sends a shot at goal from range, but it's well off target.
Moments later, Mosquera leads a rare Huesca attack, but Ontivero's ball towards the box is cut out by Araújo.
Alba is at the heart of everything Barcelona are creating in these early stages at El Alcoraz. Again he fizzes a ball across the Huesca box, and all it needs is a touch - but it doesn't get one!
It's just constant Barça possession in the hosts' half.
Another chance for Barça - and Messi produces the kind of finish I usually come up with at my Thursday kickabout! Alba is again the provider, plopping over a ball from the left-hand byline to the back post, where Messi is all alone... but he tries a jumping volley that he gets all wrong, and sends well wide.
Chance! Jordi Alba sends in a low cross from the left that Braithwaite helps on to Pedri, who's arriving at pace - but, from five yards out at the back post, the youngster can't get a good enough connection and Huesca keeper Álvaro Fernández does well to parry!
Barça play it from side to side in front of the Huesca defence for what feels like an age, before Messi drops deep and looks to clip a ball into Braithwaite on the penalty spot. It's cleared, though.
Just as I say that, the hosts launch their first attack of substance, Seoane looking to slip Mir into shooting space on the right-hand side of the box - but just overhitting his pass.
As Huesca boss Míchel said pre-match he was fully expecting, it's all Barcelona ball.
Peeeeep! Underway at El Alcoraz.

Huesca vs Barcelona: head-to-head so far
Barcelona have won three of their four previous meetings with Huesca, scoring eight in two of those victories and 20 overall. But the last time they came to El Alcoraz, in April 2019, they were held to a 0-0 draw.

What the coaches said: Míchel, Huesca
Under pressure at the bottom:
"I'm very worried about our position in the table. There's no getting away from the fact that we depend on results. I have the backing of the club and that gives me peace of mind, but I live off results. We've done a lot of things well, but we've found ourselves sucked into a dangerous situation."
Game plan against Barcelona:
"Even if we want to have the ball, we know that's not going to be possible against Barcelona. We have to be ready for these types of games. We have to work hard, dig in and close down the spaces, keeping in constant communication with each other. If we show complete focus, we'll be in a position to give them a game.
"If you give them space, they hurt you, and if you don't, they create it, but we have our weapons and we know how we need to defend. We can't afford to let them settle, because they're so dangerous and create a lot of chances to score thanks to their individual and collective ability."

What the coaches said: Ronald Koeman, Barcelona
On Huesca:
"It doesn't matter where our opponents are in the table - every game is difficult [in LaLiga]. They have lost games by a small margin and don't let in a lot of goals [...]. We'll have to be on our mettle."
Philippe Coutinho ruled out for three months with knee injury:
"It's bad luck. We already have quite a few injuries. For me, he has always been an important player and I hope he continues to be. We'll have to see how we get around his absence.
Big month ahead:
"We have a lot of games, a number of which are away from home. I'm realistic in LaLiga - if there's a gap of 10 or 12 points [separating Barça from top spot], we have to wait and see and avoiding dropping any more points. It's going to be difficult; I'd be kidding myself if I thought otherwise. We can't afford to lose another game."

Messi set for double milestone at El Alcoraz
The returning Lionel Messi makes his 500th LaLiga appearance for Barcelona tonight, and his 750th in all competitions.
That'll leave him just five shy of former team-mate Xavi Hernández's club-record of 505 LaLiga games for the Catalans, and 17 off Xavi's all-time high of 767 appearances in all competitions.
Here, courtesy of our colleagues at SofaScore, is a look over Messi's not unimpressive stats in his 499 league games so far.
Messi returns as Barça revert to back four
Lionel Messi's return to the Barça line-up is the key news as boss Ronald Koeman makes four changes to the side that drew with Eibar.
Jordi Alba is also back after serving a ban last time out, while Ousmane Dembélé and Sergio Busquets are the other two new faces in the XI.
Defender Óscar Mingueza drops to the bench as Barça return to a back four.
Huesca head coach Míchel also makes four changes, as Pablo Insua, Jaime Seoane, Rafa Mir and Sergio Gómez are all brought into the hosts' team.
Barcelona team news
Starting line-up: Ter Stegen, Dest, Araújo, Lenglet, Alba, Dembélé, De Jong, Busquets, Pedri, Messi, Braithwaite
Substitutes: Neto, Aleñá, Trincao, Pjanic, Fernandes, Peña, De la Fuente, Griezmann, Puig, Firpo, Mingueza
Huesca team news
Starting line-up: Fernández, Pulido, Insua, Siovas, Galán, Rico, Mosquera, Seoane, Gómez, Mir, Ontiveros
Substitutes: Andrés, Luisinho, López, Doumbia, Eugeni, Carlos, Nwakali, Ferreiro, Okazaki, Escriche

Huesca vs Barcelona: ¡hola!
Good evening! Welcome to our live coverage of Barcelona's LaLiga visit to basement boys Huesca - a match that Ronald Koeman's men must win if they are to avoid falling further adrift of leaders Atlético Madrid.
Barça's home draw with Eibar last time out meant they went into the weekend 10 points behind Atleti - having played a game more - and, in the wake of Los Rojiblancos' 2-1 victory over Alavés earlier today (courtesy of a late winner by former Blaugrana star Luis Suárez), the Catalans need three points tonight just to maintain that slightly grim state of affairs.
Barça currently find themselves sixth in LaLiga, four points off the Champions League places, albeit they have games in hand on all of Real Madrid, Real Sociedad and Villarreal.
Meanwhile, Huesca finally got their first league win of the season on the board last month, but have taken just a point from their three games since then and are rooted to the bottom of the table, four points from safety.
.