Van de Beek advised to "pack your bags and leave Man United as soon as you can!"
An article in "De Telegraaf" recommended that Van de Beek was should start looking for another club if he doesn't play in Wednesday's EFL Cup tie against Manchester City.
Donny van de Beek hasn't got off to a good start at Manchester United. The Dutch player, who United paid Ajax almost 40 million euros for last summer, has yet to break into Solskjaer's starting XI... and now it seems he doesn't figure at all in the Norwegian coach's plans. His last game in the Premier League was on 20 December against Leeds. His last appearance came three days later on 23 December in an EFL Carabao Cup tie against Everton.
Back home in Holland, the national press have started putting pressure on Van de Beek  to start looking for another club if his situation doesn't change. In an article published in De Telegraaf he has been advised to "pack your suitcase immediately" if he doesn't get to play in the EFL Carabao Cup semi-final against Manchester City on Wednesday night.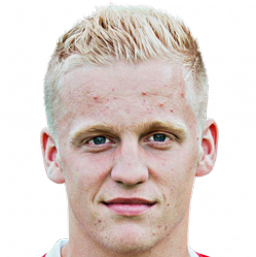 Van de Beek facing competition for a place at United
The Netherlands international, who is a regular with the national team, is hoping to be in contention to play this year's rescheduled Euros but he is being deprived of regular playing time with Manchester United. Players like Bruno Fernandes, Paul Pogba, McTominay and Fred are ahead of him in the pecking order at his club. Van de Beek has played just 10 Premier League games (two of them in the starting line-up - and in one, he was substituted at half-time) and he hasn't played at all in the team's last three games.
Solskjaer spoke about how Van de Beek is adapting a few weeks ago: "When players come into a new league, it's always going to be a time of transition. When Donny has played, he's played really well. I think it says a lot about our depth of quality in the squad that we don't have to use him every single game because we have other players as well," he told reporters back in October.