Why did Facebook and Instagram ban Trump and how long does the block last?
Trump's favorite bullhorns for reaching his base and spreading misinformation, the two social media giants banned Trump, Facebook until at least the end of his presidency.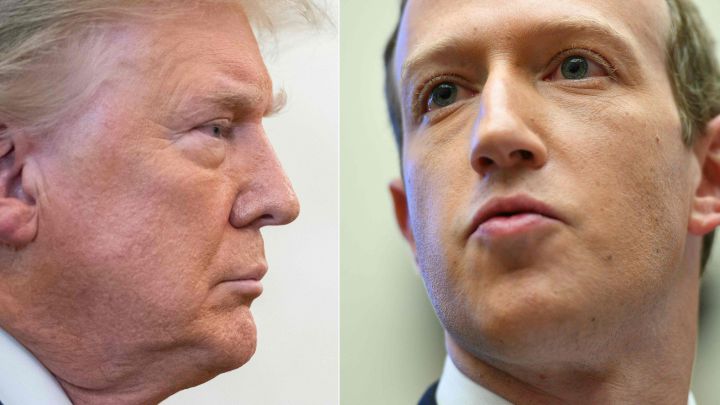 On Wednesday both Twitter and Facebook, and its subsidiary Instagram, blocked Trump from posting on their sites after he published a string of inaccurate and inflammatory messages. Trump's final tweet came after President-elect Biden spoke to the nation on the chaos that Trump had stoked and encouraged to a multitude gathered in front of the White House that went on to storm the nation's Capitol building.
The unprecedented censure of Trump by the social media companies comes after they began taking steps prior to the election to control political misinformation, as opposed to their generally hands-off approach. In the months leading up to the election both companies repeatedly marked Trump's messages with labels to warn that the information was inaccurate or disputed drawing the President's ire.
How long will Trump be banned from Twitter and Facebook?
Facebook initially banned Trump from posting for 24 hours, along with Instagram, the photo-sharing site it owns. Chief executive Mark Zuckerberg has since extended the ban, posted in a statement, until at least the end of his term cutting Trump off from his more than 35 million followers.
Facebook took action after Twitter locked his account for 12 hours, which has since expired, after Trump posted a call to his supporters sacking the Capitol building to "go home". However this feigned attempt to calm the situation was preceded and followed by continued lies about the election and his understanding their anger at being wronged by evil people. He finished his message with adoration for the mob.
The company made the restriction temporary on the condition that Trump delete several of his tweets from his account that rejected the election results and appeared to incite violence. Since the expiration of the ban Trump has not tweeted but the ban can be put back in place and made permanent. Twitter will permanently suspend his account if he continues violating Twitter's policies against violent threats and election misinformation. He has over 88 million followers on twitter.
Today is a chance to change social media forever.

Tell Mark Zuckerberg and @jack--

Facebook and Twitter have spread Trump's lies and hate and helped radicalize the extremists who attacked the Capitol.

Suspending Trump for a few hours is NOT ENOUGH!#BanTrumpSaveDemocracy pic.twitter.com/ND3xaXSPCD

— Sacha Baron Cohen (@SachaBaronCohen) January 7, 2021
Why now are they banning him now?
For years Trump has been given leeway on the social media sites. Zuckerberg has repeatedly said that he believed strongly in protecting speech across Facebook and didn't want Facebook to be "the arbiter of truth." The social media sites have come under heavy criticism for allowing the dissemination of hate speech and misinformation on their platforms.
The platforms had taken step to push back on the President's posts in the spring, putting fact-checking labels to his more outlandish and inflammatory declarations. This drew backlash from the President who even veto the Defense spending bill because it didn't include a portion to eliminate Section 230 which gives legal protection to social media platforms for content posted on them.
However after the events of Wednesday the pressure to take down Trump's posts and tweets intensified. A deluge of criticism fell on the social media companies for their responsibility in the spread of misinformation as Trump continued to claim election fraud while supposedly telling the rioters to go home.
In a statement posted on Twitter the company said "Our public interest policy — which has guided our enforcement action in this area for years — ends where we believe the risk of harm is higher and/or more severe."
This means that the account of @realDonaldTrump will be locked for 12 hours following the removal of these Tweets. If the Tweets are not removed, the account will remain locked.

— Twitter Safety (@TwitterSafety) January 7, 2021