LaLiga: Osasuna-Real Madrid to go ahead tonight despite snow
More snow is forecast in Pamplona in the early afternoon. Osasuna-Real Madrid won't be moved from the scheduled kick-off time of 21:00 CET despite the weather conditions.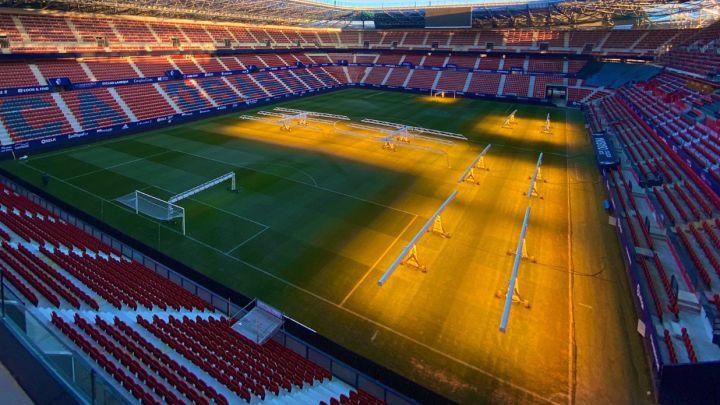 In Pamplona, the capital city of the community of Navarre, the first snowflakes are falling, although only lightly for now. The meteorological services have pointed out that the worst of the storm will arrive in the early afternoon. It is possible that by the time kick-off approaches there will already be between five and ten centimeters of snow, which would make it extremely difficult for Osasuna-Real Madrid to go ahead.
Storm Filomena continues to hit Madrid hard. Barajas airport in the Spanish capital remains closed and, even if the LaLiga fixture is played at El Sadar tonight, it would be unlikely to expect the Madrid squad to return home after the game. If the match is cancelled, LaLiga say that it could be played on Sunday morning. At the moment, there is still hope that it can be played.
The league has already confirmed to Real Madrid that they won't bring the game forward. The intention of Zinedine Zidane's team was for it to be brought forward in order for the fixture to take place. Madrid asked for it to be played at noon, but LaLiga turned a deaf ear to their proposal.
Madrid arrived at their hotel, the Alma Buga Veloso, in Pamplona, at around midnight on Friday night. The trip to Pamplona was longer than expected after the team, technical staff and other employees of the club were trapped inside their airplane for more than three hours. Snow and frozen runways meant the team had to sit patiently in the aircraft. "It's insane, chaos. The game could be postponed from Saturday to Sunday because of the storm," a Real Madrid source told AS. Groundstaff at El Sadar will spend Saturday afternoon and evening hoping to keep the pitch in the best condition possible. The teams now play the waiting game before the real game.