Rust: how to play, where to download, price, editions & more
Survival game Rust has amassed a huge Twitch following and many gamers are now looking to try out the open-world survival game for themselves.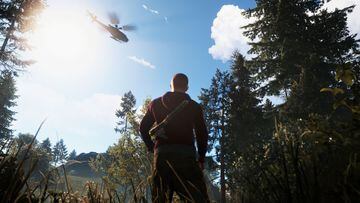 Online multiplayer game Rust lets players loose in a frantic world where survival is the number one priority. If you are to survive you must battle it out in a harsh open world environment with wolves and bears for company. Players begin the game with just a rock and a torch and have to work their way up to bows, melee weapons and craftable guns to defend themselves against rivals.
The game was first released for early access in December 2013 by developers Facepunch Studios but the full version has only been available since 2018. In recent months it has risen to prominence on game streaming service Twitch, with millions of people now watching and playing along. The Rust Twitch page currently has over 3.5 million followers with the most popular streamers regualrly getting over 100,000 views on each video.
How to play Rust
Survival is the aim of the game in Rust and you will need to keep your wits about you to survive, and maybe even thrive, in a gruelling world. You will need to learn how to craft, build and fight your way through the game's many challenges and get yourself set up to explore the world.
The game's official description makes clear: "The only objective in Rust is to survive." However, there are a number of ways that you can go about securing your survival. In a world full of other players will they be your enemies or your allies? Survival of the fittest or strength in numbers? You decide.
Make the right decision and you can thrive in a world of limitless boundaries. You may start in rags but once you've built your shelter, honed your skills and founded powerful allegiances you can achieve anything. You can even craft helicopters with the right tools and a bit of expertise.
Where to download Rust
There are plans for PlayStation 4 and Xbox One editions to be released at some point during 2021 but for now Rust is only available on PC. The best way to download it currently is via Steam, the digital distribution service, which is available on Windows, macOS and Linux operating systems.
At the moment Steam is offering Rust for download with a whopping 33% discount, just the thing to get you through the last of the cold weather this winter. Simply head over the game's Steam page and follow the instructions to download the game.
How much does Rust cost on PC?
With that 33% deduction on offer you can save yourself a bit of money on the usual price. There is only one edition currently available to download, but there are additional packs that can be purchased to jazz up your avatar. One pack includes 10 musical instruments, from Cowbells to Xylobones, to offer a break from all the violence, and another includes 15 summer-themed items.
Here's how much they will cost: