Lewandowski recalls Klopp, the bad teacher with a human touch
The Bayern Munich striker has enjoyed a close friendship with the Liverpool manager since both were together at Borussia Dortmund.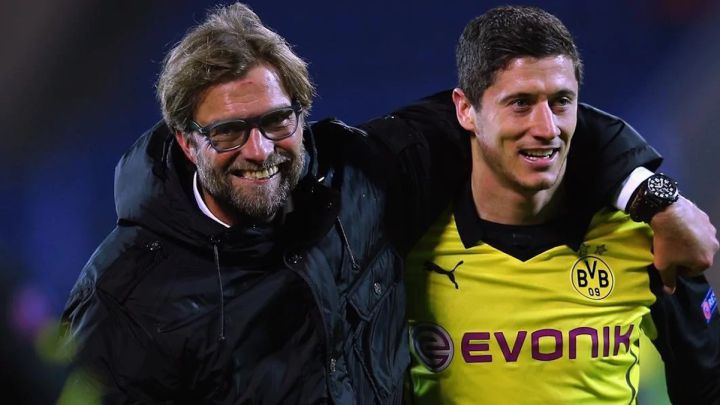 Robert Lewandowski had some complimentary words to say about his old coach Jürgen Klopp, who was a father figure to him when they worked together at Borussia Dortmund. The Bayern Munich striker struck up a close friendship with the Liverpool manager at Dortmund and recently both picked up individual awards at FIFA's The Best gala.
9

Lewandowski spoke highly of Klopp in an interview with The Players' Tribune and recalled having a bet with the coach when he first arrived in Dortmund. "I once made a bet with Jürgen Klopp," he explained. "It was 2010, and I had been a few months at Borussia Dortmund. Honestly, it was so tough. When I arrived I could barely speak a word of German. I knew danke (thank you). I knew scheisse (shit). The weather was rainy and grey. And with Klopp, the intensity in training was very, very high. I was desperate to make my mark, and Jürgen wanted to challenge me. So in the first few months we made a little bet. If I scored 10 goals in a training session, he'd give me 50 euros. If I didn't, I'd give him 50 euros. The first few weeks, I had to pay up almost every time. He was laughing. But after a few months, the tables turned. I was the one raking in the cash. So one day he said, -Stop! Ok! That's enough. You're ready now.' But in truth, I wasn't. Matches are very different from training".
Klopp's human touch
The Bayern ace added that while Klopp demands the maximum from all of his players, the coach also has a very approachable, human side with everyone he works with. "I could talk to Jürgen about anything. I could trust him. He is a family man, and he has so much empathy for what goes on in your private life. Jürgen was not only a father figure to me. As a coach, he was like the "bad" teacher. And I mean that in the best sense of the word - not the one who made life easy for you and never expected anything from you. He was more like the bad teacher, the one who was strict with you, the one who put pressure on you and did everything to get the best out of you. That's the teacher who made you better - and Jürgen was like that".