LaLiga chief blasts Zidane's "excuses" after Osasuna debacle
LaLiga president Javier Tebas has expressed his unhappiness with Real Madrid over its version of last weekend's events, and slammed Zidane for making "excuses".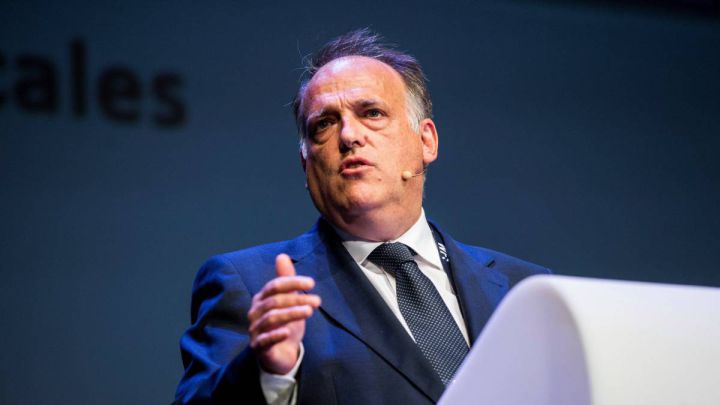 LaLiga chief Javier Tebas has taken a swipe at Zinedine Zidane for making "excuses" following Real Madrid's 0-0 draw at Osasuna last weekend, which had been threatened with suspension due to the adverse weather conditions caused by Storm Filomena.
LaLiga has been harshly criticized by several coaches and players for forcing games to go ahead last weekend despite the terrible weather conditions that were experienced across Spain as a result of Filomena.
One of those games was the 0-0 draw played out in Pamplona between Madrid and Osasuna, after which Zidane railed against LaLiga for its refusal to call off the fixture, saying the clash should "clearly" have been postponed.
"It's very hard to play under these conditions, but in the end the decision was made that we should play and we all saw the match that we got," said the French coach. "No [it wasn't the right decision to play the game], but at the end of the day we have to do what we're told … In my view, the right conditions weren't there for us to play a game of football."

Tebas takes swipe at Zidane
Asked about Zidane's comments on Wednesday, Tebas criticised the French coach for "making excuses" following the disappointint 0-0 draw, during which Los Blancos managed just one shot on target.
"I do not know the information that Zidane had. I have seen so many excuses that the coaches have given when the games have not gone well, so this will be one more," said Tebas, who also confirmed his intention to speak to Madrid president Florentino Pérez over the matter. "I will call him because I am not at all happy with what has gone on behind the scenes."
Although Zidane's ire had begun long before his team arrived in Pamplona – a journey which almost did not happen on Friday after Madrid's flight was unable to take off from Madrid airport due to a build-up of snow and ice caused by Storm Filomena. Starting Friday and over the course of the weekend, the Madrid region, along with the rest of Spain, saw levels of snowfall not seen in 50 years, causing transport chaos across the country.
Tebas unhappy with Real Madrid's version of events
The Madrid squad found themselves trapped on the runway for several hours, before their flight was eventually given the clearance to take off around 10pm. The flight debacle was a source of Zidane's ire towards LaLiga, and for which the football governing body has also been blamed.
However, Tebas again defended LaLiga, explaining that the decision to travel by plane on Friday was ultimately taken by Madrid after he claimed he had suggested to the club's general director, José Ángel Sánchez, that the squad postpone their trip until Saturday.
"I have been bothered by the version [of events] that Madrid has given. On Friday afternoon I spoke with their general director more than 14 times. I told him that, if he saw that the guys were very nervous, the best thing to do was to go back to the [training base] and try to travel the next day. But he said no," Tebas told Spain's national broadcaster TVE.
"If [the airport authorities] had said that there is no possibility of taking off, Real Madrid would not have taken off ... The final decision to travel is taken by Real Madrid," said Tebas.