Commissioner Lisa Baird announces NWSL changes
The National Women's Soccer League commissioner addressed the changes that will occur this year in the league and the reformed partnership with the US Soccer Federation.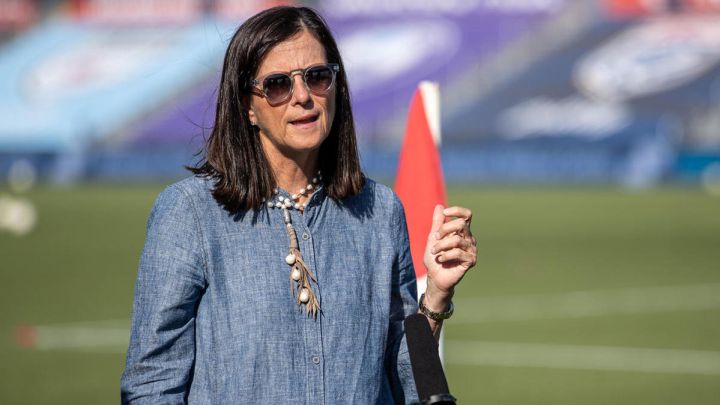 On Wednesday, the National Women's Soccer League (NWSL) held its ninth annual draft ahead of the 2021 season. The commissioner of the league, Lisa Baird, held a press conference prior to the draft and explained all the changes that will occur this year and the reformed partnership with the US Soccer Federation.
"Like everything in the last year, our 2021 draft won't be traditional in the sense of everybody in one place, but we're innovating and we're using, utilizing technology to replicate the mechanics as much as possible while ensuring we remain smart and safe," said Baird during the press conference.
There will be two new expansion franchises for the 2022 season, Angel City FC in Los Angeles and a team in Sacramento. The idea is to bring women's soccer back to California in order for the league to keep growing and bring more awareness of women's soccer.
"As I've learned and spent the last months working with them, the Sacramento market is going to be great for us and soccer," Baird said. "I'm really, really excited about what I see and what we'll be doing for fans there. There are some serious soccer fans, as I know."
Dissolved partnership with US Soccer
Baird announced that the league will no longer partner with the US Soccer Federation (USSF). This means that the NWSL will operate without the management of the USSF, but they will still be involved as investment partners.
During their 10-year partnership the USSF allowed processes such as allocated players, whose salaries were paid by the United States women's national team. Since the decision to part ways, The Athletic reported that Lindsay Horan and Crystal Dunn have signed deals directly with their club the Portland Thorns, rather than making a deal with the USSF.
"On behalf of my owners, we want to thank US Soccer for those first 10 years, but they are no longer the manager. That is not an official relationship. We have entered a new chapter of our relationship with US Soccer. I am in continual contact with the US Soccer CEO Will Wilson and with US women's national team general manager Kate Markgraf because we have a mutual interest in building the best women's soccer league in the world. That's what this new partnership will be about," said Bird regarding the matter.