Odriozola out of the picture at Real Madrid
He was the only player excluded from Zidane's squad list for the Super Cup semi-final against Athletic even though Carvajal was out injured.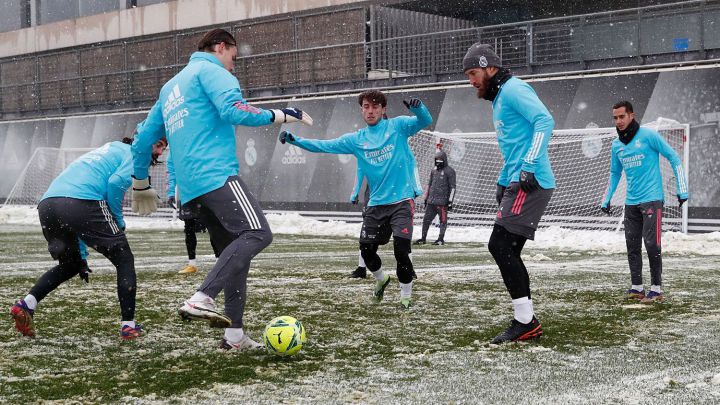 Álvaro Odriozola has no place in Zidane's side. The full-back has never managed to convince the Real Madrid coach but it was made clear ahead of last week's Spanish Super Cup semi-final. Dani Carvajal didn't make the trip to Málaga for the game due to a muscular problem which, in theory, should have presented Odriozola, his natural replacement at right-back, with a chance to feature. Not only was that option ruled out by Zidane, Odriozola was the only player left out of the coach's 20-man squad.
Zidane has made his point and it is another blow to Odriozola's self-confidence. It's not hard to imagine how he must have felt about being excluded when the team's first choice in his position was ruled out through injury. He is fourth in the pecking order at right-back, because Zidane has shown that he prefers to drop Lucas Vázquez back or Nacho to fill in whenever Carvajal is unavailable.
And to make matters even worse for Odriozola, he had to watch Lucas Vázquez play as a makeshift right-back and commit two horrendous mistakes, which led to both of Athletic's goals. While it is fair to say that the winger has performed well while filling in at right-back this season, he had a off-day precisely when Zidane decided to leave Odriozola in the stands.
Odriozola's sole appearance, back in September
Odriozola has made just one appearance this season - he was in the starting line-up for the Week 3 meeting with Valladolid in which he was substituted on 57 minutes. After that he suffered an injury which kept him sidelined for longer than anticipated and hasn't played a single minute since. Madrid have played 10 games since the defender made a full recovery.
Now, Madrid must decide what to do with Odriozola before the transfer window closes. Last season he joined Bayern Munich on loan but hardly featured there. A loan move is an option again but only if it is beneficial to everyone involved - because while Zidane is in charge at Real Madrid, it's clear that Odriozola will be given few, if any opportunities…