Messi red card: how many games will Barça star be banned for?
Lionel Messi was sent off in Barcelona's Spanish Super Cup final defeat to Athletic Club after swinging an arm at Asier Villalibre.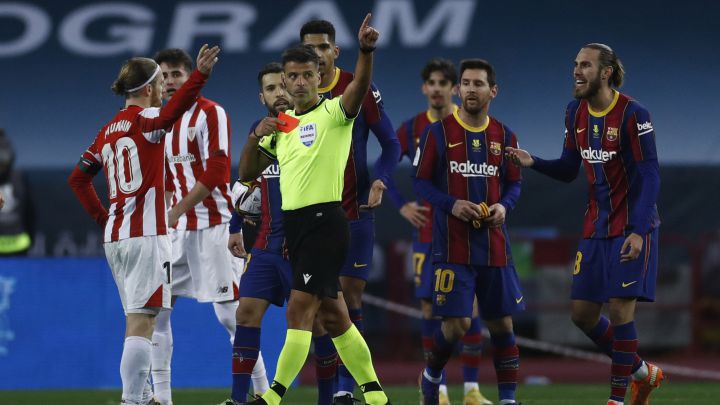 Lionel Messi could be facing a ban of at least four games after being sent off in Barcelona's Spanish Super Cup final defeat to Athletic Club on Sunday.
Messi gets straight red card for swinging arm at Villalibre
Messi was shown a straight red card in the final minute of extra time for swinging an arm at Athletic's Asier Villalibre, referee Jesús Gil Manzano dismissing the Argentine after watching the incident back on the pitchside monitor at Seville's Estadio La Cartuja.
The Spanish Football Federation's (RFEF) Competition Committee must now decide how many matches to suspend the Barça captain for - and the panel's verdict will depend on which article of the RFEF's disciplinary code they apply to the incident.
Article 123: Messi gets two or three-match ban
If it is article 123, which governs "violent play", the maximum ban Messi could get would be three games. This article, which is used when punishing "violent [actions] in the course of the play or as a direct consequence of the play", recommends a one to three-match ban - unless "the incident occurs away from the play or when play has been stopped; this will be punished with a two to three-match ban".
The latter consideration applies to the incident between Messi and Villalibre, so it appears the 33-year-old can expect to be sidelined for two games at the very least.
Article 98: Messi gets four to 12-match ban
However, if the Competition Committee deems that Messi was guilty of assaulting Villalibre, the body can be expected to invoke article 98 of the disciplinary code, which calls for a longer suspension up to a maximum of 12 games.
According to the article, if a player "assaults another player […] when play has been stopped or at a sufficient distance from the action that it is impossible to intervene in the play, the punishment will be a four to 12-game ban."
Messi's first ever red card in Barcelona senior side
Sunday's red card was Messi's first in a Barcelona first-team game. The forward's only other dismissal as a Blaugrana player was in a Barça B match in 2005.