FIFA Club World Cup draw: as it happened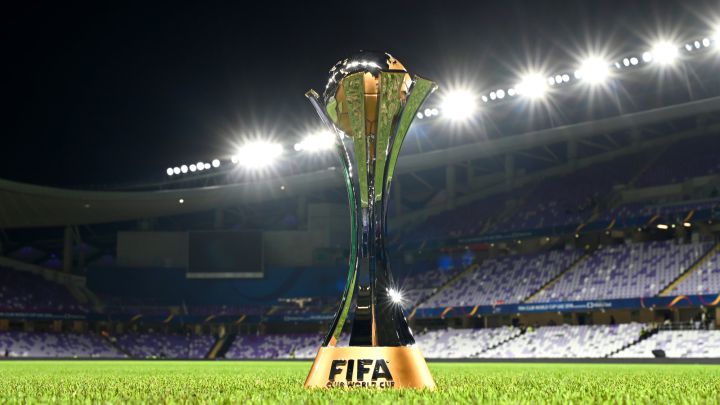 Club World Cup draw

Here's a summary of today's draw:
Feb 4: Tigres UANL vs Ulsan Hyundai
Feb 4: Al Duhail vs Al Ahly
....which leaves Bayern to face the victor from Al Duhail or Al Ahly.
winner match 2.... Tigres/Ulsan will face Santos or Palmeiras
next up the semi-final pairings....
which means Al Duhail will face Cairo based Al Ahly.
...next club out are.... Ulsan Hyundai and the S.Korean men will face....Team B (Tigres)
Tigres UANL are next out and will face .... Team A (tbc)
The Qatari side will play in Match 3 as Team C
First out is .... Al Duhail
Ok, all set...draw time......
The winners of these games will face the Libertadores winner on Feb 7 (Match 2) with Match 3 winners facing Bayern the following day.
First up we'll have the draw for Match 2 and 3.
FIFA draw master Jaime Yarza now on hand to go through the 'small print' and outline to draw procedure as he introduces each side.
Jessica just running us through the competition format and confirming the lack of Auckland City this year as she introduces us to special guest today in former stopper Diego Benaglio and feels that Bayern are odds on favourites to bag the title on 11 February.
First up is a look back at the previous edition of the competition in 2019.... Liverpool. Esperance, Al Hilal, Monterrey, Al Saad and Flamengo the key participants.
A reminder of the participants representing global governing bodies of: UEFA (Bayern Munich), AFC (Ulsan Hyundai), CONCACAF (Tigres UANL), CAF (Al Ahly), Qatari league champions Al-Duhail along with a CONMEBOL representative that will be resolved after the Copa Libertadores final between Santos and Palmeiras on 30 January.

This is the new Adidas Context 21 ball that will be used for the duration of the tournament.
Just over five minutes before we're live in Zurich. Despite just six teams (seven if you include the Libertadores finalists), I anticipate FIFA maximising the draw opportunity and if memory serves me well from last year, the procedure will run to 20-30 minutes.

Both Bayern Munich and the Libertadores winners get a fast track through to the semi-final of the tournament and they will play their first games in Qatar on 8th/7th respectively. Ahead of the competition, it's the Bundesliga side who are firm favorites to add to their previous 2 InterContinental and one Club WC haul.

One small issue to be resolved is, who will represent CONMEBOL in Qatar in February as Santos and Palmeiras will face off in Rio in the Copa Libertadores final on 30 January after they despatched the Argentine 'Big Two' in Boca Juniors and last year's finalists River Plate.

This is the prize that awaits the winners on 11 February with Liverpool the current champions after defeating Brazilian side Flamengo in December 2019.

All games in the competition will be staged in Al-Rayaan in the Doha suburbs with Education City and the Al-Rayaan stadiums to be used to stage the matches. Both grounds will be part of the eight stadiums that will host Qatar 2020 World Cup matches.

Libertz today will be assisted by former Switzerland international goalkeeper Diego Benaglio who enjoyed spells in the Portuguese, German and French leagues.

The draw from Zurich gets underway today at 16:00 CET and will be hosted by Jessica Libertz.
The competing teams for this 2020 edition of the tournament are:
- UEFA (Bayern Munich)
- AFC (Ulsan Hyundai)
- CONCACAF (Tigres UANL)
- CAF (Al Ahly)
- QSL league champions Al-Duhail
- CONMEBOL Copa Libertadores final winners with Santos-Palmeiras set to be played on 30 January.
With the recent withdrawal of Oceania representatives Auckland City, six teams will compete in Doha for the title with the final scheduled for 11 February in Al-Rayyan (Doha).
The delayed 2020 edition of the competition, once again will be staged in Qatar and is set to run from February 4-11.
Hello and a very warm welcome to our coverage of the FIFA World Club Cup draw.
.