US News
What did Biden say about Trump's Oval Office letter?
After two months of extreme public snubbing and a bitter tooth and nail battle to the end, has Donald Trump actually softened on his way out?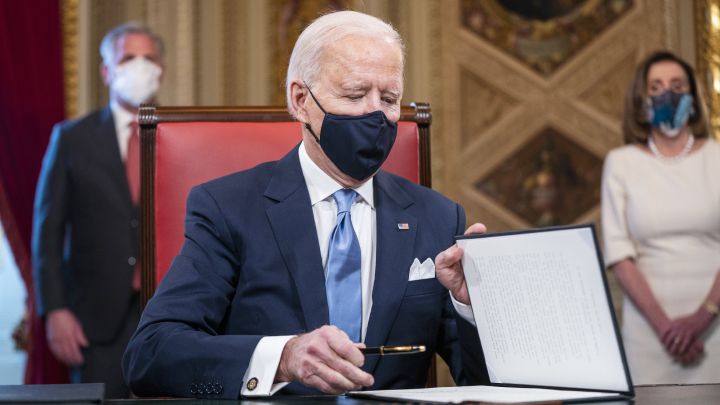 Throughout his presidency and especially in the last few months, Donald Trump has torn up the rule book and broken with tradition almost without pause; from refusing to concede defeat to not turning up to his successor's inauguration (not to mention the double-whammy impeachment).
But there's one small tradition he did keep on his way out the door of the Oval Office for the last time, he left a letter for President Joe Biden to receive Wednesday on his first day in power.
What did Joe Biden say about Trump's letter?
Speaking from the Oval Office for the first time as president on Wednesday evening after signing a slew of 17 executive orders, Biden said he would also be keeping the note under wraps until he had a moment to connect with Trump.
"The president wrote a very generous letter," Biden said. "Because it was private, I will not talk about it until I talk to him, but it was generous."
In the Oval Office, President Biden describes the letter that former President Trump left him as "very generous," but said he didn't want to share more than that because it is "private." pic.twitter.com/avG1Lyj2Jm

— MSNBC (@MSNBC) January 20, 2021
In a briefing Wednesday night, White House press secretary Jen Psaki declined to offer more details on the letter Trump left for Biden, telling reporters that, based on comments from Biden, "this is a letter that was private, as he said to you all, it was both generous and gracious, and it was just a reflection of him not planning to release the letter unilaterally."
What did Trump's team say about the letter to Biden?
Trump spokesperson Judd Deere confirmed Wednesday that the president had written a letter to President-elect Joe Biden and left it for him in the Oval Office's Resolute Desk.
A senior Trump aide described the letter to CNN as a "personal note" that prays for the success of the country and the new administration to take care of the country.
In his farewell address on Wednesday, Trump did not name Biden, but said he wished the "new administration great luck and great success."
Why do outgoing presidents write letters to their successor?
The tradition is in fact relatively recent, having been started in jest by former President Ronald Reagan for his former vice president George H.W. Bush on 20 January 1989. Legend has it that the message was written on stationery that included the saying "Don't let the turkeys get you down" with a picture of an elephant surrounded by said birds.
But it was at the end of Bush's term in 1993 when the notes became famous. The Republican had battled hard to no avail against Bill Clinton and ended up serving only one term, but struck a peaceful tone in his letter, addressing the Democrat as "our President", adding that "Your success is now our country's success. I am rooting hard for you."
What did Donald Trump's letter from Barack Obama say?
In a now eerie parting note, upon his arrival to the White House in 2016, Trump received a letter written by President Barack Obama wishing him and his administration good luck and urging him to work hard to leave the "instruments of our democracy at least as strong as we found them."