Biden increases food stamp program: how much is it worth and how to get it?
As the covid-19 economic crisis continues to worsen President Joe Biden has signed two executive orders aimed at helping vulnerable workers and struggling familes.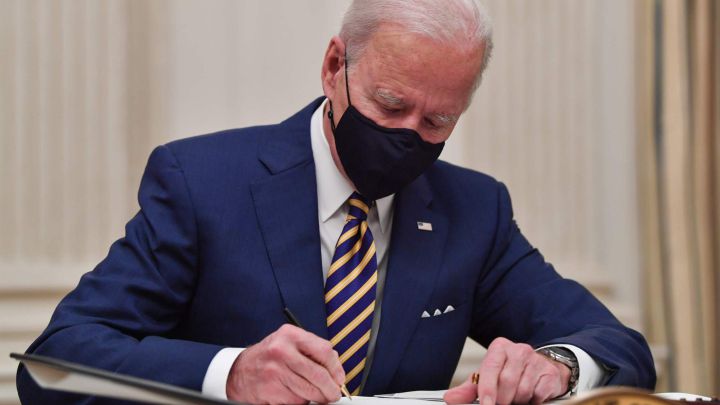 On Friday President Joe Biden signed two executive orders aimed at offering economic relief to those who are suffering the most during the pandemic. Amongst the provisions included in this new burst of federal funding was a significant increase for the Supplemental Nutrition Assistance Program (SNAP), more commonly referred to as 'food stamps'.
The move comes as census data suggests that 30 million households struggled to get food on the table in the last month, a drastic increase on pre-pandemic levels.
Pres. Biden will ask Ag Dept to take following actions on food insecurity, per Director of Nat'l Economic Council Deese:

• Increase pandemic EBT benefits by 15% for families who typically rely on school lunches

• Increase SNAP benefits by 15-20% for as many as 12M Americans pic.twitter.com/9qeHNZxPAq

— NBC News (@NBCNews) January 22, 2021
Upon announcing the boost, Biden warned that "the crisis is only deepening" and that providing food for those in need was "an economic imperative".
"We have the tools to help people. So let's use the tools. All of them. Now," he said.
How much is the food stamp increase worth?
The headline figure from this announcement is that SNAP benefits will now be increased by 15-20% to help support those who are struggling to make ends meet. The weekly payment is based on age and gender with the amount supposed to be enough to cover a "thrifty meal plan". For context, before Biden's increase women between the ages of 19 and 50 were budgeted just $38.50 a week for food.
President Biden signed two executive orders today that:

◾️increase food stamps for families
◾️support a $15 minimum wage for some workers
◾️allow workers to receive unemployment if they quit their jobs over #COVID19 safety pic.twitter.com/RoSgdnfcLJ

— AJ+ (@ajplus) January 22, 2021
Taken on its own a 15% increase may not seem too significant but it is just one element of an executive package aimed at supporting those unable to cover the basics. There is also a boost to the Pandemic-EBT scheme which provides debit card for students who would usually receive free school meals, but whose schools are closed due to the pandemic.
Together, the New York Times estimates that this package would contribute an extra $50 a month for a family of three; potentially the difference between being able to afford a meal and going hungry.
How to apply for food stamps
Although Biden's executive orders have changed the amount of financial support on offer there are not yet any plans to change the administrative process underpinning it. The President is eager to work with Congress to pass his agenda but is using executive power in this instance to get much-needed support to the people who need it.
While food stamps are federally funded, SNAP is organised on a state-by-state basis so you will need check with your local SNAP office if you think you may be eligible. You can find local offices and each State's application on the USDA national map.
We've all seen the long lines at food banks. President Biden's executive order to expand access to food stamps will help families in need right now.

This is good government for the people.

— Jeff Merkley (@JeffMerkley) January 22, 2021
Each local office is also listed in the state or local government pages of the telephone book, just look for "Food Stamps," "Social Services," "Human Services," "Public Assistance," or a something similar.
Finally you can also contact officials by telephone using your state's SNAP hotline number, most of which are toll-free.
For full details on how to apply for food stamps the US Department of Health and Human Services website has all the information you need, as well as a link to the form required to submit your application.