How much money do McGregor and Poirier get for the combat?
Conor McGregor is earning a substantially bigger purse than his opponent Dustin Poirier for their UFC 257 lightweight clash on Fight Island.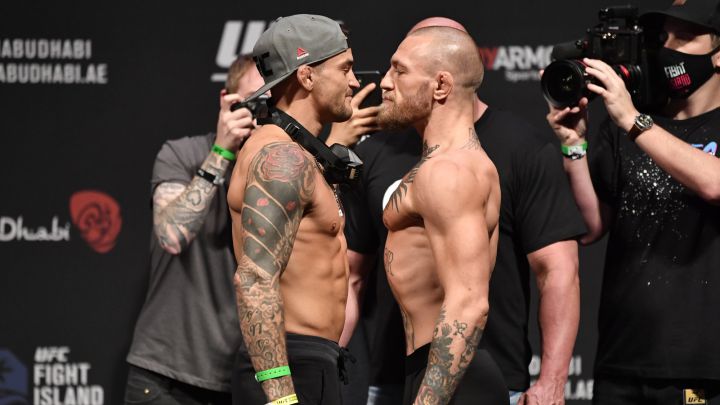 How much money is on the table for Conor McGregor and Dustin Poirier in their lightweight fight tonight at UFC 257? A lot is the answer, but it's not going to be shared equally.
McGregor vs Poirier live online
McGregor looking at around $20 million in total
Conor McGregor is one of UFC's most bankable stars, if not the most bankable, despite being nearly absent from the sport for some two years and having announced his retirement in 2019 and again in 2020. His disclosed purse for tonight's fight against Poirier is five million dollars, plus a share of the pay-per-revenue. That amount is undisclosed but it could be a serious chunk of money, potentially some $15 million, taking his total earnings for the fight to twenty million bucks.
Poirier still easily making seven figures
Dustin Poirier is not in The Notorious' league in terms of, er, notoriety, but he's still set to make well over seven figures for the fight. His disclosed purse is one million dollars, and he also takes a revenue share of PPV income, though likely a significantly smaller percentage.
How to watch UFC 257 Poirier vs McGregor
The fight is the main event on Saturday night's card, which starts at 10 p.m. ET and is available on PPV.
You can watch as follows:
Early preliminary card: ESPN+ (US), BT Sport (UK), UFC Fight Pass (worldwide)
Preliminary card: ESPN/ESPN+ (US), BT Sport (UK)
Main card: ESPN+ (US), BT Sport (UK)
Full details: UFC 257 Poirier vs McGregor: how & where to watch
Poirier and McGregor both made weight
Tonight's fight is a lightweight bout, and both fighters made weight when they took to the scales on Friday, McGregor coming in at 155 pounds and Poirier at 156, to make the rematch official.
Unlike in their previous fight, where McGregor trash-talked in the build-up, winding Poirier up and then following through and knocking the American out in the first round, the pair were smiling and joking as they squared up to each other after the weigh-in and the handshake seemed charged with respect from each fighter for his opponent. Of course, that will all change as soon as they get in the Octagon.