Koeman: "If I can't say what I think, get another coach"
The Barcelona coach said: "If after being unable to beat Cornellà in 90 minutes I can't say what I think... I criticise the players with respect, I'm not having a go at them".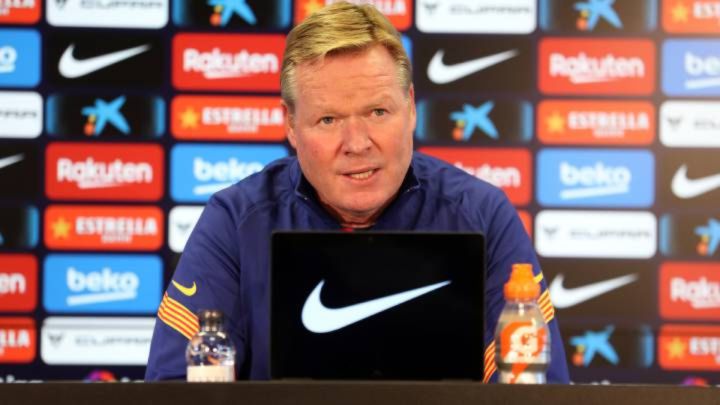 Ronald Koeman previewed tomorrow's Week 20 meeting with Elche at Camp Nou.
How are you approaching this game after the last three games were taken to extra-time?
There are no easy teams to beat. The calendar is tightly packed and we've had three game which went to extra-time. We've had seven games away from home in which we have arrived back home late at night. The good thing is that tomorrow we will be playing in the afternoon. We'll have to put out a bright, intense side.
How has the physical effort impacted the players?
It will be important to get players back. Sergi Roberto will be back with us soon - he's started training with the squad. Now we just have to keep going, wait and hope we have good luck avoiding more injuries.
Are you worried about Sergiño Dest's development?
He's played a lot of games and he's young. That's difficult. He fell injured and it looks like he has recovered. We'll see if he can play from the start or whether it would be better to have him on the bench. It's important that he builds up rhythm.
Has the team been practicising penalties?
Counting the ones in the Super Cup, we've taken 12 penalties this season and missed seven of them, that's a lot. Anyone can miss a penalty, but that is too much. Leo is the penalty taker and if he is not available we need to have players with quality to put them away. We have been practicising in training because that's where we can improve, the same with free-kicks. Taking a penalty on the training pitch is not the same as taking one during a match when you are behind on the scoreboard. The important thing is to practice and not be in any doubt. We have to do something about it because we can't accept missing so many.
Do you miss Luis Suárez?
I don't want to answer that. You only ask me that question when he scores. He's a great player, I wish him the very best of luck, but the decision had already been taken.
Are you worried that the players might interpret your comments as criticism?
I'm not going to lie. I say what I see. The team's attitude was faultless, but sometimes you only focus on the bad things I have to say. If you are a Barça player, there are demands on you. I criticise them with respect. I'm not having a go at anyone, I want to help them, but if we are playing against Cornellà, with all due respect to them, and we cannot beat them in 90 minutes, I have to say what I see, if not, you'd be better off with another coach.
Have you ever played eight consecutive games away from home?
I never had to do that, no. It's brutal, crazy. But we have done well. Apart from the result against Athletic, we beat all of the other teams. We've been mentally strong.
Has the performance levels of the subs been an issue in certain games?
In some games, the team has improved after we have brought on a sub. Their situation is difficult but we need them in some positions and we need them to generate competition.
If Barcelona are awarded a penalty tomorrow, who will take it?
We'll decide tomorrow in the team chat. We'll choose two players and the final decision will be up to the captain.
What plans have you got for Konrad?
He's a winger who is good at getting past players but he needs to improve other ares of his game. He suffered a little dip a couple of weeks ago but he's fine with the B team. We will need him on the bench and also to play games. The younger players need to play.