Real Madrid: Mbappé operation starts heating up
Following the player's recent comments, PSG have stepped up their plans to renew his contract. Madrid are trying to work out how they can pay his wages.
The operation to land Kylian Mbappé has entered a new, decisive phase. PSG have stepped up their proposal to renew the contract of their star striker and the situation will be resolved one way or another sometime soon. The player has openly stated that he is still undecided whether to accept the offer of a new deal which he has on the table or broaden his horizons by moving to Real Madrid. His comments after the meeting with Montpellier could be interpreted in two ways. On the one hand, he appreciates the offer which PSG have made as well as their ambitious project which would give him the chance to win the Champions League and perhaps the Ballon d'Or. On the other hand, he was sending a message to Real Madrid to either better or at least match PSG's offer.
But Real Madrid right now are seriously constrained by two circumstances. First there is the 570 million loan which the club took out to remodel the Santiago Bernabéu stadium, which they must start paying back in 2022. They have already received a 100 million euro portion of that loan and in June they will receive another 270 million installment. In June 2022, they will receive a further 200 million. Little by little, it will add to the club's debts. But revenue has dropped drastically - up to 617 million euros and the forecast is losses of 100 million euros if the squad do not agree to another reduction to their salaries. And while Madrid have enough financial clout to weather the worst of the crisis, the club estimate they have around 200 million euros to spend on reinforcing the squad - although that would require selling players too.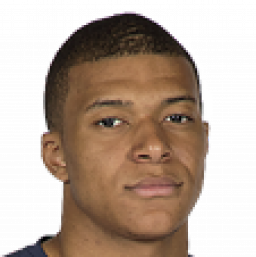 The problem for Madrid would be meeting Mbappé's wage demands. PSG will propose paying him the same as Neymar, 36 million euros per year, after tax. Madrid could just about cover the 21 million euro salary which Mbappé currently takes home at PSG. There is one way of matching the French club's offer - by giving the player a larger slice of his image rights, which Real Madrid usually split 50-50 with most of their players (a practice which the club has stuck with since the Galácticos days), although the bigger stars tend to get a more generous share.
Madrid are trying to curb any euphoria in case they discover that luring Mbappé turns into an operation they simply cannot afford, Perhaps that is why the player was so forthright with what he said the other day. "We're currently negotiating with the club and I am spending considerable time reflecting on many things. If I renew with PSG, then it would be stay here for some considerable time. I plan to make a definitive decision soon, but if I renew, then it will be to stick around". For Madrid, there is little to reflect on concerning the 36 million euro salary which Mbappé is hoping to  earn because that would entail doubling the joint salaries of the two highest-earning members of the squad - Bale and Hazard (both earn 15 million net).
Fitting Mbappé's high salary into the wage structure
The total wage bill at Madrid currently stands at 448 million euros. It has gradually risen in recent years and it will be difficult to reduce it in the short-term. Bale is under contract until June 2022 and it won't be easy to find another club where he could go out on loan. The net 36 million euros which Mbappé hopes to earn at Real Madrid would suppose a gross outgoing of 72 million per year for the club. Madrid's position is the current climate has been highlighted by the amount of players they've got off the books - Achraf and Reguilón were sold, James left on a free transfer while Bale, Jovic, Take Kubo, Ødegaard, Reinier, Mayoral, Ceballos and Brahim have all gone out on loan…
The club continues in its quest to try and find a formula that would allow them to finance Mbappé's transfer - bearing in mind that the striker's position isn't the only area of the team that needs reinforcing. Over the past couple of season's the club has splashed out a total of 395 million euros on players like Hazard, Vinicius, Rodrygo, Reinier, Militão and Jovic signing that haven't really worked out and have not been cost effective; also there are the contract talks involving Modric and Ramos (35 and 34 years of age respectively). Madrid are also looking to sign a consistent forward  (Benzema is 34 and under contract until 2022).
It is anyone's guess how long the crisis will go on for and what the economic effects will be but Madrid estimate that once the pandemic is over and the stadium is completely re-modelled, annual revenue will easily exceed 800 million euros (at the moment, with no public allowed at games, it is 617 million). So everything is very much up in the air, and Mbappé, judging by what he said, wants some kind of assurance. But neither are PSG in a position to give him any - they have seen their income drop by 240 million euros and they have hopes of signing Messi. Operacion Mbappé is just starting to get interesting…