COPPA ITALIA
Lukaku and Ibrahimovic go head-to-head...literally! Inter-Milan
The Coppa Italia laid on a Milan derby for fans across the world on Tuesday evening and before the half-time whistle had blown, the two big men were at it.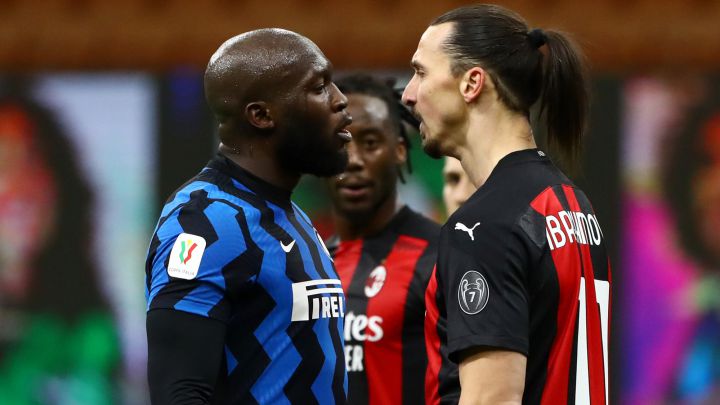 Ahead of Tuesday's Coppa Italia quarter-final against city rivals Inter, AC Milan coach Stefano Pioli had demanded a reaction from his team after spending a sleepless night reviewing their weekend defeat by Atalanta. And based on the first half, he got plenty of reaction, as did his opposite number Antonio Conte. Step forward protagonists, Ibra and Lukaku.
Zlatan and Lukaku square up in Milan derby
Milan suffered their heaviest defeat of the season when they were thrashed 3-0 by the Bergamo club at San Siro on Saturday, but remain two points clear of Inter at the top of Serie A. And Pioli had little time to assess the performance ahead of the quarter-final, which will serve as a dress rehearsal for the crucial Milan derby league clash on Feb. 21.
"The next derby is in a month, with other important games before then, so this is just a Coppa Italia match, an important quarter-final that we're looking to face in the best way possible," Pioli told Milan TV on Monday.
"The desire is to return to the pitch with a positive performance. This is a competition that we care about, we'll do everything to go all the way."
Milan put in one of their worst performances of the season at home to Atalanta as they were outplayed by the visitors in their second league defeat of the season.
"I didn't sleep because I re-watched the match," he said, before adding, "we don't have much time and we're playing a lot, so the communication needs to be immediate."
By half-time Milan were a goal to the good, thanks to, who else, Zlatan Ibrahimovic with a cracking finish. And then the big Swede was involved again just before the break as Romelu Lukaku took exception to his actions.
The two big men were initially held back by teammates before they squared up and locked foreheads together, and both saw a yellow card shown by the referee.
The second half was not long underway before they were both starring again, for very different reasons. Zlatan was sent off for a second booking while the Inter striker made his mark, scoring from the spot.