Man United: Time to "stand up and be counted", says Maguire
Harry Maguire is eager to put things right against Arsenal after Manchester United went down to a shock Premier League defeat to Sheffield United.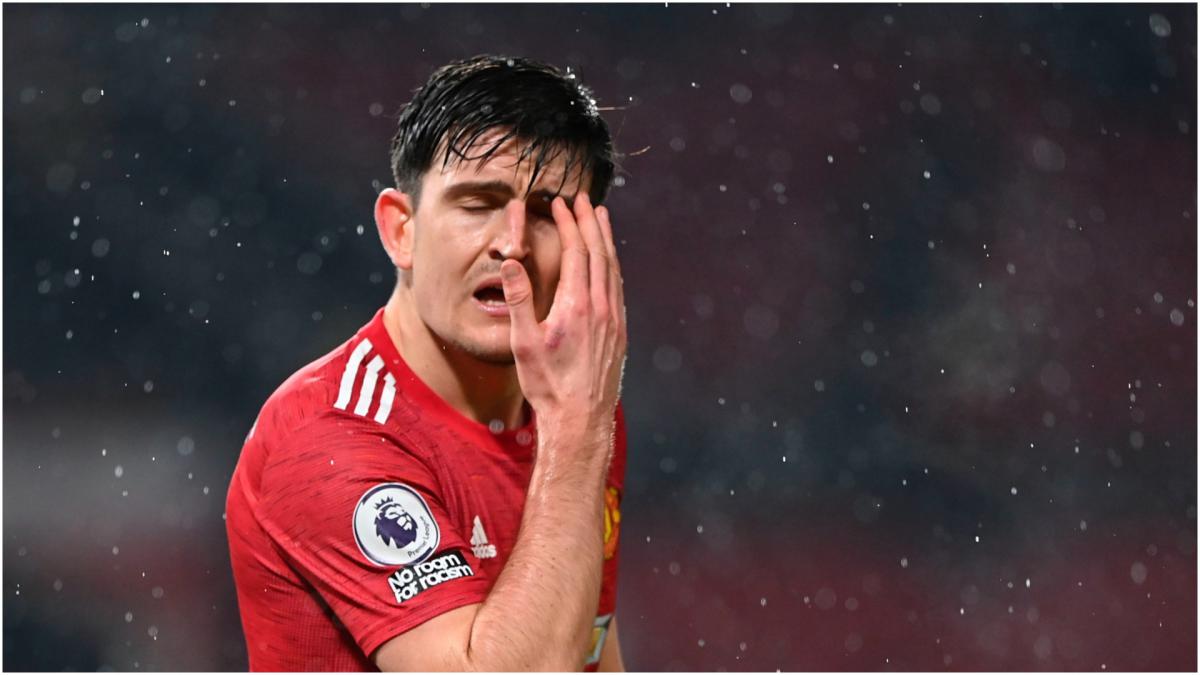 Manchester United captain Harry Maguire says the Red Devils must "stand up and be counted" after Wednesday's shock Premier League defeat to bottom side Sheffield United.
Manchester United miss chance to return to top of Premier League as Blades end 13-game unbeaten run
United were aiming to go back top of the Premier League table but succumbed to a shock loss at Old Trafford, Oli Burke's winner sealing a 2-1 win for the visitors after Maguire's goal against his former club had initially cancelled out Kean Bryan's first-half opener.
Ole Gunnar Solskjaer's men had gone unbeaten in their previous 13 matches but were well off the pace against the Blades.
"Devastated" United must bounce back quickly, says skipper Maguire
Maguire urged the squad to rebound quickly for Saturday's trip to Arsenal, who coincidentally were the last side before Chris Wilder's team to defeat them in the league.
"When you do get a defeat, there's nothing worse than waiting to get back out on the pitch to play and put things right," Maguire told United's club media.
"The boys are devastated, if I'm honest. It's a really quiet dressing room. The boys are so disappointed; we didn't expect it, we came into the game confident.
"We've got to pick ourselves up. We are disappointed and it hurts, but Saturday is a big game and we've got to bounce back.
"It's all good and easy when you're winning football matches and you're playing well, but now it's time to stand up and be counted.
"When you get kicked down it's how quickly you bounce back and Saturday's a big one and we've got to get three points."
Red Devils' defending in Sheff Utd loss "not good enough", says Maguire
Maguire rued the defensive lapses that he felt proved so costly. "Not good enough," he added. "We didn't perform to a level we've been playing at. We didn't play at an intensity that we've played at. We haven't created enough to win the game.
"We didn't see it coming; we prepared well and were fully confident. We fell behind to a soft goal, but we felt that we could come back, like we've done numerous times this year, and come back and win the game.
"We got ourselves back into the game and we felt like the next goal would be crucial, and we managed to get that, and we just didn't kick on; we didn't find that spark. Then from that position, we can't lose the game. You've thrown away a point.
"It's probably the first time they've been in our box in the second half and they managed to score, so we've got to look at it and got to improve. For sure, he [Burke] can't be taking a touch and controlling it and having a shot in our box with no-one around him. It's not good enough."
There was contention in the first half, with United claiming Billy Sharp had fouled David De Gea in the process of the Blades taking the lead, while referee Peter Bankes ruled out a goal for the home team with Maguire judged to have impeded visiting keeper Aaron Ramsdale when Anthony Martial swept home.
"It's incredible. There's no doubt that Billy Sharp's is more of a foul than what I did at the other end," Maguire said of the two incidents.
"Maybe people will say both aren't fouls, but definitely not David's is and that one isn't. I jumped for the ball. I don't think I actually touched the keeper.
"I think he just touches me in the back; my arms are nowhere near him. I think the referee will look back and know he's made a mistake."