Eagles coach Sirianni cannot answer Wentz question
Nick Sirianni fronted the media on Friday and was asked about Philadelphia Eagles quarterbacks Carson Wentz and Jalen Hurts.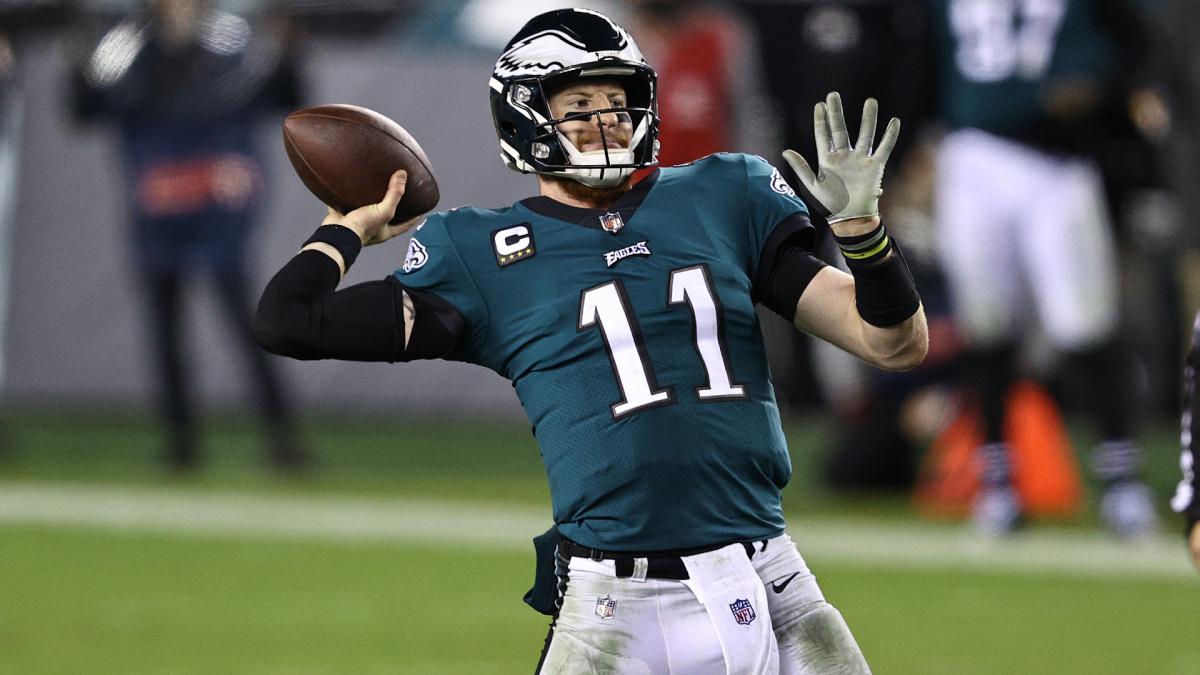 Philadelphia Eagles head coach Nick Sirianni said he cannot say whether quarterback Carson Wentz will be with the team in 2021. Sirianni was introduced as Philadelphia's new coach to replace Doug Pederson on Friday and attention has already shifted to embattled Eagles QB Wentz.
Wentz, who signed a lucrative four-year, $128million contract extension in 2019, was benched in favour of rookie Jalen Hurts in Week 13, raising serious questions over his future in Philadelphia. The 28-year-old ranked 23rd for completions (251), 34th for passing percentage (57.4), 25th for yards (2,620) and tied for 20th for touchdowns (16), while he was equal first for interceptions thrown this past season.
"I can't answer that," Sirianni said during his introductory news conference after being asked if Wentz would be back in 2021. Again, evaluating everything. Again, there's a lot of things to go through. Evaluating everything. You look at a lot of rosters and they don't have any quarterbacks, right, that they feel really good about. We have two. That's unbelievable to have two quarterbacks who have played and that have played well".
He continued, "I couldn't have watched more tape on Carson Wentz in 2018. When Frank and I got back together, when we were installing our offense with the Indianapolis Colts, we watched a lot of Chargers tape, and we watched a lot of Philadelphia Eagles tape from 2017. Man, what an impressive player. He's got so much talent, and from what I've heard from everybody, great person. Good talent, good person, it takes your game to really high levels. So excited. Jalen got his snaps last year and was able to play last year and he played good football in meaningful games. Not a lot of people have that luxury of having two quarterbacks that have experience, so super excited to be able to work with them because, obviously, we all know how important that position is to a football team."
Sirianni replaces Pederson
The Eagles have turned to rookie head coach Sirianni after NFL Super Bowl-winning boss Pederson was fired following a tumultuous 2020 campaign. Sirianni spent the past three seasons working for the Indianapolis Colts – the 39-year-old former offensive coordinator also previously spending time with the Kansas City Chiefs and Los Angeles Chargers in various roles.
After moving to Indianapolis in 2018, Sirianni and the Colts twice reached the playoffs – beaten by the Buffalo Bills in this season's Wild Card clash. But Sirianni will step into his first head-coaching job, tasked with restoring a struggling franchise, who ended the season 4-11-1 having won their first Super Bowl in 2017.