NFL mock draft 2021: positions and first round pick predictions
The Jacksonville Jaguars will have the No.1 pick in the first round of the 2021 NFL Draft and will almost certainly choose Clemson's QB sensation Trevor Lawrence.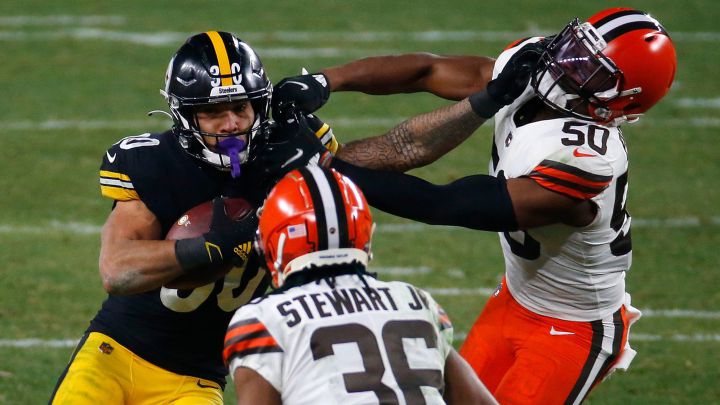 After the conclusion of the Senior Bowl, and as we build up to Super Bowl LV we reflect again on the first round of the 2021 Draft, which takes place in Cleveland on 29 April. Rounds 2 and 3 will be on 30 April, while Rounds 4 through 7 will be on 1 May.
Below we list the order of the first 24 teams for the first round of the NFL Draft and their possible picks from the pool of top talent on offer.
NFL Mock Draft: Possible Picks for first 24 positions
1. Jacksonville Jaguars (1-15)
Pick: Trevor Lawrence, QB, Clemson (6'6" / 220lb)
Jacksonville has been in the top 10 of the first round 19 times, but this will be the first time it will have no.1 pick, which it is expected to use to draft in Clemson's star quarter-back, Trevor Lawrence, who is both number one rank in his position and number one prospect rank.
2. New York Jets (2-14)
Pick: Zach Wilson, QB, BYU (6'6" / 210lb)
This will be the third time that the Jets have picked twice after just missing out on their second No. 1 overall pick. Like Jacksonville, the Jets are also tipped to choose a quarter back – BYU's Zach Wilson, who is the third-ranked quarter back and sixth in the prospect rank.
3. Miami Dolphins (via 4-12 Houston Texans)
Pick: Penei Sewell, OL, Oregon (6'6", 330lb)
The Dolphins, who had three first-round picks in 2020, could use their first of two first-round picks in 2021 to draft in Western Somoan-born offensive lineman Penei Sewell, who could fill the void left by Laremy Tunsil following his move to Houston Texans.
4. Atlanta Falcons (4-12)
Pick: Justin Fields, QB, Ohio State (6'3", 228lb)
This is the Falcons' first time in the fist-round top-10 pick since 2015 and their first top-five pick since drafting quarterback Matt Ryan at No. 3 in 2008. Again, it looks like they will use their top-five pick to bring in a quarterback, with the Atlanta team looking to Ohio State's Justin Fields, who has won several Big Ten Conference awards and was a finalist for the Heisman Trophy in 2019. He is ranked second in his position after Jacksonville-bound Trevor Lawrence.
5. Cincinnati Bengals (4-11-1)
Pick: Ja'Marr Chase, WR, LSU (6'1", 200lb)
This is the Bengals' 17th top five pick and their second top-five in a row. They've used their past four first-round picks to draft in offensive players, the latest of which could be number-one ranked wide receiver, Ja'Marr Chase of LSU, who caught 84 passes for 1,780 yards and 20 TDs as a junior and won the Fred Biletnikoff Award in 2019 for the top receiver in college football, becoming the second winner in LSU history.
6. Philadelphia Eagles (4-11-1)
Pick: Patrick Surtain II, CB, Alabama (6'2", 203lb)
This is the Eagles' first top-10 pick since 2016, when they selected quarterback Carson Wentz in as no.2 picker. Philadelphia could brighten their prospects for 2021 with Alabama's talented cornerback Patrick Surtain II (son of former Chiefs and Dolphins player Patrick Surtain senior), who has been compared to Byron Jones.
7. Detroit Lions (5-11)
Pick: Trey Lance, QB, North Dakota State (6'4", 226lb)
This is the Lions third consecutive pick in the top 10. The Detroit team look poised to take fourth ranked QB Trey Lance of North Dakota state, who could become the potential successor to Matthew Stafford. In 2019, Lance won the Walter Payton Award and Jerry Rice Award and was named the Most Outstanding Player of the 2020 NCAA Division.
8. Carolina Panthers (5-11)
Pick: Micah Parsons, LB, Penn State (6'3" / 244lb)
With their last top-ten pick in 2017, Carolina Panthers struck gold with running back Christian McCaffrey. This season they will hope to do the same with their second top-ten pick since 2012 and could so do with number-ranked line-backer Micah Parsons, who collected several accolades and honors in his sophomore year in 2019, including being named a consensus All-American.
9. Denver Broncos (5-11)
Pick: Caleb Farley, CB, Virginia Tech (6'2" / 207lb)
The Broncos are picking in the top 10 for just the second time since 2011. While Denver had their eye on Micah Parsons, the board didn't fall in their favor and instead could draft in top-ranked corner back Caleb Farley of Virginia Tech, who could be lined up as a replacement for A.J. Bouye.
10. Dallas Cowboys (6-10)
Pick: Kyle Pitts, TE, Florida (6'6" / 240lb)
While Dallas are in need of a cornerback, they could be set to pick an offensive option in number-one ranked tight-end Kyle Pitts, a John Mackey Award winner in 2020. This is the Cowboys' highest draft position since their fourth pick in 2016.
11. New York Giants (6-10)
Pick: DeVonta Smith, WR, Alabama (6'1" / 175lb)
New York Giants are in need of a No.1 receiver and look set to take one of the most productive wide receivers ever seen in college football with Heisman Trophy winner Devonta Smith.
12. San Francisco 49ers (6-10)
Pick: Jeremiah Owusu-Koramoah, LB, Notre Dame (6'1" / 215lb)
The 49ers could look could to take Notre Dame's Jeremiah Owusu-Koramoah, who was recently named a finalist for the Lott Impact Trophy.
13. Los Angeles Chargers (7-9)
Pick: Christian Darrisaw, OT, Virginia Tech (6'5", 314lb)
With the Chargers not in the need of a quarterback, they may opt for the offensive tackler making waves at Virginia Tech, Christian Darrisaw, who has started all of the Hokies games in 2019 and 2020 as LT.
Highest-graded players in College Football

1) Kyle Pitts, Florida TE - 96.2
2) Brady Christensen, BYU OT - 96.0
3) Mac Jones, Bama QB - 95.7
4) Christian Darrisaw, VA Tech OT - 95.6
5) Zach Wilson, BYU QB - 95.4 pic.twitter.com/wB0KRQtZc0

— PFF College (@PFF_College) January 8, 2021
14. Minnesota Vikings (7-9)
Pick: Rashawn Slater, OT, Northwestern (6'3" / 305lb)
This is the Vikings highest pick in the first round since 2015. With the Minnesota team in need of offensive tackle options, they could look to Rashawn Slater, who has been quickly moving up the boards again.
15. New England Patriots (7-9)
Pick: Jaylen Waddle, WR, Alabama (5'10", 182 pounds)
This the Patriots highest pick since 2008. The Patriots have issues at wide receiver and Jaylen Waddle, who posted 25 catches for 557 yards and 4 TDs in just four games before his season-ending injury, could be the man for the job.
16. Arizona Cardinals (8-8)
Pick: Jaycee Horn, CB, South Carolina (6'1" / 205lb)
The Cardinals could look to strengthen their corner back options with fourth-ranked Jaycee Horn of South Carolina, a long, athletic, physical player who could bring a lot to the Arizona team.
17. Las Vegas Raiders (8-8)
Pick: Azeez Ojulari, FR, Georgia (6'3" / 240lb)
The Raiders have had five first-round picks over the past two drafts, but this year the Las Vegas team only has the one, which it is tipped to use to draft in Georgia star Azeez Ojulari. "Azeez really is a complete player. You can tell when he's not out there, he really helps us," Georgia defensive end Malik Herring has said of his team mate, who could be helping Maxx Crosby at Las Vegas next season.
18. Miami Dolphins (10-6)
Pick: Wyatt Davis, G, Ohio State (6'4", 315lb)
This will be second of the Dolphin's first-round picks after it took Houston Texans' third pick in exchange for Laremy Tunsil. With this second pick, the Dolphins may look to Ohio State's star offensive lineman Wyatt Davis, a unanimous All-American in 2020, who is currently nursing an injury picked up in Ohio's CFP National Championship loss to Alabama on Tuesday.
19. Washington Football Team (7-9)
Pick: Rashod Bateman, WR, Minnesota (6'2", 210lb)
Following their lost to the Buccaneers in the Wild Card round last weekend, Washington have the 19th pick of the first round. Will they use it to draft in Minnesota WR Rashod Bateman? The Georgia native finished with 36 catches for 472 yards and 2 TDs in five games this season.
20. Chicago Bears (8-8)
Pick: Alijah Vera-Tucker, OL, USC (6'4" / 315lb)
The Bears lost to the Saints last Sunday and as a result have the 20th pick of the first-round. The Chicago team may draft in Alijah Vera-Tucker, who could find himself blocking for David Montgomery and Mitchell Trubisky next season.
21. Indianapolis Colts (11-5)
Pick: Jalen Mayfield, OT, Michigan (6'5", 319lb)
The Colts, who lost to the Bills in the first of the six Playoff games last weekend, have a first-round pick after they traded it away to sign defensive tackle DeForest Buckner last season. This season they could use their pick to bring in a potential replacement for 32-year-old Anthony Castonzo, with Michigan's Jalen Mayfield fitting the bill. Malen is a high-quality starting offensive lineman with ample size and athleticism to play in space in pass protection.
22. Tennessee Titans (11-5)
Pick: Jaelan Phillips, DE, Miami Hurricanes (6' 5", 266lb)
The Titans were outdone by the Ravens last weekend and now have the 22nd pick. They haven't taken a defensive end in the first round since Derrick Morgan in 2010, but could look to Miami's DE star Jaelan Phillips, who clocked up 45 tackles and 8 sacks in the 2020 season.
23. New York Jets (from Seattle Seahawks)
Pick: Alex Leatherwood, OT, Alabama (6' 6", 312lb)
This will be the Jets second pick of the first round after they took the Seattle Seahawks no.2 pick in exchange for Jamal Adams. 6-foot-6 Alex Leatherwood won the 2020 Outland Trophy on the strength of his senior season and could be drafted in to defend the Jets potential first pick, QB Zach Wilson.
24. Pittsburgh Steelers (12-4)
Pick: Travis Etienne, RB, Clemson (5' 10", 205 lbs)
The Steelers are the last of the first 24 confirmed picks for round one so far following their loss to the Browns last Sunday evening. With the Steelers looking to rebuild, Travis Etienne could be a star for the future. In four years at Clemson, the LA-born running back has clocked up nearly 70 touchdowns and 5,000 rushing yards.