New York State of Emergency: what counties and what restrictions are there?
Governor Andrew Cuomo has issued a State of Emergency for 44 counties in the state due to the Nor'easter poised to produce blizzard-like conditions.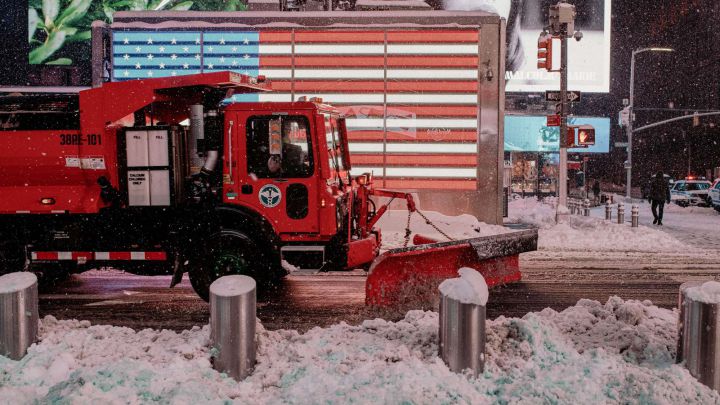 The slow-moving nor'easter which moved into downstate Sunday night, is expected to produce blizzard-like conditions over the next two days with wind gusts ranging from 40 to 60 mph. The storm will continue through Tuesday evening in Upstate New York bringing over a foot of snow in several locations, with up to 18 inches of snow forecast for New York City, Long Island and Mid-Hudson Regions.
In some cases, 2 to 3 inches of snow could fall in an hour causing major roadways to be shut down if snowplows are unable to keep up with the snow falls. Most public transportation will be suspended in New York City, with flights at JFK and LaGuardia cancelled.
During the State of Emergency, Cuomo wants people to stay home and stay off the roads, except for those who must get to work. "This is a dangerous, life-threatening situation and again, expect major closures," Cuomo said. Adding this is "Seriously dangerous and there is no reason to be out on the roads and it's only going to get worse."
A State of Emergency is in effect for 44 counties across New York.

Transportation restrictions and road closures are starting to go into effect as the snow continues to worsen.

New Yorkers—please stay home. https://t.co/Ino6ztrdeA

— Andrew Cuomo (@NYGovCuomo) February 1, 2021
What counties are part of the State of Emergency
The emergency declaration covers most counties in New York outside of Western New York.
It includes New York City and Albany, Broome, Cayuga, Chemung, Chenango, Clinton, Columbia, Cortland, Delaware, Dutchess, Essex, Fulton, Greene, Hamilton, Herkimer, Madison, Montgomery, Nassau, Oneida, Onondaga, Orange, Otsego, Putnam, Rensselaer, Rockland, Saratoga, Schenectady, Schoharie, Schuyler, Seneca, Suffolk, Sullivan, Tioga, Tompkins, Ulster, Warren, Washington, Westchester, and Yates counties.
What to expect
The storm is expected to create dangerous travel conditions and potential power outages due to the combination of heavy snow and gusty winds, as well as flooding of low-lying areas in coastal locations for several days.
Coastal areas of Long Island and Queens could experience multiple rounds of flooding, especially during high tides and in vulnerable, low-lying locations. Current forecasts call for two to three feet of inundation above ground level particularly on Monday night.
"I strongly urge all New Yorkers to keep a very close eye on the weather over the next few days and take steps to keep yourself and your loved ones safe."
For a complete listing of weather watches and warnings in your area, visit your area's National Weather Service website.
Due to the storm, vaccination appointments at some state-run sites scheduled for Tuesday, February 2nd will be rescheduled or moved later in the day.

All appointments will be honored and no New Yorker will lose their priority.https://t.co/CaQNfNf6Ec

— Andrew Cuomo (@NYGovCuomo) February 1, 2021
Vaccination service cancelled or delayed
Downstate state-run mass vaccination sites will be closed Tuesday, 2 February with all appointments rescheduled at the following locations:
SUNY Stony Brook
Jones Beach
Aqueduct Racetrack
The Javits Center
The Westchester County Center
Upstate state-run mass vaccination sites will open with delayed start at 10am Tuesday, 2 February at the following locations:
Binghamton
Albany
Plattsburgh
Potsdam
Utica
Syracuse
Rochester
Appointments previously scheduled before 10am will be rescheduled for later in the day on Tuesday.
Restrictions across New York State
If snowfall rate reaches between 2 -3 Inches per hour bans may be imposed on portions of key roadways including Long Island Expressway, I-84 and Various Parkways.
Restrictions in place:
Above-Ground Subway Service Suspended
Long Island Rail Road service suspended
Metro-North service suspended
Short and Long Tandems Banned on:
I-87 from NYC Line to Exit 24 in Albany
I-95 and I-287
Empty Trailers Banned on:
I-87 Between Exit 8 to Exit 21A
Berkshire Spur
Governor Mario M. Cuomo Bridge
Empty and Tandem Trailers Banned on:
All MTA Bridges and Tunnels
All Port Authority Bridges
I-84 from Pennsylvania State Line to Connecticut State line
Route 17 East of Binghamton to New Jersey State Line
Entire Length of I-684
Winter Safety Tips
Some of the most important tips for safe driving include:
When winter storms strike, do not drive unless necessary.
Use caution on bridges as ice can form quicker than on roads.
If you must travel, make sure your car is stocked with survival gear like blankets, a shovel, flashlight and extra batteries, extra warm clothing, set of tire chains, battery booster cables, quick energy foods and brightly colored cloth to use as a distress flag.
If you have a cell phone or other communications device such as a two-way radio available for your use, keep the battery charged and keep it with you whenever traveling. If you should become stranded, you will be able to call for help, advising rescuers of your location.
For more safety tips for all types of weather events, visit the DHSES website.