Super Bowl LV 2021: price, how to buy tickets & covid-19 restrictions
Super Bowl LV is being held at the Raymond James Stadium in Tampa, Florida on February 7, 2021. Covid-19 makes this year's event very different.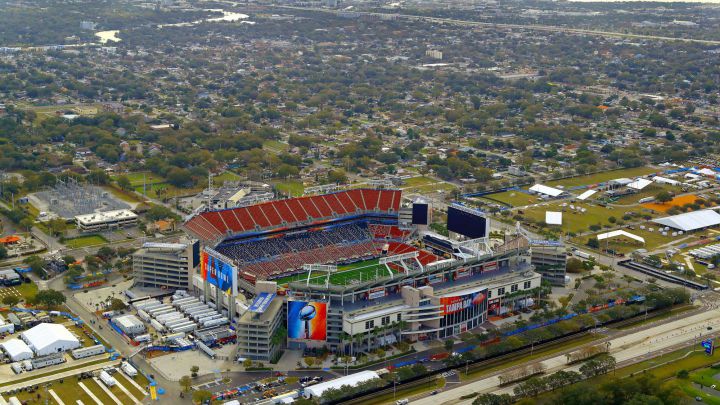 Everything is set for this year's Super Bowl, to be played between the Kansas City Chiefs and the Tampa Bay Buccaneers, at Raymond James Stadium in Tampa, Florida on February 7, 2021, with kick-off at 6:30 p.m. ET. Super Bowl LV will be the 55th Super Bowl National Football League championship game.
How to buy Super Bowl tickets
First up, because of the coroanvirus pandemic there is limited in-person capacity for Super Bowl ticketing, but you can check ticket availability here on Ticketmaster.
StubHub also offers a selection of tickets to the Super Bowl. Tickets tend to be some of the most expensive single event tickets every year. Prices can range anywhere from $2,000 to $6,000 per ticket depending on availability.
The cheapest tickets on certain websites for this year's Super Bowl are currently being sold for $6,000. If you are looking for the best seat in the house, expect to pay up to $17,500.
The Raymond James stadium has a standard capacity of 65,000, going up to 75,000 for special events, but for the Super Bowl only 14,500 tickets have been put on sale.

Raymond James Stadium protocols

Due to the coronavirus pandemic, some of the protocols in the stadium will be new.
A statement on nfl.com reads: "Your health and safety, along with that of our players, coaches, and staff is – and has always been – priority number one. As NFL fans, we're all in this together when it comes to taking on the common opponent covid-19. Together we help protect each other – it takes all of us!"
"To that end, we have partnered with state and local officials along with the Centers for Disease Control (CDC) to develop some new protocols to help maximize your confidence, safety and comfort in coming to Raymond James Stadium and enjoying a seamless experience from the parking lot and turnstiles to concourses and ultimately, your seats."
Physical distancing
Fans are required to follow all six-foot physical distancing markers that will be displayed throughout common areas inside and outside Raymond James Stadium. These markers will designate how to enter security gates, restrooms, shops and concessions.
Facial coverings will be mandatory for anyone in-stadium (fans and staff) and must be worn at all times (other than while actively eating or drinking), from the parking lot to the stadium entry gates. Vented face masks and face shields without a face covering will not be permitted.
Hand sanitizer will be readily available for your use throughout the stadium, and fans are encouraged to use it regularly.
Distance between field and fans

The first several rows of seats closest to the field will be closed off to create distance between fans and players. The Raymond James Stadium will also be blocking off seats to ensure physical distancing.
As part of the ticket purchasing process, all ticketholders must agree that they will not come to the game unless they can confirm, on behalf of themselves and their guests, that none of the following are true as of Super Bowl Sunday.
- Within the last 14 days, ticketholders have not tested positive for, or been exposed to, covid-19
- Within the last 48 hours, ticketholders have not experienced symptoms of covid-19 (e.g., fever of 100.4⁰ F or higher, cough, shortness of breath or difficulty breathing, chills, repeated shaking, muscle pain, headache, sore throat, new loss of taste or smell, or any other symptoms associated with covid-19 identified by the CDC)
- Within the last 14 days, ticketholders have not travelled to any state or international territory identified by federal or applicable local governments as being subject to travel or quarantine advisories due to covid-19.
Higher risk people advised to not attend
The CDC advises that older adults and people of any age who have serious underlying medical conditions might be at higher risk for severe illness from covid-19. Guests are asked to also evaluate their risk in determining whether to attend the event. 
Ticketholders also must agree that to help maintain physical distancing guidelines, they will not sell or transfer game tickets to anyone other than family with whom they have been sheltering or other trusted acquaintances, unless selling or transferring all such game tickets (e.g. the full pod of tickets) in a single transaction.
For more Super Bowl information
You can follow all the latest Super Bowl news on AS English, and we'd also recommend downloading and registering for the NFL OnePass app at NFL.com/OnePass for more Super Bowl LV news, including all the event information.