What were the reasons for the shooting which left two FBI agents dead?
A shoot-out in Sunrise, Florida saw a suspect kill two FBI agents and hospitalise three more after law enforcement attempted to conduct a property search.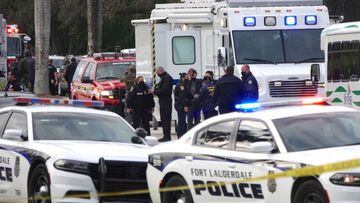 Two FBI agents have been killed and three more wounded after a firefight in Sunrise, Florida on Tuesday. Agents attended an apartment to conduct a search in relation to a child pornography case when they were fired on by the suspect.
The two agents who sadly lost their lives have been identified by the FBI as Daniel Alfin and Laura Schwartzenberger. Of the three agents wounded, two were taken to hospital but are believed to be in a stable condition. The third was not in need of hospital treatment.
Gunfire erupted early in the morning
The shootings took place in a middle class neighbourhood west of Fort Lauderdale as FBI agents attempted to gain access to a property to carry out a court-ordered search on the premises. Local resident Julius McLymont, who lives on the border of the Water Terrace apartment complex where the shooting occurred, recounted the events to the Associated Press.
McLymont recalls hearing four shots at around 6am Tuesday morning: "Boom, boom, boom, boom", which he initially thought was a car backfiring. But he then heard five further shots coming around two minutes later and saw police cars and ambulances rushing to the scenes from his window.
Residents of Water Terrace were told to remain inside for hours as law enforcement blocked entrances to the site. McLymont says he saw someone lying on the ground, and later saw someone loaded into an ambulance.
The suspect was later confirmed dead after barricading himself in the house for several hours. The Miami Herald have reported that he shot through the door at agents after watching them on his CCTV system, before turnng the gun on himself. The incident is currently under investigation by the FBI's Inspection Division.
Police officials have confirmed that agents were in attendance to investigate "violent crimes against children case". When asked how many shots were fired over the course of the hours-long stand-off, a police official answered: "Too many to count".
Murdered agents "exemplified heroism"
The two agents tragically killed in the gunfight were named on Tuesday and FBI Director Christopher Wray issued a statement, praising their courage.
"Every day, FBI special agents put themselves in harm's way to keep the American people safe. Special Agent Alfin and Special Agent Schwartzenberger exemplified heroism today in defense of their country," said Wray.
Schwartzenberger had been an FBI agent since 2005 and she had been working in a Miami field office specialising in violent crimes against children, according to court records. She is survived by her husband and two children.
The other agent killed, Alfin, was also involved in investigating crimes against children and was involved in a major child exploitation investigation dubbed Playpen that resulted in arrests around the world. Alfin is survived by his wife and child.
Thanking the two agents and their families for their heroism, Wray said: "The FBI will always honor their ultimate sacrifice and will be forever grateful for their bravery. We continue to stand by our FBI Family, and the families of these special agents, in the days to come, bringing every resource we can to get through this together."