Real Madrid: Eden Hazard sidelined with new muscle tear injury
The Belgian forward returned to training today after missing yesterday's session, but towards the end of the workout he complained of pains. He will miss the Huesca game.
There seems to be no let-up with Eden Hazard's injury problems. The Belgian forward faces time out after picking up a new injury. He missed Tuesday's session due to twinges but nothing untoward was found when he was examined. He returned to the training ground this morning but ended the session with pains and underwent an ultrasound scan which detected a muscle tear. He will not be available for Saturday's trip to Huesca and it is estimated that he will be out for between three to four weeks. It is the tenth injury Hazard has suffered during the year and a half he has been with Madrid.
Hazard started today's session and Real Madrid's media department even uploaded a photo of the No.7 training alongside Sergio Ramos, but he started to feel something was not right later on.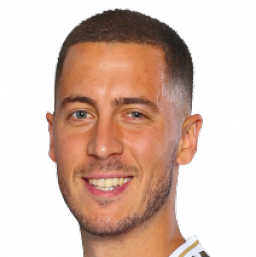 As far as Madrid were concerned, Hazard was not considered doubtful for the Huesca game but after the player complained of more intense pains, doctors were keen to conduct tests. They forecast that he will also miss the league games against Getafe, Valencia and Valladolid and will probably sit out the first leg of the Champions League Last 16 tie against Atalanta, in Bergamo on 24 February - a tie which could determine Madrid's season.
Prior to this new setback, Hazard has suffered nine injuries at Madrid plus took time out after contracting coronavirus. For one reason or another he not been available for 43 games - that 283 days in the sickbay. Just this season alone he has sat down 13 games because of five different fitness problems. At one point it looked as though his luck might have changed in 2021; since the start of the New Year he has played all of the team's games although his form is light years away from what it was at Chelsea.
Ramos is back
Elsewhere, Dani Carvajal, Rodrygo, Lucas Vázquez and Fede Valverde exercised out on the pitch but apart from the rest. Of the four, only Lucas appears to have a chance of returning in time for the Huesca match, although it's unlikely that he will be risked.