Real Madrid: Hazard in "vicious cycle" of injuries, says Belgium doctor
After Real Madrid confirmed Eden Hazard's latest injury, Kristof Sas has told the Belgian media the forward "needs to get out of this cul-de-sac".
Real Madrid's Belgium forward Eden Hazard finds himself in a "vicious cycle" of injuries after being ruled out with another muscle strain, his national-team doctor says.
Hazard ruled out for three to four weeks with quadriceps injury
On Wednesday, Madrid confirmed that Hazard has been sidelined with a quadriceps issue - the 30-year-old's fifth absence through injury or illness this season. The former Chelsea and Lille star is expected to be out for between three and four weeks.
"It is worrying": Belgium doctor on latest Hazard setback
"We're waiting for more information but it is worrying," Kristof Sas told the Belgian newspaper Nieuwsblad. "I said recently that the injuries suffered by players like [Dennis] Praet, [Dries] Mertens and [Kevin] De Bruyne at this stage were not a big problem [for Belgium's preparations for this summer's European Championship]; for them that 'rest period' was or will be useful. They can reset and deal with the injury in the meantime.
"But with Eden it's different. This is not a reset. This is a chronic relapse, where it goes wrong every time.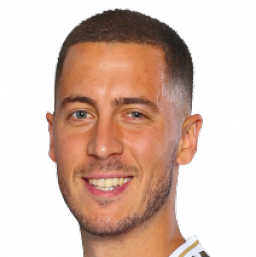 Real Madrid forward "needs to get out of this cul-de-sac"
"To begin with, it was an ankle problem, but the last three times have been muscle injuries. That is very annoying. Eden is in a vicious cycle and it's not easy to get out of it. Like any elite athlete, he has to maintain sport-specific muscle groups. A footballer must be able to kick, turn, jump… all at a high speed. This is much more difficult during rehabilitation.
"That is why a fit player has a better chance of staying healthy. We would have preferred Eden to play every game with Madrid; that's the best way of going into the European Championship in good shape. The situation isn't dramatic for us yet, but he needs to get out of this cul-de-sac."
Doubts at Belgian FA over Real Madrid's handling of Hazard
According to Nieuwsblad, doubts have once more been raised within the Belgian FA over Real Madrid's handling of Hazard's fitness. They feel Los Blancos' medical staff are not making the right decisions and should consult with the Red Devils more regularly.
Indeed, the media outlet says it has been suggested the player should complete his recovery in Belgium.
This comes after national-team doctors reportedly blamed Madrid for Hazard's regular relapses when he limped off against Alavés late last year, suggesting the LaLiga club are rushing the player's recoveries.