Eintracht under pressure to play Real Madrid loanee Luka Jovic
Coach Adi Hütter lost his patience when asked about making Jovic, who is on loan from Real Madrid, a first choice in his team: "I won't let anyone tell me when he has to play".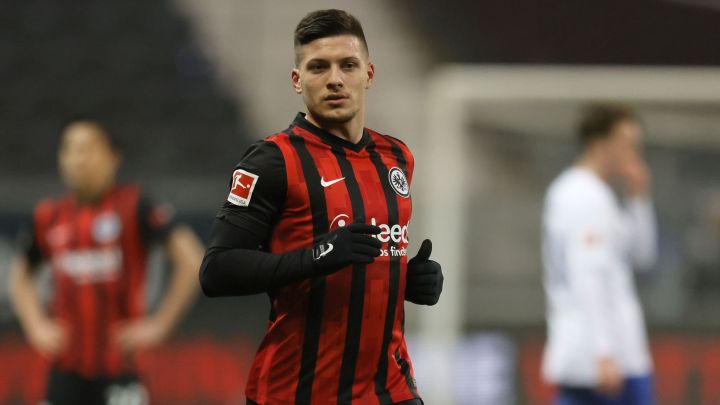 Luka Jovic has scored three goals in his first four games at Eintracht Frankfurt, where he returned on loan from Real Madrid last month. But in spite of his efforts, the Serbian striker is not guaranteed a place in the starting line-up. Coach Adi Hütter explained in today's press conference why Jovic is not a first choice - André Silva, the team's reference in attack, is enjoying a great season in the coach's 3-4-2-1 system and Jovic's arrival is no reason to start making changes to a structure which is already in place.
"Luka is a world class striker because he possesses extraordinary skills. I am not holding him back just because I want to. We have spoken to him and we have to know the best moment for him to play. I won't let anyone tell me when he has to play," Hütter explained, clearly now a little tired of the media's insistence about Jovic. The coach added that just like everyone else in his squad, the striker needs to earn his place.
"It's about making sure that the team functions and everyone giving their best - a situation which suits Luka and the team. We know that he didn't come here to spend the rest of the season on the bench, but we have plenty of games left to play. I am taking care of him myself. If we are able to have Luka Jovic and Sebastian Rode on the bench, that's because we are at full strength. I guess it will be a problem for us once again on Sunday," he added.
Silva on song
Hütter has good reason not to field Jovic from the start. Discounting Lewandowski, who is in a league of his own, André Silva is the Bundesliga's top scorer with 16 goals. He has two more than Erling Haaland, one of the sensations of European football. On top of that, the coach has to make sure the team maintains its position in the table. Eintracht are currently fourth after 19 games, on 22 points and just five points off second place. They have won six of their last seven games and the coach's system, with three centre-backs and playing two supporting midfielders just behind André Silva is working and bringing results.
With all of that in mind, Jovic must either adapt his game to one of those two deep-lying positions or rotate with André Silva. For the time being Hütter hasn't found a place to fit him in. In the four games Eintracht have played since Jovic returned from Madrid, the coach has brought him on for the last half an hour. He looks to have rediscovered his form of old, with three goals to his name. Even so, is that enough? Jovic is performing well enough to deserve a place, but the team is working fine as it is and isn't going to change to accommodate him. Today, Hütter made it clear that it is just a question of being patient.