Super Bowl 2021: Buccaneers and Chiefs injury reports
The Tampa Bay Buccaneers and Kansas City Chiefs published their final injury reports of the week ahead of Sunday's Super Bowl LV.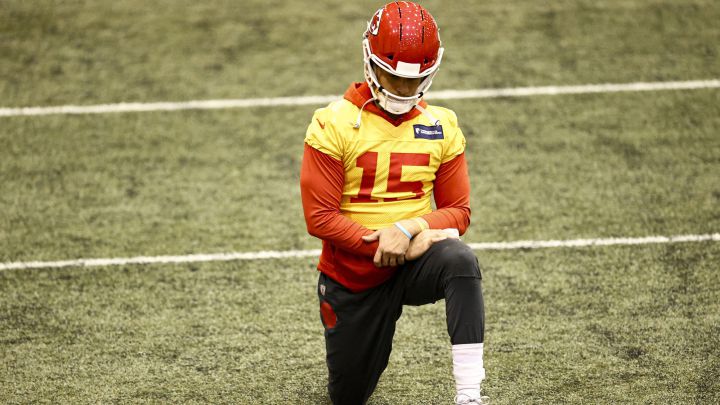 There is just one day to go until the Tampa Bay Buccaneers and the Kansas City Chiefs square off at Super Bowl LV. The Chiefs are looking to become the first team to win back-to-back Super Bowls since the New England Patriots in 2003-2004. The Bucs, meanwhile, are hoping to end an 18-year wait for their second Super Bowl title.
The game sees six-time Super Bowl-winning quarter back Tom Brady (43) come up against the Chiefs' 25-year-old star QB, Patrick Mahomes, which is one of the most hotly anticipated showdowns in Super Bowl history. Mahomes has been nursing a slight toe injury but has participated fully in practice and will 100% be on the field on Sunday.
Both teams released their final injury reports of the week, confirming that coaches Andy Reid (Chiefs) and Bruce Arians (Bucs) will each have a close-to-a-full roster at their disposal. Doubts remain over a handful of players for both teams, while two Chiefs players are definitely out.
Tampa Bay Buccaneers Super Bowl Injury report
According to the Bucs' injury report, wide receiver Antonio Brown (knee) and tight-end (Cameron Brate) remain "questionable". Brown, however, was able to fully participate in practice on Thursday and Friday and so could likely be in line to play on Sunday. Brate, meanwhile, did not participate in Friday's practice and only had limited participation on Thursday, meaning his prospects of playing on Sunday are much more doubtful.
Jason Pierre Paul has been nursing a knee injury and did not participate in Wednesday and Friday's practice, with only limited participation on Thursday. However, on Friday evening it was confirmed that he won't carry an injury designation into Sunday's Super Bowl.
LB Lavonte David (hamstring), S Jordan Whitehead (shoulder), S Antoine Winfield Jr. (ankle), WR Chris Godwin (elbow), WR Mike Evans (knee), DL Steve McLendon (not injury related) all participated fully on Friday and should be good to go for Sunday.
Kansas City Chiefs Super Bowl Injury report
The Chiefs will definitely be missing offensive tackle Eric Fisher and linebacker Willie Gay. Fisher tore his Achilles in the AFC Championship Game, while Gay underwent surgery on his meniscus and will be out for several months. With Fisher missing, Patrick Mahomes will be without his standout protection on the blindside.
Meanwhile, wide receiver Sammy Watkins (calf) remains "questionable" on the injury report but both he and coach Reid are confident he'll make Sunday. Watkins has not played since week 16, but after his full participation at practice on Friday – following being limited on Wednesday and Thursday – Reid said: "He did good. I'm encouraged to have him on Sunday. I think he'll be there"
Coach Reid will also be happy to have running back Le'Veon Bell (knee) back on Sunday after he missed the AFC title game against the Buffalo Bills.
Meanwhile, OL Mike Remmers (groin), CB L'Jarius Sneed (concussion), OL Andrew Wylie (ankle), RB Clyde Edwards-Helaire (ankle/hip), CB Rashad Fenton (foot), WR Sammy Watkins (calf) all enjoyed full participation this week and will also be available for Sunday's Super Bowl LV in Tampa Bay.