Mbappé: Real Madrid clause in new PSG deal
The French forward's entourage are keen on a new deal with PSG. They considered this option at the beginning of the pandemic, which is not ideal for Madrid.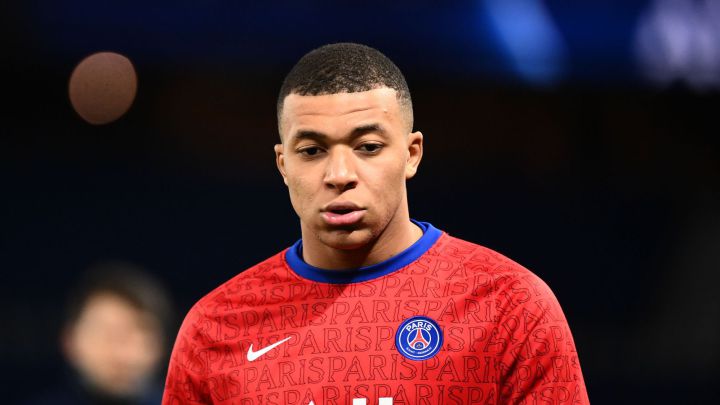 The idea of a contract renewal with PSG that includes a release clause that would allow Kylian Mbappé to sign for Real Madrid has become a possibility in recent weeks amongst the player's entourage.
AS understands from sources close to the star, that this is an idea that was already considered at the beginning of the pandemic, when club sporting director Leonardo was offering deals to extend his contract, however the situation has slowed down, due to the financial complications resulting from the pandemic.
Mbappé is set to decide on his future over the coming months, and possibly before the European Championships this summer, which is when he wants to have his future resolved. PSG are reportedly capable of matching his contract to the €37 million net per season that Neymar earns. The 22-year-old currently earns €21 million with the Ligue 1 champions.
Former Real Madrid and PSG forward, Jesé, recently stated that Mbappé wants to join Madrid. When he was 17 years old and in the Monaco academy, Mbappé was a huge fan of Los Blancos and had his bedroom lined with posters of Cristiano Ronaldo.
Real Madrid are going through a hugely diffiuclt financial period, owing to a combination of the pandemic and large player salaries (€448 million per season). The club has already borrowed €100 million as part of the loan for the development of the new Santiago Bernabéu stadium. In June, they will borrow another €275 million and in June 2022, a further €200 million.
Mbappé is no stranger to these difficulties and the best solution for the player would be to sign a new lucrative contract with PSG and wait a couple of years for Madrid to recover financially. Madrid are currently looking at another salary reduction of 25% for staff at the club.
This option would however, make Mbappé considerably more expensive for Madrid. In the case of including a release clause to facilitate a move to Madrid in his new contract, his fee could rise to above €222 million. This figure is substantially higher than Madrid's original estimation of €150 million for his signing in the summer of 2021, with just one more year to go on his contract at the Parc des Princes.
Madrid salary cap
As for the salary for the World Cup winner, Madrid cannot afford to improve his current deal of €21 million net that he earns at PSG, as the club's salary cap is set at €15 million - the figure Eden Hazard and Gareth Bale currently take home. If Mbappé moved to the Spanish capital, he would have to reduce his current salary, although Madrid could compensate part of that difference by giving him a higher percentage of image rights, a practice that the club has already used with Cristiano Ronald, Hazard and Bale.
Pochettino confident of new deal
Speaking in a recent interview with French outlet RMC Sport, PSG manager Mauricio Pochettino discussed the future of Mbappé and his teammate Neymar.
"I believe that they will both stay and I think they will stay for a long time at PSG. And I have no doubt, I am very optimistic, the club is in the process of working to succeed in keeping them. This is a feeling. But it is also what I see: Ney and Kylian are happy. They enjoy themselves here, and I believe that the club is working for them to stay… I am not here to comment on what Kylian is saying, but it was very positive (to see him speak)."