Super Bowl LV 2021: how to watch online, TV and time
Kansas City Chiefs at Tampa Bay Buccaneers - it's Super Bowl LV. Mahomes v Brady. Here's how to tune in and follow the action on TV and online.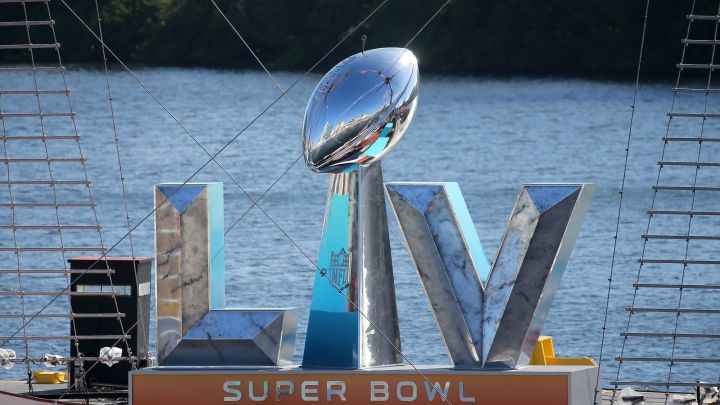 Super Bowl LV is here. The Kansas City Chiefs, AFC Champions, against the Tampa Bay Buccaneers, NFC Champions, on Sunday 7 February 2021, with kick-off at 18:30 ET.
This year's edition of the biggest spectacle in American sport pitches the hottest young quarterback, the Chiefs' Mahomes, against the veteran legend, the Bucc's Tom Brady, playing in his tenth Super Bowl and looking for his seventh win. Mahomes, for his part, is looking to make it two in a row, having beaten the San Francisco 49ers 31-20 last year.
This year in the US the game will be televised nationally on CBS. The three main stations that hold the NFL rights rotate the coverage of the Super Bowl, last year, for Super Bowl LIV, Fox did the honours, with 102 million Americans tuning in. Note that this year, NBC were due to be the broadcasting station, however back in March 2019, CBS traded the Super Bowl LVI to NBC in exchange for Super Bowl LV, in order to avoid competing against the 2022 Winter Olympics, being broadcast on that channel.
CBS coverage team
The CBS team to cover the 2021 Super Bowl will have Jim Nantz in the play-by-play hottest, with analyst Tony Romo backing him up. The sideline reporters will be Tracy Wolfson, Evan Washburn and Jay Feely. Jim Nantz will also be doing the trophy presentation duties.
CBS technical TV coverage
The coverage of the Chiefs vs the Buccaneers will see CBS use 120 cameras in total in, around and above the Raymond James Stadium in Tampa. There will be 10 4K cameras (that is cameras with at least 8 million active pixels - usually a resolution of 4,096 x 2,160), two 8K cameras (four times as many pixels as 4K), a brand new Trolley Cam that runs the length of the field and two Sony Venice cameras that produce a cinematic feel.
Super Bowl radio coverage
On the radio, the official coverage in the US will be on Westwood One, with Kevin Harlan giving the play-by-plays and Kurt Warner adding the colour.
Kansas City Chiefs vs Tampa Bay Buccaneers: what time does Super Bowl LV start?
The Super Bowl 2021, between the Kansas City Chiefs and the Tampa Bay Buccaneers, gets underway at 6:30 p.m. EST, which is 5:30 CST, 4:30 MST, 3:30 PST, 2:30 p.m. in Alaska or 1:30 p.m. in Hawaii.
Around the world that's:
American Samoa: 12:30 p.m.
Midway Island: 12:30 p.m.
Mexico City, Mexico: 5:30 p.m.
Buenos Aires, Argentina: 8:30 p.m.
Sao Paulo, Brazil: 8:30 p.m.
London, England, UK: 11:30 p.m.
Monday 8 February
Berlin, Paris, Rome (CET): 12:30 a.m.
Cape Town, South Africa: 01:30 a.m.
Harare, Zimbabwe: 01:30 a.m.
Baghdad, Iraq: 02:30 a.m.
Moscow, Russia: 02:30 a.m.
Tehran, Iran: 03:00 a.m.
Kabul, Afghanistan: 04:00 a.m.
New Delhi, India: 05:00 a.m.
Beijing, China: 07:30 a.m.
Pyongyang, North Korea: 08:00 a.m.
Seoul, South Korea: 08:30 a.m.
Tokyo, Japan: 08:30 a.m.
Sydney, Australia: 10:30 a.m.
Auckland, New Zealand: 12:30 p.m.
No matter where you are in the world you can check what time the Super Bowl starts where you are.
Which channel is the Super Bowl 2021 on?
The match between the Kansas City Chiefs and the Tampa Bay Buccaneers will be live on CBS in the US. Check your local listings for CBS where you are.
How to watch Super Bowl LV online in the US
You can also stream it free in the NFL app or the CBS Sports app. It's also available via streaming on FuboTV, YouTube TV, Sling TV, Hulu with Live TV and AT&T TV.
World-wide Super Bowl LV TV and streaming options
The Super Bowl is available in most countries around the world, here's a selection:
Mexico: ESPN
Argentina: ESPN
Brazil: ESPN
UK: BBC1, Sky Sports
Italy: RAI (RAI 2, RAI Sport), DAZN
Spain: Movistar
Germany: DAZN, ProSieben
France: L'Equipe
South Africa: ESPN
Afghanistan: Fancode
India: Fancode
China: Guangdong Sports, Fujian Sports, Hangzhou Sports, Tianjin Sports, BesTV, Fox Sports, Tencent, G-Sports
Japan: DAZN, NHK, NTV
Australia: ESPN
New Zealand: ESPN
NFL Gamepass
Outside the US, you can watch the Super Bowl on the NFL's Game Pass in a huge number of territories. Check out where it's available. For many locations the NFL offer a package covering the Super Bowl itself and 31 days coverage at a rate reduced compared to the equivalent annual package.
Super Bowl LV live on AS English
Here at AS English we'll have full coverage of the big game between the Chiefs and the Bucs: all day updates on the build-up to the season showdown, then Robbie will be here for the Super Bowl itself for in-depth play-by-play action.