Will Tampa Bay Buccaneers hold a Super Bowl victory parade? when and where...
Tom Brady was instrumental in helping the Tampa Bay Buccaneers to the Super Bowl title at their home ground, Raymond James Stadium.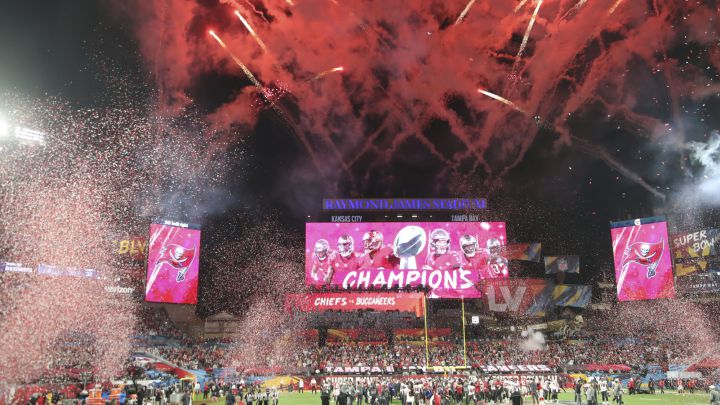 On Sunday night at the Raymond James Stadium in Tampa, veteran Tom Brady claimed a seventh Super Bowl crown after leading the Tampa Bay Buccaneers to their first Lombardi Trophy since the 2002 season with a dominant victory over defending champions the Kansas City Chiefs.
Brady threw three touchdowns as the Tampa Bay Buccaneers thumped the Kansas City Chiefs 31-9 to win the Super Bowl on Sunday, giving the evergreen 43-year-old quarterback a record-extending seventh championship ring.
Brady's age-defying performance, which earned him the Most Valuable Player award, brought the curtain down on what was perhaps the most challenging season the NFL has had to navigate because of the covid-19 pandemic.
The pandemic kept stadiums mostly empty throughout the season and restrictions limited Super Bowl attendance to 25,000 spectators, including 7,500 healthcare workers, sprinkled among 30,000 happy-faced cardboard cutouts.
Biden White House invite
The White House on Monday said President Joe Biden will invite the U.S. Super Bowl champions, the Tampa Bay Buccaneers, and last season's NBA champions, the L.A. Lakers to the White House once it is safe.
The covid-19 pandemic has made it dangerous to host large-scale events at the White House, such as the traditional visits by championship-winning sports teams.
Meanwhile, the Lakers said in early January they looked forward to visiting the White House once Biden took office after reigning basketball teams had skipped the ceremonial visits during the four years Biden's predecessor, former President Donald Trump, held office.
Congratulations to the Tampa Bay Buccaneers on their #SuperBowl victory — a team whose season was a story of resilience, reinvention, and grit.

— President Biden (@POTUS) February 8, 2021
Bucs' parade
The Tampa Bay Buccaneers will celebrate their Super Bowl title with a parade or other event sometime later this week, Tampa Mayor Jane Castor stated on Monday with the exact date expected to be made official soon.
"Everybody will be able to participate and participate safely," Castor said.
Castor also expressed her disappointment at the large, maskless crowds in the the streets of Tampa following the Bucs' win on Sunday. Thousands of mostly maskless fans gathered along Howard Avenue and in Ybor City, filling the streets and bars. "It is a little frustrating because we worked so hard," Castor said after the final adding, "at this point in dealing with covid-19, there is a level of frustration when you see that."