Man City monitor Messi: players 'affected' by potential deal
Manchester City are linked with bringing Lionel Messi to the Premier League for the 2021/22 season. City's attacking team would have to adapt for the Argentine.
At Manchester City they have been dreaming for years about the possible signing of Leo Messi, especially with his former coach, Pep Guardiola, at the helm.
The appointment of the Catalan head coach was a turning point in the club's history due to the ability to attract the best players across Europe, but they want to take another leap. Messi was never so close to leaving Barcelona as last summer. If the Argentine decides to leave the Camp Nou in 2021, the 'citizens' will be among a few clubs ready to bid for the 33-year-old forward.

Since then, more than a few people at City have imagined Messi moving to the Premier League side, however, it would have a knock-on effect on the club's squad. Firstly, it could mean a new deal for club legend Kun Agüero. The relationship between Messi and Kun, who ends his contract this summer after a decade as a Man City forward, is well known.
This season, after an injury and testing positive for coronavirus, he has only participated in five league games and in June he will turn 33. A contract extention is not at all guaranteed, but the arrival of Messi could change the club's plans to better integrate his Argentina teammate and friend.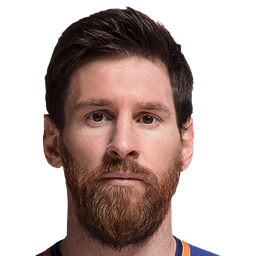 Guardiola's City have several heavyweights that are the present and the future of the club. The first of them is obvious: Kevin De Bruyne, the best footballer in the Premier League in recent years. At the age of 29, he still has several seasons left at the highest level.
Foden lighting up the Premier League
Another key player is Phil Foden, who this season, has received plaudits for his performances, including a wonderstrike against Liverpool at the weekend. The English midfielder is only 20 and his coach says he is the best talent he has ever managed. In addition to Foden, City have Raheem Sterling, who is still only 26, and has recorded his best goalscoring numbers under Guardiola, scoring over 20 goals in every season since 2017.
Pep's attacking options
This season, midfielder Ilkay Gündogan has, quite surprisingly, become the team's top scorer, as well as an essential player at 30 years old and with two and a half seasons still left on his contract. The rest of the options in attack are Bernardo Silva, who has not yet recovered his 2019 form, Riyad Mahrez and Ferran Torres, the 20-year-old versatile attacker, who has responded with goals in all competitions since joining from Valencia.
In front of the attacking midfielders at Guardiola's disposal is striker Gabriel Jesus, who despite having been almost always in the shadow of Agüero, has enjoyed a recent run in the team thanks to his defensive work and versatility, even playing as a winger at times.
The possible arrival of Messi would not only affect the club's balance sheet, due to his large salary, but it would also directly impact squad planning for Guardiola's team next season.