Real Madrid 2-0 Getafe: result, summary and goals
Real Madrid 2-0 Getafe: as it happened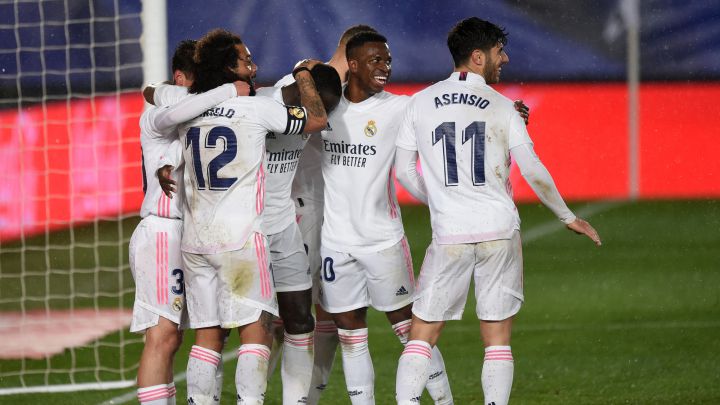 Peeep peeep peeeeep! It's a very comfortable win for Real Madrid, who move to within five points of leaders Atlético Madrid - having played two games more than Los Rojiblancos, though.
In recent seasons, we've got used to seeing a Getafe side who are an absolute pain in their opponents' neck - but nothing could have been further from the truth tonight. They created next to nothing (they didn't have a single shot on target) and it just felt like a matter of time before Madrid got the game won.
So it proved: second-half goals by Karim Benzema and Ferland Mendy mean Madrid have now been victorious in 20 of their last 22 meetings with Getafe, who remain just four points above the relegation zone.
That's all from me - thanks for reading!
Real Madrid win a free-kick in shooting range when Chakla brings down Vinicius - and is lucky not to be given a second yellow card. Benzema it is who takes, but he send his effort well over the bar.
Two minutes of time added on at the Alfredo di Stéfano.
Just as I was about to say that Getafe had finally managed to keep the ball for something approaching an extended period, Aleñá plays it out wide to Olivera, who miscontrols under no pressure at all and allows the ball to go out for a throw-in.
It's been a really poor night for Getafe. Not a single shot on target.
Marcelo comes off for Víctor Chust, who makes his LaLiga debut. The Brazilian looks to have tweaked something. That Real Madrid sickbay is getting crowded.
Chust goes into the back three, with Mendy moving out to left wing-back.
Getafe win a free-kick 35 yards or so from goal, with Timor and Suárez standing over it. Timor it is who clips the ball into the box... to absolutely nobody. It floats out for a goal-kick.
Real Madrid make their second change: off comes Asensio for Isco, who'll get a 15-minute run-out.
Getafe make another couple of changes, withdrawing Cucurella and Cabaco for Timor and Enes Ünal.
Mendy is booked for a foul on Kubo. Moments later, Aleñá drifts a right-wing cross to the back post, but it's overhit and sails harmlessly out of play.
Benzema shoots wide! Real Madrid really look in the mood now. The striker marauds towards the Getafe box, cutting inside from the left before curling just past Soria's left-hand post. It wouldn't be a surprise to see Madrid score another goal or two here.
2-0! Ferland Mendy turns it home, and in the space of five minutes Real Madrid have as good as made sure of the points.
The defender brings the ball out from the back before slipping it wide to Marcelo and continuing his run into the box. Marcelo crosses low towards the near post, where a stretching Mendy gets a toe to the ball to direct it past Soria and into the far corner!
And having failed to capitalise on their best attack so far, Getafe are punished for their profligacy right away! Benzema scores for Real Madrid!
Nacho plays it to the right to Vinicius, who digs out a cross right onto the head of Benzema, and the Frenchman nods in past Soria!
Kubo and Aleñá combine right away to create Getafe's most presentable opening yet, but Cucurella dallies too long! The Japanese slips the ball into Aleñá in a central position 35 yards or so from goal, and he in turn plays it on out to the left, where Cucurella is haring forward in acres and acres of space. He advances into the box, but takes far, far too long to decide what to do with it, and he is closed down.
Here comes that triple Getafe change. Kubo, Jaime Mata and Carles Aleñá are on for Cucho, Ángel and Portillo. Los Azulones will revert to 4-2-3-1, Aleñá slotting into the number-10 role.
Real Madrid also make a substitution, replacing Marvin with fellow academy youngster Sergio Arribas. Vinicius will shift over into Marvin's position at right wing-back, it seems.
Nacho heads Asensio's corner well over.
Getafe are preparing to make a triple substitution, with Real Madrid-owned Takefusa Kubo one of the players poised to come on.
Chakla becomes the first player to go into referee Javier Alberola's notebook after dragging back Asensio.
And no sooner do Getafe finally threaten, than Real Madrid again go close to taking the lead! Asensio splits the Getafe defence in two with a sublime angled ball to Benzema on the right-hand side of the box. The Frenchman pings a low shot back towards the far corner, but Soria saves!
That's better from Getafe. Portillo can't quite get his head to Olivera's left-wing cross, but the visitors recycle it out to Suárez, who delivers to the penalty spot for Cucho to attempt an acrobatic strike that goes over. It's well off target, but it's a shot.
Peeeeep! We're back up and running in Madrid.
No changes for either side, but I would imagine a Getafe sub or two can't be too far away.
Peeep peeep peeep!
It's half time at the Di Stéfano, where Real Madrid have had a few very presentable chances to open the scoring, but as yet have failed to do so.
It's not like they've been electrifying going forward, either; but they have pretty much been the game's sole attacking force. Getafe have offered absolutely diddly squat.
Getafe simply cannot keep hold of the ball for more than about 10 seconds, and Real Madrid win it back before setting off once more towards the visitors' box. Benzema and Modric aren't on the same page, though, and the chance is lost when the former tries to release the latter in behind the Getafe backline, only to see he hadn't continued his run into the box.
Maksimovic tries to feed Ángel, but Nacho cuts it out. Up the other end, Asensio lays it off for Benzema to strike from 18 yards, but his shot is blocked.
Again Real Madrid go close! This is probably their best chance yet. Marcelo slides the ball across the top of the box for Modric, who's arriving at pace and, after taking a touch, shoots low towards Soria's bottom corner. Soria keeps it out with his feet, though. The way things are going, it's surely only a matter of time before Madrid score.
There's a chance for Varane! Modric plays Marcelo into the box, before the Brazilian cuts it back into the box for Varane to strike, but it deflects off his own man - Vinicius - and goes out for a goal-kick.
Having scored not once but twice against Huesca at the weekend, the centre-back's clearly getting a taste for goals.
It's not the most stylish clearance he'll ever make, but that's a crucial intervention from Mendy. Getafe have done next to zero in attack so far, but suddenly a long hoof forward looks like it'll have Ángel Rodríguez running in behind the Madrid defence and in on Thibaut Courtois... only for a backpedalling Mendy to prevent the ball from getting through to Ángel with his back.
Marcelo sends a speculative shot well over from 30 yards.
Moments later, Nacho slips the ball wide to Marvin, who looks to whip a cross in at pace through the corridor of uncertainty, but places it too close to Soria. Either that or he was trying to surprise the goalkeeper at his near post. Either way, Getafe get it clear.
Now Marvin flights over a ball over towards the back post from the right, but it's just too long and Benzema can't get on the end of it.
Marcelo plays a lovely reverse ball into the box to meet the run of Vinicius, but he snatches at his cross and sends it straight to a blue shirt. He's a talented lad, is Vinicius, but he really needs to get a little bit better at crossing and shooting at some point. They're kind of integral to his position.
Marvin is brought down on the right wing and Madrid have another free-kick to deliver into the box. Asensio takes this time, curling in a lovely ball towards the far post that is cleared only as far as Marvin who tries to barrel his way into shooting space in the area, but is run off it.
Benzema heads against the bar! Marco Asensio swings over a corner from the left, and the Frenchman rises the highest to power an effort towards David Soria's goal - but it clips the woodwork and goes over!
Two clear chances for Madrid. Very little in attack from Getafe as yet.
Defeat for Madrid the only other time Mendy and Marcelo both started
Football stats specialists Opta note that Marcelo and Ferland Mendy have started together just the once before for Real Madrid - and that game, at home to Shakhtar Donetsk in the Champions League October, ended in defeat for Los Blancos.
Olivera drifts a cross into the box from the left, but it's straight at Mendy. With Cucho lurking right by him, the defender shows remarkable sang froid to take a touch before clearing.
There's an early chance for Casemiro, but he shoots over from close range!
Vinicius wins the ball off Suárez and sets off up the left wing, before his progress is halted - illegally - by Cabaco. Modric swings the free-kick towards the far post, where the ball bounces off a combination of Benzema and Maksimovic and drops to Casemiro - who can't direct his shot goalwards!
Benzema looked an inch or two offside when Modric delivered the cross, but we restart with a goal-kick, so clearly the officials deemed otherwise.
It would appear Real Madrid are not playing a 4-2-3-1, but rather have gone for a back three of Nacho, Varane and Mendy, with Marcelo and Marvin operating as left and right wing-backs, respectively.
Peeeep! We're underway at the Estadio Alfredo di Stéfano.
Marcelo + Isco = Real problems
Isco had been expected to be in the Real Madrid XI tonight, but a look at Los Merengues' results this season when both he and Marcelo have started rather suggest Zidane may have been wise to leave one of them on the bench.
The Madrid boss has included both in his line-up four times this term, with the following, fairly iffy, set of results:

30 September: Real Madrid 1-0 Real Valladolid
17 October: Real Madrid 0-1 Cádiz
8 November: Valencia 4-1 Real Madrid
20 January: Alcoyano 2-1 Real Madrid
What the coaches said: José Bordalás, Getafe
Sending-off against Sevilla:
"My red card was totally unfair. In a gesture of professionalism I went over to Ocampos to see how he was and to show my concern for him, and I came up against a barrage of insults and shows of disrespect."
Touchline confrontation with Sevilla boss Lopetegui:
"I don't understand the insults and disrespect directed at me and Getafe whatsoever. I can understand their anger, but his behaviour was unacceptable. I haven't spoken to him and I would have liked it if he'd picked up the telephone to apologise to me. That's what I would have done. When you make a mistake you should have the humility to say sorry."
What do you expect from Real Madrid?
"I always expect to come up against them at their best. A top side in a moment where both teams really need the points. That makes it an even tougher game."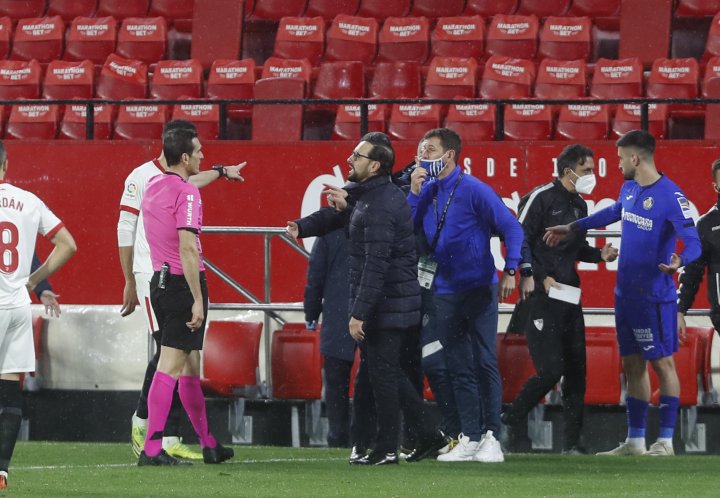 Bordalás banned from touchline after Sevilla sending-off
José Bordalás won't be on the touchline for Getafe tonight, by the way, because he was sent off in the defeat to Sevilla after exchanging some fairly R-rated pleasantries with opposite number Julen Lopetegui in the wake of the Djené challenge on Ocampos.
Bordalás and Lopetegui have both been given one-match bans for their sendings-off, while Djené has been suspended for two games.
(Photo: Diario AS/Miguel Morenatti)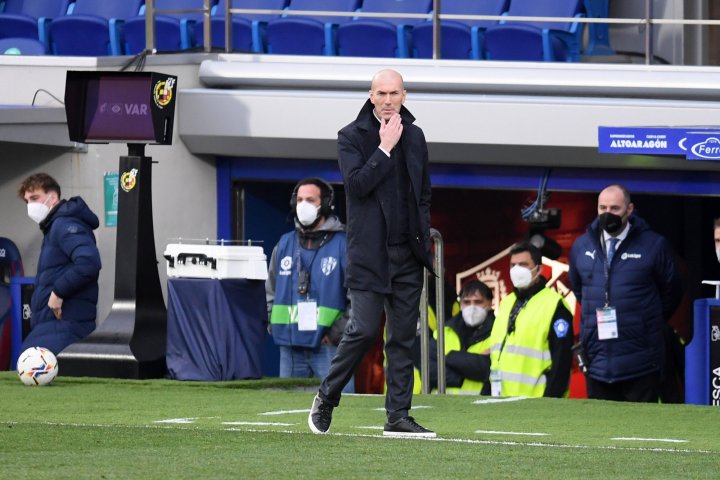 What the coaches said: Zinedine Zidane, Real Madrid
Facing Getafe:

"Getafe are a side who compete really well. In this league, every game is really tough. I was talking to my backroom team earlier about how high the level is in Segunda División, too. The standard of football in Spain is very high and teams always compete. We'll have to fight hard and play very well to take the three points."

Seeing out his contract, which runs until 2022:

"Well, we'll see. The important thing is, I said it to the other reporters, we're just focused on this season, the game tomorrow. I just focus on the day-to-day, today, tomorrow, the game. As for the rest, I don't know what's going to happen so I'm not thinking about anything apart from the game tomorrow."
(Photo: Alex Caparros/Getty Images)
Getafe boss Bordalás rings the changes
José Bordalás makes no fewer than seven changes to the Getafe side that lost to Sevilla last time out, as David Soria, Erick Cabaco, Mathias Olivera, Mauro Arambarri, Portillo, Cucho Hernández and Ángel Rodríguez all come into the side.
Among the players to drop to the bench is Takefusa Kubo, who is on loan at Getafe from Real Madrid. Also notable is the decision to drop goalkeeper Rubén Yáñez, likewise a man with Madrid connections - he came through Los Blancos' youth academy.
Cabaco deputises for the suspended Djené Dakonam, who was rightly sent off at the weekend for a shocking, shocking challenge on Lucas Ocampos. It could have snapped Ocampos' leg in two; as it is, the Argentine got away with 'only' a grade two ankle sprain.
Bordalás has gone with a 4-2-3-1 of late, but it appears he has opted to revert to the 4-4-2 which has served the side so well in recent seasons.
Getafe team news
Starting line-up: Soria, Suárez, Cabaco, Chakla, Olivera, Maksimovic, Arambarri, Portillo, Cucurella, Cucho, Ángel
Substitutes: Yáñez, Etxeita, Kubo, Chema, Mata, Ünal, Aleñá, Nyom, Timor, Iglesias, Sabit, Patrick
Marvin handed first Real Madrid start
Zinedine Zidane makes two changes to the Real Madrid side that started Saturday's win at Huesca, with the inclusion of 20-year-old Marvin Park the major news.
Having had first-team minutes as a substitute against Real Sociedad in September and Huesca at the weekend, the youth product makes his first senior start for Madrid - ahead of Isco, who now can't even get in the team when half the squad are unavailable.
Meanwhile, Ferland Mendy shifts over to right-back in place of the injured Álvaro Odriozola, with Marcelo coming into the team to occupy the vacancy left by Mendy on the left.
It looks like Marvin will play alongside Asensio and Vinicius in the line of three in a 4-2-3-1.
Real Madrid team news
Starting line-up: Courtois, Mendy, Nacho, Varane, Marcelo, Casemiro, Modric, Marvin, Vinicius, Benzema, Asensio
Substitutes: Lunin, Altube, Isco, Mariano, Arribas, Blanco, Chust, Miguel
Getafe only four points clear of drop zone
As for Getafe, they've finished a not unimpressive eighth, fifth and eighth in the last three LaLiga seasons, but José Bordalás' men are having an altogether trickier time this term and sit 13th in the table - just four points clear of the relegation zone.
Los Azulones have conceded eight goals in the process of taking just a point from their last three games, and now come up against a Real Madrid side who have won 19 of the teams' last 21 meetings.
Real Madrid vs Getafe: welcome one and all
Good evening! Welcome to our live coverage of Real Madrid's LaLiga matchday-one clash with Getafe, which was postponed from September because of Los Blancos' involvement in last season's Champions League knockout stages.
Atlético Madrid's draw with Celta Vigo last night means Madrid will move to within five points of the leaders if they win tonight, although - and it's a big although - they'll have played two more games than Los Rojiblancos.
They face Getafe with a squad that is rather short on fit first-team players - indeed, head coach Zinedine Zidane has no fewer than eight men out injured: Dani Carvajal, Álvaro Odriozola, Éder Militao, Lucas Vázquez, Eden Hazard, Fede Valverde, Rodrygo Goes and captain Sergio Ramos, who underwent knee surgery at the weekend. What's more, Toni Kroos' booking against Huesca last time out means he is suspended tonight.
It's a selection headache/veritable migraine that has forced the Frenchman to include no fewer than five 'B' teamers - Víctor Chust, Miguel Gutiérrez, Marvin Park, Sergio Arribas and Antonio Blanco - in his squad for tonight's game.