SUPER BOWL LV 2021
Bucs aim to keep Super Bowl winning team togther as player values rise
Byron Leftwich and Todd Bowles may be in demand in 2022, increasing the need for the Bucs to keep this team together for one more run.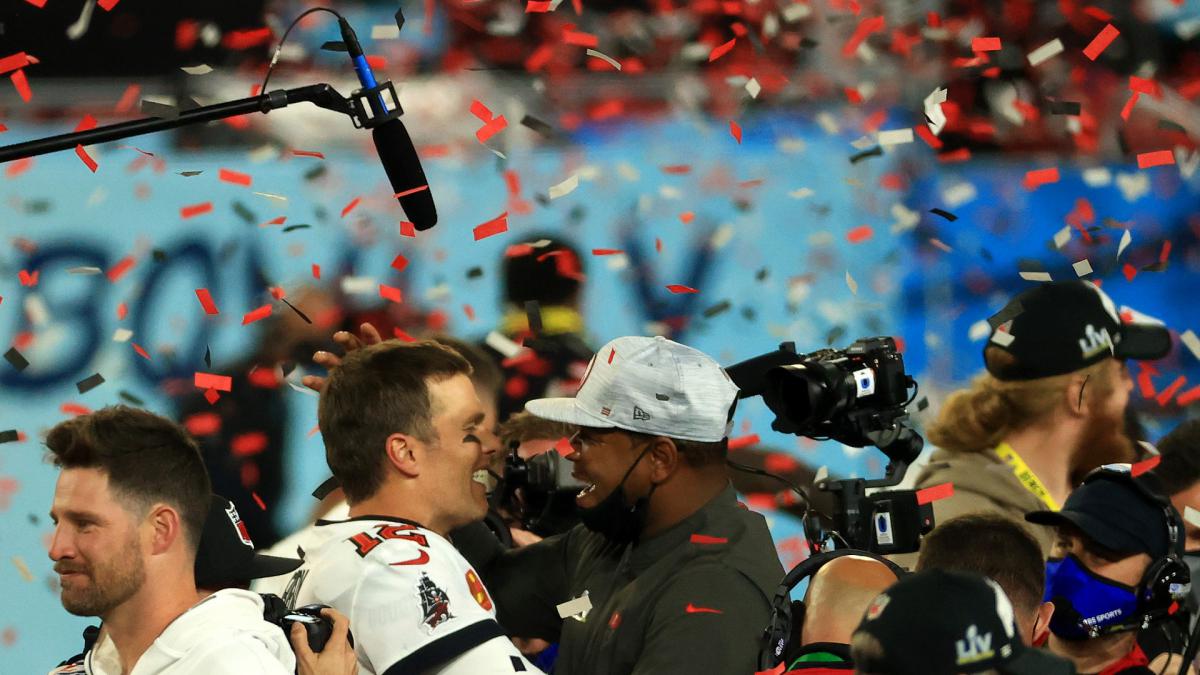 It's no secret that Super Bowl windows in the NFL can be notoriously short. Teams that appear poised for a prolonged stay in the ranks of contenders are frequently dismantled and can fall back to the pack within a blink.
Buccaneers striving for longevity
In no offseason has the fleeting nature of the opportunities to contend for a championship loomed larger than in the one the 32 teams are about to experience.
The economic pressures of a season in which the in-person audience for most games consisted of coaching staffs, officials and cardboard cut-outs mean NFL franchises will not have the same level of financial flexibility they have experienced in previous years.
With the year-on-year rise in the salary cap, which is expected to drop from $198.2million to around $180m, grinding to a halt because of the coronavirus pandemic, front offices around the league will have more complex calculations to make when it comes to re-signing their own free agents and attempting to lure others.
Considering those mitigating circumstances, the Tampa Bay Buccaneers' successful gamble to go all-in with a talented roster and bring in Tom Brady, Rob Gronkowski, Leonard Fournette and Antonio Brown - all of whom were responsible for scores in their 31-9 demolition of the Kansas City Chiefs on Sunday, looks increasingly astute.
The Bucs have the luxury of having the championship grace period. Their job, in respect of ending an 18-year wait for a second Super Bowl, is done, and the challenge of immediately winning a third may be complicated by the amount of pending free agents they have on their roster.
Star edge rusher Shaquil Barrett is set to hit the open market, as is linebacker Lavonte David and wide receiver Chris Godwin. They may also have to reconcile themselves with losing one of Gronkowski, Fournette or Brown.
Tampa have just over $38m in available cap space, and head coach Bruce Arians is confident general manager Jason Licht can keep the core together.
"I'm very, very confident," he told reporters on Monday. "I have all the trust in the world in Jason and what he will do. "These guys, they have a bond. There will be dollars involved, but I think this group is so, so close that sometimes dollars don't matter.
"But we're going to do everything we can to get the dollars right, too, because they earned it."
Leftwich and Bowles could be in demand
Even if Licht succeeds in doing so, the 2021 season looks likely to be the last in which the Bucs have the bulk of their championship roster and the coaching staff.
Both offensive coordinator Byron Leftwich and defensive coordinator Todd Bowles thrust themselves into the spotlight as potential head coach candidates with excellent gameplans for which the Chiefs had no answers.
Leftwich, who came into the league as a first-round pick of the Jacksonville Jaguars three years after Brady, has taken time to get on the same page as the now seven-time Super Bowl champion quarterback.
"I thought Byron had a great plan, I can't give him enough credit. Byron is a superstar," said Arians. "He had a great plan, we were going to run the football and we were going to max protect and get into one-on-ones. Tom did a great job of getting out of bad plays and getting some good plays. Can't say enough about the gameplan.
"All three phases, Byron, Todd, Keith [Tandy, defensive assistant] they all did such a great job, but Byron's gameplan was outstanding."
It was a plan that enabled Brady to avoid a single turnover for just the second time in 10 Super Bowl appearances, the other coming in his first experience of the grandest stage - Super Bowl XXXVI in the 2001 season.
Leftwich's offense was especially effective in the congested area inside the Chiefs' 20-yard line. The Buccaneers scored on three of their five red-zone trips, while the Chiefs did not find the endzone on any of their three visits inside the Bucs' 20-yard line.
Brady and Leftwich were aided by the brilliance of Bowles' defense, which brutally exposed the deficiencies of an injury-hit Chiefs offensive line to the tune of 33 total pressures.
Bowles was unsuccessful in his first spell as a head coach, which came with the New York Jets.
However, the manner in which he and his defense tore apart the Chiefs' best-laid plans on offense with pressure from the front four and intelligently crafted blitzes should have him in the mix for a second chance.
The Bucs are fortunate that all head coach vacancies for this hiring cycle have been filled but, should Tampa Bay follow up their 2020 glory with another strong season in 2021, both Leftwich and Bowles could be targets for rival franchises.
Arians could avoid a scenario in which the Bucs lose both next year by stepping aside and allowing one to take his place at the end of the 2021 season. Yet retirement does not appear to be in Arians' immediate plans and, though the pressure to end a championship drought has been relieved, the potential future departures of Leftwich and Bowles increase the onus on Licht to ensure this specific staff can have one more run with the Bucs' championship core.