Sevilla 2-0 Barcelona: result, summary, goals - Copa del Rey semi-final first leg
Sevilla 2-0 Barcelona: Copa del Rey as it happened
Peep peep peeeeep! It's advantage Sevilla.
Jules Koundé's wonder goal and Ivan Rakitic's late, thumping strike mean Julen Lopetegui's men will take a two-goal lead to the Camp Nou on 3 March. And that's six straight clean sheets for the Andalusians, by the way.
Barça created the odd chance here and there, most notably going close through Lionel Messi's last-minute free-kick, but little in the way of truly gilt-edged opportunities. You certainly couldn't say they ever had the Sevilla defence properly on the ropes.
Having avoided conceding an away goal, Sevilla will go to Catalonia knowing that if they score, Barça will need four goals at the very least.
It'll all be decided in three weeks' time, with either Athletic Club or Levante awaiting the winner in April's final in Seville.
That's all from me - thanks for reading!
Three minutes of time added on, and there's a chance for Torres, but his shot is blocked! Found in space just inside the box, he couldn't get hold of his strike. A real chance to make it three.
Messi strikes low towards the corner... but Bono parries it away!
Sevilla are now very much in charge in this tie. One note of caution for Sevillistas, though: the last time they took a first-leg Copa del Rey lead to the Camp Nou, in early 2019, they got thumped 6-1 in the return.
Rakitic brings down Messi on the edge of the box, and right away the Argentine has the chance to get a precious away goal back.
Before it's taken, Ronald Koeman takes the chance to throw on Francisco Trincao for Umtiti.
Goal for Sevilla! 2-0! Rakitic scores against his former club!
Barcelona have had most of the attacking play in this second half, but suddenly Sevilla get Rakitic running in behind the Blaugrana's high defensive line, and he finishes with such aplomb.
With Munir screaming for the ball in the middle, the Croat advances from the left and into the box, before utterly walloping one past Ter Stegen at his near post. He doesn't celebrate.
Vidal is deemed to have brought down Griezmann, and is none too happy with the decision. Mateu Lahoz brandishes a yellow in his direction for his back chat.
Dembélé plays it into the Griezmann into the box, but the Frenchman is crowded out. Barcelona work it back out to Alba, who shoots well over - and appears to hurt himself in the process. That's the last thing Barça need. He looks like he'll run it off, however.
Sevilla make another substitution, replacing Jordán - who's on a booking - with Nemanja Gudelj. No changes for Barcelona yet.
Messi clips a ball into the box, where Firpo's header is deflected over. The corner comes to nought, but Barcelona quickly win it back and Dembélé is inches away from slipping Junior into shooting/crossing space inside the box. Rekik is alive to the danger and stretches to cut the pass out, though.
Suso is penalised for bringing down Alba right on the edge of the box. Barça want a penalty, but a VAR check upholds Mateu Lahoz's decision to give a free-kick. Messi delivers, and Sevilla clear.
He takes it from about a yard outside the area, but it looked much more borderline than that.
Sevilla haven't been out of their half all that much in the last 15 minutes or so.
Messi shoots just wide! Dembélé can't bring the ball under his spell inside the Sevilla box, but the loose ball drops right at the feet of the Argentine, who fizzes a shot towards Bono's near post but slices it just wide.
Triple substitution for Sevilla: Escudero, Gómez and En Nesyri come off for Karim Rekik, Munir El Haddadi and Luuk De Jong.
Escudero follows Jordán into the book after scything down Dembélé out on the wing. From the free-kick, Messi whips in a wicked cross towards Bono's near post, but the goalkeeper holds on well with a gaggle of Barça players ready to gobble up the loose ball.
Jordán is the first player of the evening to go into Mateu Lahoz's book after a mini-spat with Messi, after refusing to give the ball back to the Argentine when Barça win a free-kick. Messi gives Jordán a good old shove, leading the Sevilla man - inevitably - to drop to the turf like he's been given one between the eyes by a particularly well-trained sniper. No punishment for Messi, though.
What a poor touch from Vidal! The right-back is all on his own at the back of the box, but can't bring down Gómez's left-wing cross! It would have been a clear chance to make it 2-0 if he had.
Back come Sevilla, though. Suso takes on Alba and curls a threatening left-footed cross towards En Nesyri at the far post, but Mingueza is there to clear. Papu Gómez then sends another ball into the box, and it's turned behind.
Diego Carlos is clearly feeling a little envious of Koundé and his wonder goal, as from the corner he tries to score one of his own, by knocking the ball over his own head and shooting a la Pelé at the '58 World Cup. He doesn't succeed.
Bono saves from Messi! That's the closest Barça have gone in a very long time. The Argentine scuttles forward to the edge of the box before exchanging passes with De Jong and curling a low shot towards the corner, but the Sevilla keeper scrambles across his goalmouth to turn it past the post!
And Bono then has to look alive to beat out Dembélé's attempt to score directly from the corner! Twice Barça almost level. They've come alive in the last few minutes.
Again Sevilla get En Nesyri charging at a back-pedalling Umtiti and into the box, and again he can't capitalise on the opportunity! Umtiti stands up very well and nicks the ball off the Moroccan's toes; good defending from the Frenchman.
De Jong tumbles under Koundé's challenge in the Sevilla box, but he's not getting a penalty.
Rakitic gets the first shooting opportunity of the second half - but his shot is weak! Busquets, uncharacteristically, gives it away in his own half and suddenly a delegation of Sevilla players are bustling with intent towards the Barça box. It's played out to to the left to Escudero, who cuts it back to Rakitic in space at the top of the area, but the Croat doesn't get hold of his strike and it's blocked.
Peeeep! We're back up and running at the Sánchez-Pizjuán.
No half-time changes for either side.
Peeep peeep peeeep!
It's half time at the Sánchez-Pizjuán, where Sevilla lead thanks to Koundé's fabulous individual goal and are firmly in the ascendancy. But for Ter Stegen's stop a few moments ago, Julen Lopetegui's men would be two to the good.
That's a great chance for Sevilla to score a second! It's played to Gómez at the top of the box, and he shuttles it on to the left to Escudero, who's arriving at pace into acres of space. He takes a touch and shoots towards Ter Stegen's far corner, but the Barça keeper gets a hand to it and turns it over! It's a good thing for Barça that the break is almost upon us; they could really do with the time-out.
Barça haven't really recovered from that Koundé opener just yet, and are lucky En Nesyri isn't more clinical when Sevilla suddenly get the Moroccan running at a back-pedalling Umtiti and into the box.
As En Nesyri tries to burst past the Frenchman and into space to shoot, he tumbles over and, despite meek appeals for a penalty, isn't getting one.
At the other end, Griezmann plays the ball into the Sevilla box but it's easily dealt with by Koundé.
Suso looks to clip a ball into the box to that man Koundé, who has clearly got a taste for the goals, but Mingueza heads clear.
Alba crosses from the left, but it's right down Bono's gullet. Up the other end, Gómez digs out a ball into the box from Sevilla's left, only for Busquets to sweep up the danger and clear.
It's all Barcelona ball in the Sevilla half as the visitors look to strike right back... but all they're managing to do right now is play it about in front of a set home defence.
What a solo goal from Koundé! Sevilla lead!
This guy's supposed to be a centre-back. First he beats Griezmann, then he nutmegs Umtiti on the edge of the box, before advancing into the area and finishing past Ter Stegen!
Advantage Sevilla, and it's a wonderful opener for the hosts.
Messi picks it up on the left and drifts a cross towards Junior at the far post, but Bono is quickly off his line to claim.
Dembélé feeds Messi in his favourite pocket of space just outside the Sevilla area, but he curls his shot just high and wide of Bono's right-hand top corner.
It's been an eminently watchable first quarter at the Sánchez-Pizjuán; it's finely poised.
Close from Sevilla! Jordán pings a glorious crossfield ball out to Suso on the right flank. He wriggles away from Jordi Alba's attentions before cutting it back to Koundé in space on the right-hand side of the box - and he sends a low shot across the face of Ter Stegen's goal and just wide! That's the hosts' first major opening. One clear-cut chance apiece.
Back come Barcelona, who work the ball into the box before it drops to De Jong to shoot, but his strike deflects away off a white shirt.
Sevilla enjoy a decent little spell of possession, before Suso switches the play out to Aleix Vidal, another former Barcelona man in the hosts' team. He is beaten to the ball by Jordi Alba, however, and the Barça left-back succeeds in playing it off his opponent and out for a Blaugrana throw-in. Vidal is more than a little miffed to see the decision go against him, but it did touch him last.
There's the first chance! Griezmann clips a lovely pass into Messi in space in the box, but the Argentine's first-time effort is beaten out by Sevilla goalkeeper Bono! What a fantastic ball that was from Griezmann.
Lionel Messi feeds it to the edge of the box to Pedri, who plays a clever little ball into the box that, had Frenkie de Jong continued his run, may well have given the Dutchman a shooting chance inside the area. He didn't read Pedri's intentions, however.
Ivan Rakitic is oh so close to putting Fernando through on goal. Diego Carlos plays it out from the back to Joan Jordán, who helps it on to Rakitic. The Croat doesn't need a second invitation to ping a through ball between the Barça centre-backs and into the forward run of his fellow midfielder, but Marc-André ter Stegen is quickly out to clear the danger.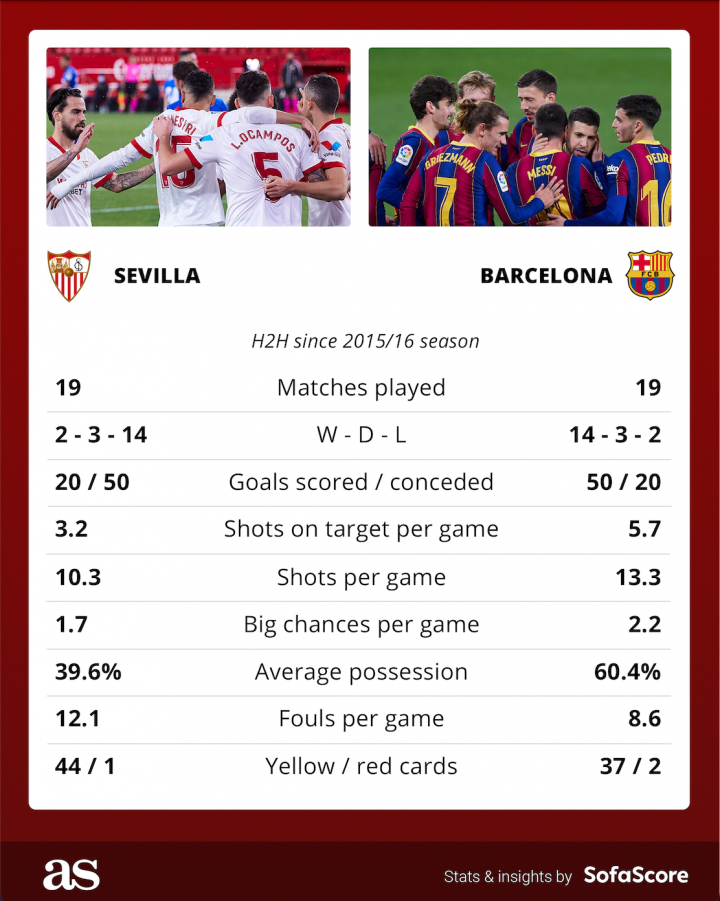 Sevilla vs Barcelona: head-to-head stats
Here, courtesy of our friends at SofaScore, is a brief overview of Sevilla and Barcelona's head-to-head stats since the 2015/16 season. It's fair to say Barça have had the upper hand.
Barcelona begin on the front foot. Ousmane Dembélé slips a neat angled ball into the box to meet the run of Junior Firpo, who fizzes it across the face of goal towards Antoine Griezmann - but Diego Carlos is in position to cut it out and clear Sevilla's lines.
Peeeep! Referee Antonio Mateu Lahoz gets us underway in Seville!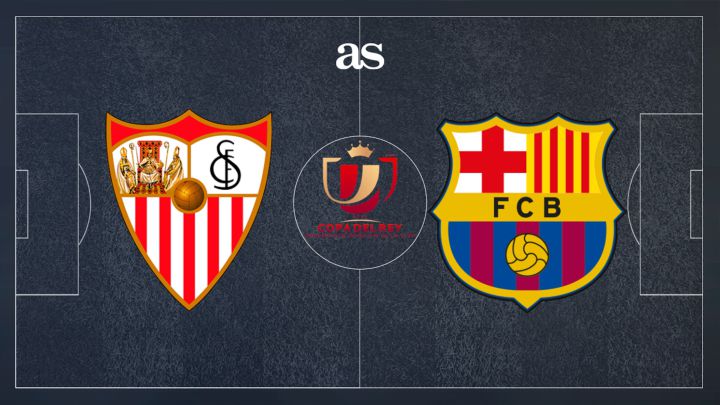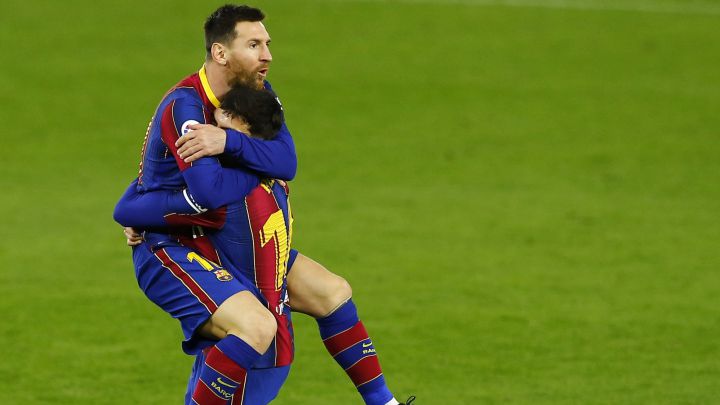 Messi looking to maintain streak against Sevilla in Copa clash
Sevilla Messi's most frequent victims
Having come off the bench to inspire Barça to victory at Betis on Sunday, Lionel Messi now starts against his favourite opposition: the Argentine has 37 goals in 40 career appearances against Sevilla, more than any other club.
Full story: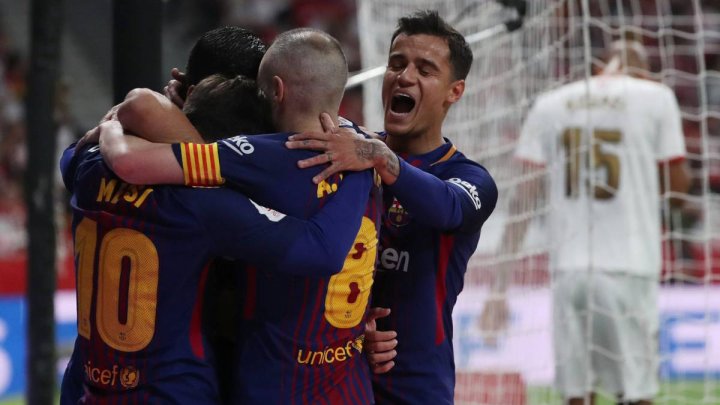 Sevilla and Barça both regular Copa semi-finalists in recent times
Barcelona are in the semi-finals of the Copa del Rey for the 10th time in the last 11 seasons - a period in which they have won the competition on no fewer than five occasions, including four in a row between 2015 and 2018.
Five-time winners Sevilla have also been regulars in the latter stages of the Copa in recent years, lifting the trophy in 2010 and this term reaching their fifth semi since then, having twice progressed to the final in their previous four last-four clashes.
Both of those finals brought defeats to their opponents tonight: a 2-0 extra-time reverse at the Vicente Calderón in 2016, and a 5-0 humbling at the Wanda Metropolitano two years later.
Sevilla have been on the end of a couple of Copa wallopings from Barcelona in recent times, in fact. Fresh from being thumped in that 2018 final, another five-goal margin was involved the following season, as the Andalusians went out in the quarter-finals after a 6-1 second-leg thrashing at the Camp Nou.
(Photo: Susana Vera/Reuters)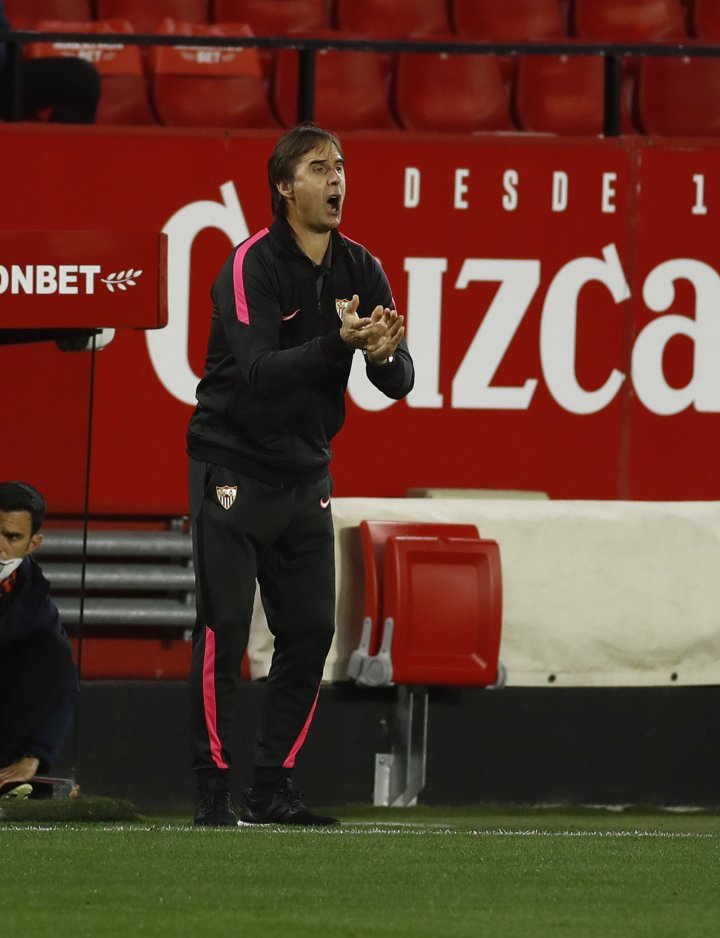 What the coaches said: Julen Lopetegui, Sevilla
Facing Barcelona in the semis:
"It's a very attractive tie and one we're really looking forward to. A semi-final is always going to be hugely demanding. Barcelona are in very good form, we're aware of how tough it's going to be but it's also exciting for us to try to prove equal to that difficulty and compete with a side like Barcelona."
Lucas Ocampos out injured:
"It's a significant injury because he's going to be out for a long while and at a crucial point in the season. We're all aware of how important he is to us, he's always played when he's been available, but we can't dwell on the players we're missing. We have to show confidence in those who are available."
(Photo: Toni Rodríguez/Diario AS)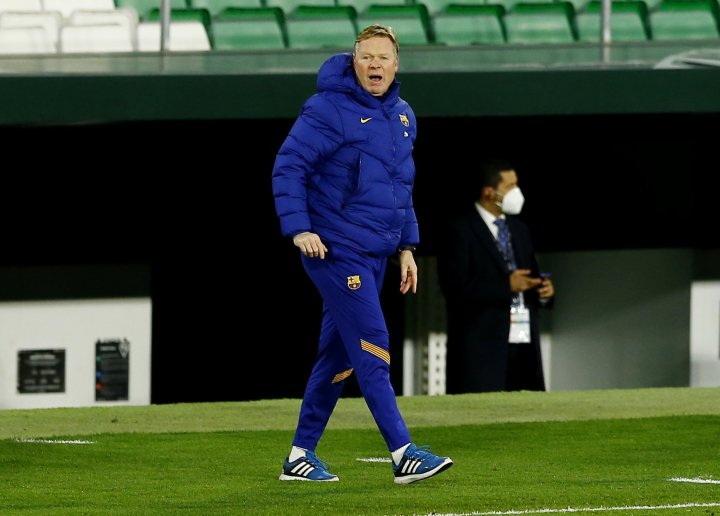 What the coaches said: Ronald Koeman, Barcelona
First leg against Sevilla:
"Looking at recent results, both Sevilla and ourselves have won our last few games. We need to get a good result from the first leg. We know them well and they know us. I think it'll be a great game."
Lionel Messi's place in the pantheon of sporting greats after Tom Brady's seventh Super Bowl win:
"It's always difficult because we are talking about different eras in the game, but what Messi has done is incredible. The number of goals he's scored, the trophies he's won... I didn't watch the Super Bowl because I don't watch much television. But Messi is the greatest in football. It's difficult to compare with players like [Johan] Cruyff, Pelé and [Diego] Maradona but from what I have seen of Messi during the last 15 years, he's the best."
Koeman's pre-match press conference in full
(Photo: REUTERS/Marcelo Del Pozo)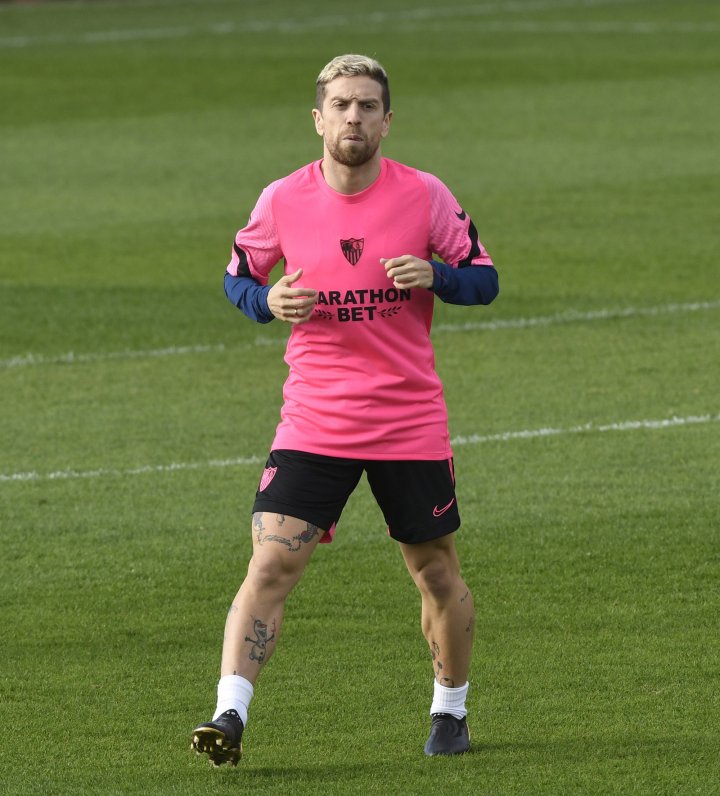 Three changes for Sevilla
There are three changes to the Sevilla team that began Saturday's LaLiga win over Getafe. Fernando and ex-Barcelona player Ivan Rakitic return in midfield in place of Nemanja Gudelj and Óliver Torres, while recent signing Papu Gómez starts in attack in the absence of Lucas Ocampos, who is out with a grade II ankle sprain suffered in a dreadful challenge by Djené Dakonam at the weekend.
Julen Lopetegui has been given a one-match ban for being sent to the stands after confronting Getafe boss José Bordalás over the tackle, for which Djené was shown a straight red card, but the Sevilla head coach will serve that suspension in LaLiga, so he's on the touchline as usual tonight.
(Photo: Toni Rodríguez/Diario AS)
Junior starts at right-back for Barcelona
Barça boss Ronald Koeman makes five changes to the side that started the weekend win over Real Betis, and has sprung a bit of a surprise in defence.
Left-back Junior Firpo plays on the right in the absence of the injured Sergio Roberto and Sergiño Dest, with Óscar Mingueza, who deputised at right-back against Betis, moving into the centre of the backline.
Mingueza partners Samuel Umtiti, who returns to the Blaugrana XI together with Frenkie de Jong, Pedri and Lionel Messi.
Barça currently have a lengthy injury list which, on top of Roberto and Dest, features Ronald Araújo, Gerard Piqué, Philippe Coutinho, Ansu Fati, Miralem Pjanic and Martin Braithwaite.
Barcelona team news
Starting line-up: Ter Stegen, Junior, Mingueza, Umtiti, Alba, De Jong, Busquets, Pedri, Dembélé, Messi, Griezmann¡
Substitutes: Puig, Neto, Lenglet, Trincão, Matheus, Iñaki Peña, Ilaix, Konrad, Collado
Sevilla team news
Starting line-up: Bono, Vidal, Koundé, Diego Carlos, Escudero, Jordán, Fernando, Rakitic, Suso, Papu Gómez, En-Nesyri
Substitutes: Vaclik, Gnagnon, Sergio Gómez, Rekik, Torres, Vázquez, Munir, De Jong
Sevilla vs Barcelona: good evening!
Hello and welcome to our live coverage of Sevilla and Barcelona's Copa del Rey semi-final first leg, as two sides in really rather good form face off at the Estadio Ramón Sánchez-Pizjuán.
Hosts Sevilla, who are five-time winners of Spain's major domestic cup competition, are on a run of seven victories in a row in all competitions - and have now kept clean sheets in each of their last five.
Meanwhile, Barça - the Copa's most successful club, having lifted the trophy on a whopping 30 occasions - have won 10 of their last 11 games since early December (if you count penalty shootouts, that is; and even if you don't, nine in 11 is still dashed decent).