Trump´s impeachment: how long will the process take?
The Senate impeachment trial comes as President Joe Biden is looking to pass his covid-19 stimulus package and confirm his outstanding cabinet picks.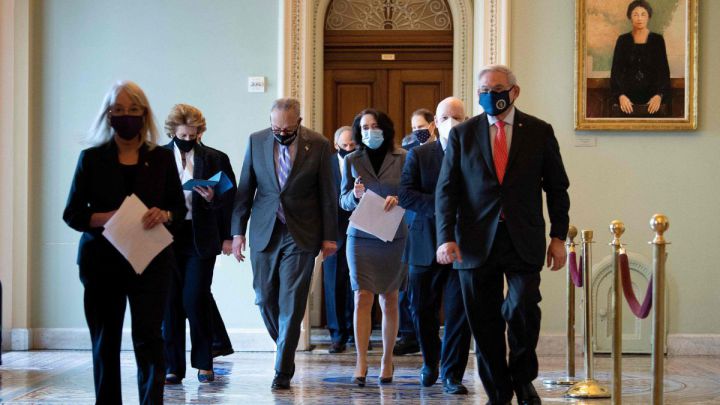 The second impeachment trial of former President Donald Trump began in earnest on Tuesday 9 February as the Senate began to hear evidence on his role in the Capitol Hill riots. Trump is charged with incitement of insurrection for his role in the violent scenes that left five people dead.
This trial is unlike any other in American history for a number of reasons. It is the first time a president has been tried after leaving office; the only time a president has been impeached twice; and it puts senators in the strange position of being both jurors and witnesses to the crimes cited.
However while the trial is absorbing the Senate's valuable time, other important priorities are having to wait for their opportunity on the floor. President Joe Biden's covid-19 economic relief bill is still awaiting Congressional approval and not all of Biden's cabinet picks have been confirmed.
There is a clear appetite for the impeachment trial to be conducted swiftly, so how long will it take?
What is the Senate impeachment process?
The Senate trial began at 1pm (ET) on Tuesday 9 February with four hours of debate on the constitutional basis of the trial. Trump's lawyers had argued that a president cannot be impeached after he leaves office but, despite drawing considerable Republican support, this argument was defeated 56-44.
We now move onto the more familiar structure of a trial as both sides are given the opportunity to present their case to the jury, who in this case are the 100 senators in attendance. Each side is limited to eight hours per day for a maximum of two days, giving them a maximum of 16 hours to make their argument.
Members of @SpeakerPelosi's staff, who were barricaded in a conference room terrified for their lives during the January 6 attack on the capitol, watch video from that day during the Senate impeachment trial of former President Donald Trump on Capitol Hill on February 10. pic.twitter.com/t0h0sQW31z

— Erin Schaff (@erinschaff) February 10, 2021
Once both sides have made their presentations to the chamber there is a four hour period where senators are able to ask questions to both legal teams. This time will be divided equally between the two parties.
The House impeachment managers (who are acting as prosecutors for the Democrats) are then given four hours to propose motions to subpoena witnesses and documents. However with both sides hoping for a quick trial it is not thought that there will be any major requests made; particularly as most senators themselves were first hand witnesses of the event in question.
This will likely take until the weekend with many expecting the trial to be concluded by Saturday 13 February. However a new trial resolution introduced on Tuesday paves the way for a rare Sunday Senate session if required to conclude the trial.
What will the Trump impeachment outcome be?
No president have ever been found guilty in an impeachment trial previously and the early indicators suggest that will be the case again. It will require a two-thirds vote in the Senate for Trump to found guilty and most Republicans appear to be sticking with the former President.
The 44 who voted against proceeding with the trial on Tuesday were claiming that the trial is unconstitutional, so it would be extremely surprising if 11 of them went on to find the accused guilty.
House impeachment manager Joe Neguse says Donald Trump "didn't just tell them to fight like hell. He told them how, where and when. He made sure they had advanced notice — 18 days' advance notice. He sent his save the date for January 6" https://t.co/zYZZ3I3j4g pic.twitter.com/otqXUQv6gq

— CNN Politics (@CNNPolitics) February 10, 2021
However there has been some suggestion that the emotive nature of the case being put to the senators could turn some heads. On Tuesday the prosecution showed a graphic video of the attack on the Capitol, intertwined with footage of Trump rallying the crowd just moments before.
Democrats will hope that this appeal to recent memories will be enough to persuade more GOP lawmakers to cross the aisle but, as it stands, that seems unlikely.