Zidane the target for French FA president as Real Madrid coach responds
Zinedine Zidane offered his response after the French FA president admitted the Real Madrid boss is the main target when current France coach Didier Deschamps steps down.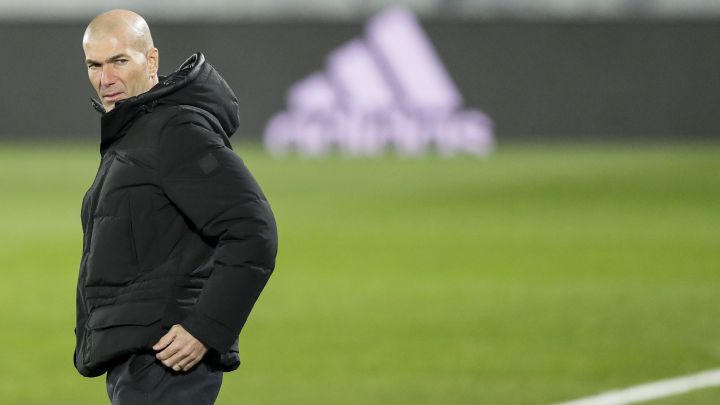 One of Zinedine Zidane's dreams has always been to coach the French national team and it may not be long until that dream becomes a reality.
The Real Madrid coach's former France team mate and fellow 1998 World Cup winner, Didier Deschamps, has been at the helm of Les Bleus since 2012. But when Deschamps does eventually call time on his time as French coach, Zidane is the main option to replace him, according to French Football Federation president Noël Le Graet.
"If Didier leaves and I'm still here, the first person I would see would be Zidane," Le Graet told RTL. "I have a very good relationship with Zidane, at least on a personal level."
However, the key "is Didier", Le Graet assured. Having led his country to World Cup glory in Russia in 2018, he has earned the right to decide his own future. His current contract runs until the end of the Qatar World Cup in 2022 after both sides agreed to an extension in 2019. But if the former French captain were not to renew again in 2022, Le Graet will try to lure Zidane to take his place on the coach's seat at Stade de France.
In somewhat apt timing for the French federation president, Zidane's current deal at Real Madrid ends in June 2022, and, at present, it remains to be known if either he or the club will want his time at the Bernabéu to be extended beyond that.
Zidane's mind on Real Madrid but France is a "possibilty someday"
For his part, the French coach said his current focus remains on Real Madrid, but left the door open to a future role at France, admitting it could be "a goal one day".
"My mind is here on the present at Real Madrid," said Zidane when quizzed on La Graet's comments at a press conference ahead of Los Blancos meeting with Valencia on Sunday.
"I have been for here for almost 20 years. Madrid has given me this opportunity and at the moment I enjoy it here every day. [The job] is something that I like and I am passionate about. I am here, what happens in the future is unknown. You don't know either, if you're going to work somewhere else. We'll see in the future."
The Madrid boss also confirmed Le Graet's claims that the pair share a warm personal relationship before admitting a future with France "could be a possibility".
"My relationship with Le Graet is good," he said. "We have known each other since 1998. We have always had a good relationship."
He added: "The national team can be a goal one day. I said it 10 years ago when I started coaching. It could be a possibility someday. But today I am here [at Madrid] and it is my duty to think only about what I do here."