Ramos moves closer to Real Madrid deal following calls with Florentino Pérez
The Real Madrid captain and president have reportedly shared phone calls of a personal nature that have helped to reconcile differences between the two sides in cotnract talks.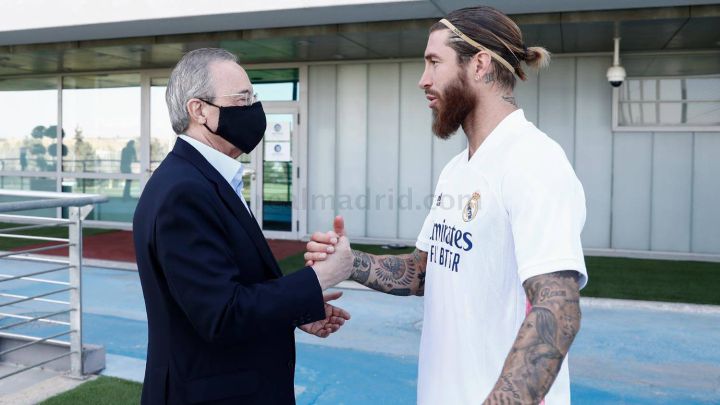 Following the long-standing impasse between Real Madrid and Sergio Ramos, it appears that the captain has moved one step closer to renewing his contract at the Bernabéu.
The apparent breakthrough between the two sides has come following informal and personal contact that he and Madrid president Florentino Pérez have shared this week, according to Spanish newspaper ABC.
Ramos and Pérez have reportedly exchanged calls in recent days to mutually enquire about each other's health. The Madrid president tested positive for COVID-19 on 2 February, prompting Ramos to call him to ask how he was doing. For his part, Pérez also called the defender to see how he was feeling following his knee operation last Saturday to mend the meniscus in his left knee.
According to ABC, the president has valued the commitment and sacrifice Ramos showed to make himself available for the Spanish Super Cup semi-final against Athletic Bilbao, despite the fact that he had long been suffering from a damaged meniscus.
Ramos and Pérez repair relationship
Amid the difficult contract talks that have been ongoing for several weeks, tensions had recently grown stronger as both sides accused the other of leaking information to the media.
But the calls between Ramos and Pérez this week have gone some way in repairing the pair's personal relationship, while also helping to reconcile the differences between the two sides amid the ongoing contract talks.
Ramos's desire is to continue playing for Madrid. However, the 34-year-old defender has so far been reluctant to accept Madrid's offer, which would see his salary cut by 10% in exchange for a two-year deal at the club.
With both sides standing firm on their respective positions, negotiations had looked to be going nowhere. But the Ramos-Pérez conversations this week appear to have ignited a desire for the pair to reach a mutual agreement before the player's current deal runs out in June.