Real Madrid: Ramos seen in talks with hierarchy during Valencia win
Amid ongoing contract talks, TV cameras showed Real Madrid's Sergio Ramos in discussion with club chiefs at half time of Sunday's LaLiga victory over Valencia.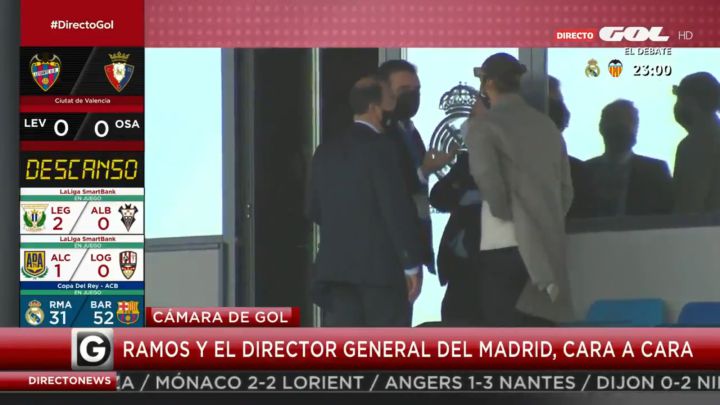 Sergio Ramos' contract renewal is an issue there's no escaping from at Real Madrid right now. The knee injury which this month led the club captain to undergo surgery has forced him to watch Los Blancos' games from the players' box at the Estadio Alfredo di Stéfano, right next to the club bosses with whom he is in protracted negotiations. In Madrid's 2-0 LaLiga win over Valencia on Sunday, this was no different.
Sergio Ramos meets Real Madrid chiefs at half time
Club president Florentino Pérez was unable to attend Madrid's victory over Los Che. The 73-year-old tested positive for the coronavirus on 2 February and is still awaiting the negative test that would allow him to come out of self-isolation and resume his activities as Bernabéu chief. However, his absence didn't prevent Ramos from engaging in discussions with the club hierarchy on Sunday.
During half time, the defender met with vice-president Eduardo Fernández de Blas, general manager José Ángel Sánchez and the club's communications director, Antonio Galeano. The informal meeting took place in the Di Stéfano stands and was captured by the cameras of Spanish television station Gol TV.
Ramos contract talks now appear likelier to reach fruition
Contract talks between Ramos and the club have taken a new direction in recent days. Negotiations had been tense, seemingly on the point of breaking down, with both parties leaking details to the media in apparent attempts to put pressure on the other side. However, Ramos and Madrid now appear better-placed to reach an agreement, the Spanish newspaper ABC says.
According to the publication, the club skipper and Pérez have exchanged calls enquiring after each other's health in recent days - and these conversations have served to bring a more conciliatory spirit to the negotiations over an extension to Ramos' deal, which is due to expire at the end of June.



LaLiga Santander
*Update 14 de febrero de 2021
Real Madrid want Ramos to accept pay cut in two-year deal
The club's offer to Ramos remains on the table. Madrid have accepted the player's demand for a two-year contract, but in exchange are asking him to take the 10% pay cut the club has planned for the whole squad, as part of attempts to balance the books amid a major drop in revenue due to the pandemic. Ramos' contract saga is far from over, but the outlook now appears altogether more positive.